Hillary Clinton criticized for portrayal of family's immigrant history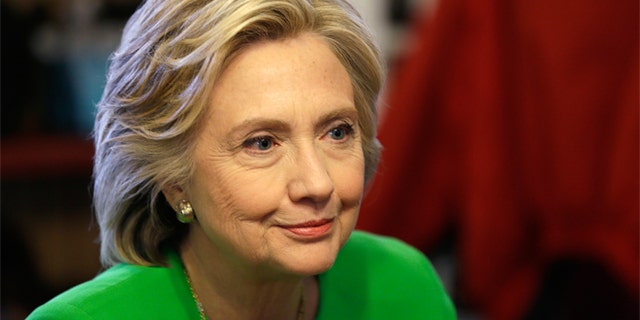 NEWYou can now listen to Fox News articles!
Just days into her presidential campaign, former Secretary of State Hillary Clinton is being criticized for her portrayal of her family's immigrant history.
According to a report by Buzzfeed News, during her campaigning in Norwalk, Iowa on Wednesday Clinton said that "all of her grandparents" immigrated to the U.S., but Census records show that only one of Clinton's grandparents was born outside of the U.S..
"All my grandparents, you know, came over here and you know my grandfather went to work in a lace mill in Scranton, Pennsylvania, and worked there until he retired at 65. He started there when he was a teenager and just kept going," Clinton said.
Census records show only her father's father, Hugh Rodham Sr., immigrated from England to Pennsylvania.
In the past, Clinton has said her grandmother, the wife of Hugh Rodham Sr., also immigrated to Scranton, Penn. even though Census records show she was born in Pennsylvania in 1882.
In a statement to Buzzfeed News, a Clinton spokesman said of the candidate's wording on Wednesday, "her grandparents always spoke about the immigrant experience and, as a result, she has always thought of them as immigrants."
The campaign also pointed out that her grandmother was born shortly after her parents arrived in the early 1880s.
Republicans pounced on Clinton's portrayal of her immigrant past.
"The Clinton campaign's excuse for the candidate's repeated misrepresentation of her family history and false claim her grandparents are immigrants? '[S]he has always thought of them as immigrants.' You're not telling tall tales if you think they're true?" said Ruth Guerra, Director of Hispanic Media for the Republican National Committee.
"It's this type of callous attitude toward the truth that has led voters in key states to already view Clinton as dishonest and untrustworthy. If she's willing to make up a story in an attempt to connect with immigrants, how can voters trust what she says on all the other issues?"
This is not the first time a current presidential candidate's immigrant history has been questioned.
Senator Marco Rubio (R-FL), who announced his presidential bid on Monday, came under scrutiny in 2011. Rubio, the son of Cuban immigrants, was criticized for misrepresenting his own family's immigrant history.
The Washington Post exposed that Rubio's parents immigrated to the U.S. more than two and a half years before Fidel Castro took power in 1959. This was contrary to the narrative Rubio had delivered in speeches, describing a scenario where his parents fled Fidel Castro's dictatorship.
Rubio has acknowledged he got the dates wrong and said in a Fox News interview in 2011, "I don't need to embellish my narrative. My narrative is very simple — I am the son of exiles and of immigrants, and that has framed my political thought."
Like us on Facebook
Follow us on Twitter & Instagram