Hilda Solis, Former Labor Chief, Now A Frontrunner For Powerful Los Angeles County Post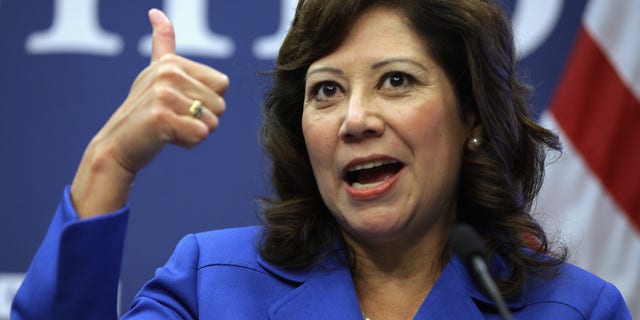 NEWYou can now listen to Fox News articles!
Former U.S. Labor Secretary Hilda Solis seems headed to a victory in her quest to be elected to a seat on the Los Angeles County Board of Supervisors on Tuesday.
The current county supervisor in that seat, District 1, is stepping down because of term limits. Gloria Molina, who has held the District 1 seat since 1991, in recent weeks endorsed Solis.
The position, experts say, can give Solis the kind of household name recognition in the state that even a Cabinet-level post could not.
"She would be in a better position to run statewide in California," said Louis DeSipio, a political scientist at the University of California, Irvine. "She doesn't have much of a reputation in the state" at the moment.
The county position is quite powerful, despite how it might be perceived by those outside California.
"It has among the greatest powers of any local government in the country," DeSipio said.
Each of the five county supervisors' districts, for instance, has some 2 million constituents. The supervisors are responsible for a plethora of services and programs in the county, including public safety and health. The board has executive, legislative and quasi-judicial roles and the members, all elected by the people in their district, can serve a maximum of three, four-year terms.
Solis, who is 56, has racked up the support of major labor and business organizations and political leaders.
And Solis had raised a whopping $765,000 by early May, leaps and bounds ahead of her rivals. (Her main competitor, Juventino "J" Gomez, an El Monte city councilman who entered the race early this year, had raised $107,000.)
Solis resigned from her Cabinet post with the Obama administration in January of last year, saying she had opted to leave Washington D.C. after discussing the idea of returning to the Golden State with her family and close friends.
Her campaign website says: "Now I'm returning home to serve at the local level."
Solis has steadily been the front-runner, even as she campaigned under the cloud of a federal investigation into fundraising activities she reportedly was involved in as labor secretary.
The Los Angeles Times reported that investigators were looking into whether Solis asked staff members to make contributions to the president's re-election campaign and to help with fundraisers.
The Times said that a spokesman for Solis maintained that she is innocent of any wrongdoing.
Steve Erie, a UC San Diego political science professor, told the L.A. Times that it's unclear what, if any, impact the investigation would have on her campaign.
"It's a cloud over the Solis campaign," he told the Times. "The question is, is it a thundercloud or is it just a cumulus?"
DeSipio said that the investigation is not really registering as significant among many people in California.
"The connection to her is pretty loose at the moment," he said. "People don't seem to be taking it very seriously."
One of the highest-ranking Hispanics in Obama's administration at the time of her service, Solis won praise from labor unions for aggressive enforcement of wage and hour laws and job safety regulations. But business groups criticized her as not taking a more cooperative approach.
In 2000, Solis received the John F. Kennedy Profile in Courage Award for her pioneering work on environmental justice issues in California.
The late Sen. Ted Kennedy, D-Mass., called her "a voice for the voiceless with a true passion for fairness and justice."
Solis was the first Latina elected to the California Senate, where she led the battle to increase the state's minimum hourly wage from $4.25 to $5.75 in 1996.
She won her congressional seat in 2000 after taking on a Democratic incumbent who had lost the support of organized labor. During eight years in Congress, Solis made protecting the environment and helping immigrants two of her top priorities.
The Associated Press contributed to this report.