Herman Cain "Not Worried" about Sarah Palin, Warns of Possible Double Dip Recession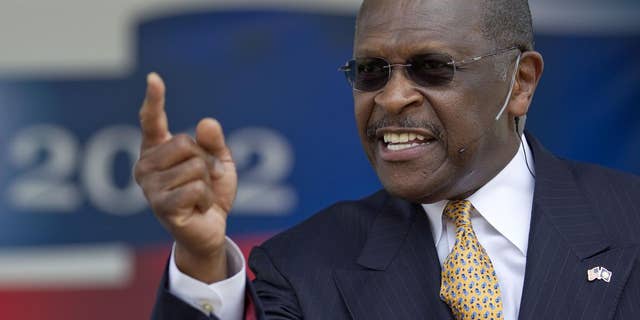 NEWYou can now listen to Fox News articles!
Amid renewed speculation that Sarah Palin could run for president, 2012 candidate Herman Cain said he's "not worried" about a possible bid by the former Alaska governor.
Cain avoided any notion that a Palin bid might steal away his Tea Party spotlight, telling Neil Cavuto, "I have a lot of respect for Governor Palin. Governor Palin is helping to stir the pot. What I like about her most is that she tells it like it is. That means that you've got several people out there being honest with the American people, calling it like it is, and this is what the American people are asking for."
Sidestepping a question asking for specifics on his strategy to capture the Republican nomination, the former Godfather's Pizza CEO instead basked in the glow of a Gallup survey released soon after he officially declared a presidential bid, which indicated he has the highest positive ratings of all GOP contenders. The survey indicated that, while his name recognition remains low, Cain scores high in favorability among those who know who he is.
"You have to earn positive intensity," Cain said on Fox News. "You have to earn inspiration. I can buy name ID later down the road."
Cain continued to push his message that the "political establishment, which includes the people that are in office, which includes the DNC, and it even includes the Republican National Committee to some extent" is out of touch with "regular folk," and gestured to new economic figures indicating sluggish economic recovery. First-quarter GDP estimates released this week showed the economy grew 1.8 percent in the first three months of 2011, well below the 3.1 percent growth in the last quarter of 2010.
"I think we are headed into something bad because there have been no change in policy that's going to boost this economy," Cain said, arguing for a cut in spending and no new taxes. He then sent a warning to his Republican colleagues in Congress, who are currently in talks with the White House on budget matters.
"We have a spending problem," Cain said, adding, "If the Republicans cave -- and I hope that they don't -- and go along with any kind of tax increase, we will see that double dip recession."