Health Care Protesters Run Up Against Wall of Momentum as Bill Nears Vote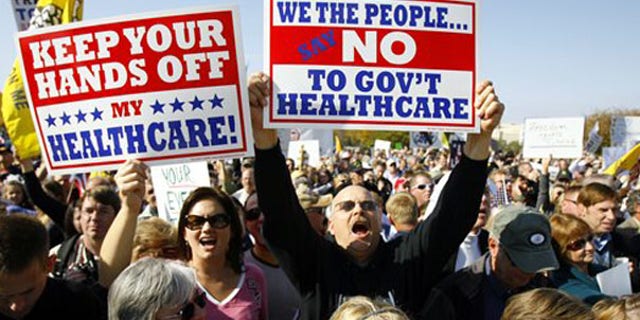 NEWYou can now listen to Fox News articles!
Egged on by House Republicans, thousands of protesters railed against Democrats' health care reform plan in Washington Thursday and flooded the offices of their representatives to urge them to oppose the plan.
But while GOP lawmakers and demonstrators proclaimed their intention to "kill the bill," the White House and House Democrats remained confident. House Speaker Nancy Pelosi is driving the bill toward a Saturday vote, and her top deputy said Thursday that Democrats will have the 218 votes needed to pass the sweeping, $1.2 trillion package.
President Obama, meanwhile, touted fresh endorsements of the plan from the American Medical Association and the AARP, as White House Press Secretary Robert Gibbs dismissed the protesters as rebels without a cause.
"I think anybody that watches is struck by the fact that there's a rally going on without a solution on their side," Gibbs said.
Democrats appear determined to bring health care reform to the floor, and fast, despite the 11th hour bid to halt the momentum.
Whether the demonstrators can sway fence-sitting Democrats in the final days is ultimately unclear. But that hasn't stopped them from trying.
Mary Ellen Burke, state communications manager with Americans for Prosperity, estimated that 20,000 people came to Washington and said it "absolutely" can have an effect.
"I think it's hard to ignore 20,000 people who show up at your office door," she said.
Thursday's rally marked a change in tone for health care reform protesters and the "tea party" movement, the conservative demonstrators that groups like Americans for Prosperity are closely aligned with.
Organizers of the Thursday rally, particularly Rep. Michele Bachmann, R-Minn., made a point of calling on those in attendance to be courteous toward their lawmakers as they sought meetings with them. They were no doubt mindful of the reputation for rowdiness protesters at town hall meetings over the August recess earned after countless videos were publicized of them shouting at their lawmakers. Organizers honed their outfit Thursday with a clear message: change somebody's mind on Capitol Hill, don't just yell.
"Be cordial, be orderly, be an effective communicator," Freedomworks' Brendan Steinhauser told the crowd. "There are a lot of members of Congress who have not made their mind up."
Long lines formed outside the House office buildings Thursday as those in attendance tried to corner their lawmakers. Burke said plenty of them were able to arrange meetings.
Rep. Gerry Connolly, D-Va., for instance, had about 300-400 people show up at his office, according to spokesman George Burke. Burke said Connolly spoke directly with some constituents and staff members were available to answer their questions as well. Burke said most of the people were polite, and that Connolly has not made a decision on how he will vote.
Christopher C. Hull, a senior vice president at public affairs firm Hill & Knowlton, said the protesters were clearly turning to a more mainstream tactic in seeking to kill the bill.
"The reality is if you want to defeat a piece of legislation, protests alone aren't enough," he said, calling the meetings with lawmakers a "smart tactic" that could lend some more legitimacy and effectiveness to the rebel movement.
Some of the protesters, though, were not quite as courteous. Nine protesters were arrested by Sen. Joe Lieberman's office for unlawful entry, according to U.S. Capitol Police. And speakers at Thursday's rally laced their rhetoric with heated references to "socialism" and "radical" policies.
"Whether they can actually defeat the piece of legislation or not, that's anybody's guess," Hull said.
Republicans are hoping their wins Tuesday in the Virginia and New Jersey gubernatorial races will give moderate Democrats pause about supporting the 1,900-page bill.
But the House GOP's alternative health care bill came under fierce criticism Thursday, as officials like Gibbs argued that the weakness of their proposal deflated the cause of the protesters.
The Congressional Budget Office on Wednesday estimated that their plan -- while keeping premiums down and costing a mere fraction of the cost of the Democrats' bill -- would cover only 3 million more Americans. The Democrats' bill is projected to cover 36 million.
"That's a very big difference," Pelosi told reporters Thursday, criticizing the GOP version for not prohibiting insurance companies from discriminating against those with pre-existing conditions.
"Many in the Republican Party have wanted to be active in this debate," Gibbs said. "And the piece of legislation they've come up with, I think, is disappointing."
Republicans, though, held their resolve.
"We're not going to leave this Hill until we kill this bill," Rep. Steve King, R-Iowa, said.
Click here to see photos of the health care reform protest.