Obama Embraces AARP's Support for House Health Bill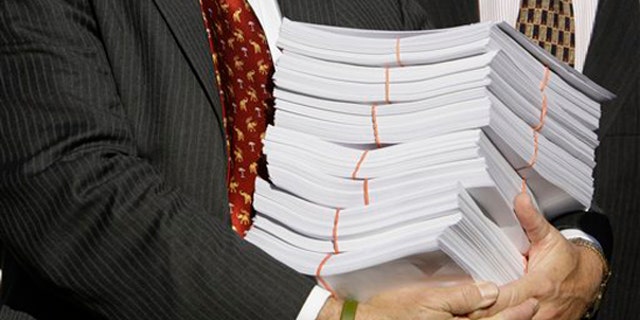 NEWYou can now listen to Fox News articles!
President Obama thanked the AARP and the American Medical Association for officially endorsing the House Democratic health care bill, a major boost for the legislation two days before a historic vote.
Making a surprise appearance at the daily briefing room Thursday, Obama told reporters that he is "thrilled" by the AARP's support, which he called "no small endorsement."
"They're endorsing this bill because they know it will strengthen Medicare, not jeopardize it," he said. "They know it will protect the benefits our seniors receive, not cut them."
"So I want everyone to remember that the next time you hear the same tired arguments to the contrary from insurance companies and their lobbyists and remember this endorsement the next time you see a bunch of misleading ads on television," he added.
AARP Senior Policy Adviser John Rother said Thursday that the 40-million strong organization backs the House bill because the measure closes the coverage gap in Medicare prescription benefits, puts strict limits on what health insurers can charge older workers too young for Medicare and creates a voluntary, long-term care insurance program.
AMA President Dr. James Rohack said Thursday that the bill is not perfect, but it meets enough of the organization's goals to deserve support, and said the legislation should move forward. But Rohack said it's also critical for Congress to fix a Medicare payment formula that if left unchanged would lead to a 20 percent cut in fees to doctors next year.
Republicans weren't impressed with the endorsements.
"It's really puzzling why the AARP would endorse a bill that cuts $500 billion from Medicare," House Minority Whip Eric Cantor, R-Va., said Thursday. "I suspect they will get a lot of pushback."
Cantor said the AMA doesn't represent the views of most physicians in the country.
"I don't think the endorsement of a Washington-based group will have as big an effect on members" as constituents in their districts, he said.
Officials with the seniors lobby said the organization lost 150,000 members since July 1 because of the group's support for health overhaul. But in that time, it also registered 2.7 million new members and renewals. Officials said they were confident their members would see the bill's benefits.
But the group has come under attack in recent weeks for its considerable earnings from insurance royalties -- more than $650 million from the sale of insurance policies, credit cards and other products that carry the AARP name, the Washington Post has reported, citing federal tax records.
The group would stand to benefit from many of the proposals in the health care reform legislation.
Last month, three House Republicans sent a letter to AARP accusing the group of placing its "political self-interests" ahead of seniors.
The AARP says its reliance on brand royalties enables it to provide members an array of benefits.
"We're a consumer advocacy organization; we're not an insurance firm," David Certner, AARP's director of legislative policy, told the newspaper. "That dr
An endorsement from the seniors' lobby was critical when then-President George W. Bush pushed the Medicare prescription drug benefit through a closely divided Congress in 2003. House Democratic leaders are hoping it will work the same political magic for them as they strive to deliver on Obama's signature issue.
Backing the 10-year, $1.2 trillion House bill is a tricky move for AARP. Many retirees are concerned about cuts in Medicare payments to medical providers, which will be used to finance an expansion of health insurance coverage to millions of working families who now lack it. Also, AARP says its membership is about evenly divided among Democrats, Republicans and independents, meaning its endorsement in today's highly politicized atmosphere could anger many members.
Floor votes on the House bill could come as early as this weekend.
The House bill is estimated to expand coverage to about 96 percent of eligible Americans. Beginning in 2013, it would provide government subsidies to extend coverage to tens of millions who now lack it, and ban insurance company practices such as denying coverage to people with pre-existing medical problems.
For the three years before the federal aid starts flowing, the bill would set up a temporary "high-risk pool" through which people who have been denied coverage because of poor health could obtain a government-subsidized policy.
The bill would set up health insurance "exchanges" through which self-employed people and small businesses could buy coverage, either from a private insurer or a new government plan that would compete. All the plans sold through the exchange would have to follow basic consumer protection rules, making it easier to shop and compare among them.
The majority of middle-class Americans covered under big employer plans would not see dramatic changes. But coverage for the poor through Medicaid would be significantly expanded.
Seniors in traditional Medicare would get improved preventive benefits. Also, the prescription coverage gap known as the "doughnut hole" would be gradually closed. However, seniors signed up for private insurance plans through Medicare could lose some benefits, as the bill scales back extra payments that the plans have been getting.
In addition to raising money by cutting payments to hospitals and other medical providers, the House bill boosts taxes on upper-income earners. Democrats also moved Tuesday to close a biofuel tax credit loophole, raising about $23 billion to help pay for the legislation.
The Associated Press contributed to this report.