Hawaii's Schatz beats primary challenger in storm-delayed Democratic race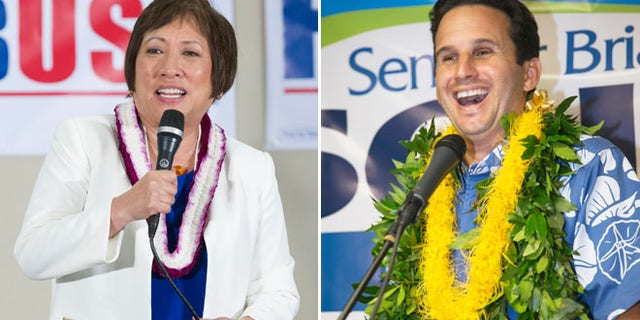 Hawaii Democratic Sen. Brian Schatz fended off a primary challenger Friday night after the dramatic election was extended nearly a week over Tropical Storm Iselle.
Schatz defeated Rep. Colleen Hanabusa after a makeup election for more than 8,000 voters in two remote precincts that were clobbered by a tropical storm.
The race divided Hawaii's political establishment over who would fill the term of the late Sen. Daniel Inouye.
Inouye had asked Hawaii Gov. Neil Abercrombie to appoint Hanabusa to succeed him in the Senate. But Abercrombie, who lost his own re-election bid last week, appointed Schatz instead.
Schatz was endorsed by President Obama. He outspent Hanabusa by $1 million during the campaign.
Schatz is expected to cruise in the general election against Republican Cam Cavasso and Libertarian Michael Kokoski in the heavily Democratic state.
The voting went forward after a state judge ruled Thursday against a legal challenge from Hanabusa. The congresswoman had sought a delay, saying voters in the area needed more time to recover from the storm. The state countered, saying elections officials were informed that roads were clear and citing a need to swiftly wrap up the election.
"The court is not supposed to interfere with an ongoing election process," Circuit Court Judge Greg Nakamura ruled Thursday.
But he added: "If you take a popular poll now, the poll would indicate that there's a lack of common sense to hold the election tomorrow."
As of Friday afternoon, about 3,800 customers were without electricity on the Big Island, utility officials said. The outages are almost entirely in the Puna District.
There was confusion as some area residents arrived thinking anyone who missed last week's vote could cast ballots.
Martha Holman, who remained without electricity or phone service, heard about the makeup election on the radio. She was turned away because she lives in Kapoho, where polls were open last week.
"I thought everybody who missed election day would be able to vote today," she said. "It's just wrong to do this ... If I could vote, I would vote for the one person who's not Schatz."