Harvard students protest Betsy DeVos speech, hold sign calling her 'white supremacist'
Harvard University students staged a protest as Education Secretary Betsy DeVos delivered a speech Thursday on school choice.
Some held up fists. One held up a sign reading in red ink: 'White supremacist." Others called for protections for victims of campus sexual assault.
DeVos last week revoked Obama administration guidance that instructed colleges on how to investigate sexual assault cases on college campuses. DeVos said policy was skewed against those accused of assault and had "weaponized" the Education Department to "work against schools and against students."
DeVos did not stop her speech to address the protesters but later took some questions from the audience. The Associated Press reported the protest was mostly silent, though some students snapped their fingers or cheered in support of some questions.
HHS SECRETARY TOM PRICE RESIGNS OVER PRIVATE PLANE TRIPS
Asked about protections for transgender students, DeVos said she is committed to making sure all students are safe. Earlier this year, she rescinded guidance that allowed transgender students to use bathrooms that matched their gender identity.
"With respect to any student that feels unsafe or discriminated against in their school, that is the last thing we want and the Office for Civil Rights at the Department of Education continues to hear and work with the schools that have any of those issues to deal with," DeVos said. "And we are committed to doing that on behalf of the students."
DeVos said she wanted new rules on campus sexual assault to be fair to both the victims and the accused.
She was asked by a student how much her net worth was expected to increase due to school choice.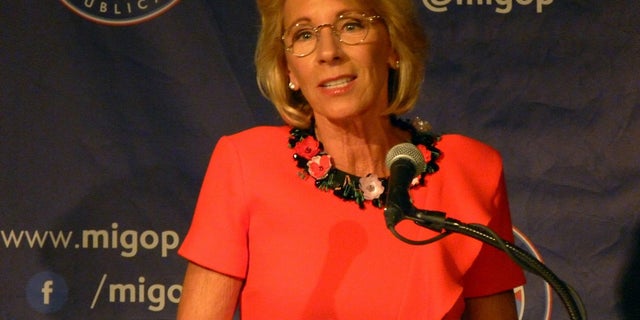 Devos responded: "I have written lots of checks to support giving parents and kids options to choose a school of their choice. The balance on my income has gone very much the other way and will continue to do so."
School choice referred to efforts that give students options other than their local public schools, such as charter or private schools. Charter schools were funded by public money but usually operated by entities that were independent of school districts.
DeVos was a supporter of school choice efforts in Michigan before becoming President Trump's education chief. Before she spoke, she announced $253 million in grants to expand charter schools across the country.
The awards went to nine states, two state agencies and over 20 nonprofit charter management organizations. The grants were awarded as part of the Every Student Succeeds Act.
TILLERSON IN CHINA TO TALK ABOUT NORTH KOREA, TRADE
Tony DelaRosa, 27, a student at Harvard's Graduate School of Education, held a sign reading "Our Students Are Not 4 Sale."
"We need public schools not to lose our funding and be given to charter schools," DelaRosa told the AP. "Administering more charters anywhere, it's going to take funding from somewhere."
Samantha White, a 19-year-old neurobiology major, said she came to the speech to ask DeVos why she rescinded the guidance on campus sexual assault.
"I am very upset and angry about it," White said. "Sexual assault is such a huge problem on college campus already and if you are rolling this back, it makes survivors of sexual assault more vulnerable and it's more difficult for them to seek justice when there aren't these regulations."
The Associated Press contributed to this report.