Hackers infected DC surveillance camera network days before Trump's inauguration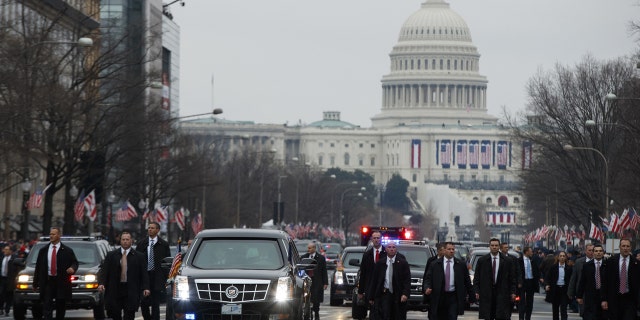 NEWYou can now listen to Fox News articles!
A group of hackers managed to breach Washington D.C.'s surveillance camera network and infect the system with ransomware days before President Trump's inauguration, law enforcement officials close to the investigation told Fox News.
The network of cameras affected eight days before President Trump was sworn in included ones located along the inaugural parade route, officials said Thursday.
Investigators were able to rid the system of ransomware without paying any money, and the network was fully operational on Inauguration Day.
An investigation into the ransomware attack is ongoing and being run by the Secret Service, officials said.
A separate law enforcement source described the cyber-attack to Fox News as emanating from overseas, and that investigators have not ruled out the possibility that this attack was carried out by a state sponsored actor.
The Washington Post was first to report on the network breach.
When a system is infected with ransomware, users are unable to access the system itself or information stored on that system unless some kind of digital ransom is paid. Hackers carrying out these types of attacks typically give infected users a time window to pay up, or risk having their system wiped.
There have been a string of ransomware attacks in recent years targeting individual users, as well as hospitals, private businesses, and municipalities across the country.