Groups Target Thomas' Wife's Work to Force Him to Sit Out High Court Rulings on Health Care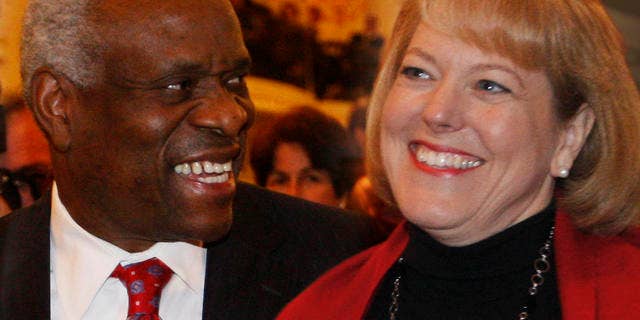 NEWYou can now listen to Fox News articles!
Eyeing a potential 5-4 decision on President Obama's Affordable Care health care reforms, some Democratic lawmakers are trying to pressure Justice Clarence Thomas to sit out any health care case that may come before the Supreme Court.
And in an added tack to influence the court's decision-making, one election watchdog has demanded an FBI probe of the justice over a 2010 campaign finance ruling.
The months-long efforts to target Thomas focus on his financial disclosure forms, of which amended versions were filed earlier this month and released publicly on Friday. In them, Thomas reveals that his wife, Ginni Thomas, received a salary in 2010 from Liberty Central, a group that she helped found and which supports the repeal of the health care law.
"We knew that Justice Thomas' family had a financial stake in opposing health care reform. Now we know even more," Rep. Anthony Weiner (D-N.Y.) said in a statement. "It's pretty clear the justice has one option here: recusal."
Ginni Thomas announced last fall that she was leaving Liberty Central, less than a year after its creation, to join Liberty Consulting. According to IRS documents released by Liberty Central, she earned $150,000 from the organization in 2010.
Thomas has also earned income from Hillsdale College and the Heritage Foundation, the latter being proof enough, Weiner argued, that the justice is unable to participate in the eventual cases to reach the court.
Defenders of Justice Thomas note that nothing in the ethics rules compels Thomas to report the sums his wife earned on his financial disclosures. They add that it's no secret where Ginni Thomas worked.
Supporters of Thomas also say the effort to remove the justice from the court is an attempt to extract rulings -- 4-4 decisions at the high court leave appellate court decisions in place -- that they may not otherwise get on a divided court.
"If there's anyone who needs to recuse themselves from the health care cases it's Elena Kagan," said Carrie Severino, chief counsel and policy director for the Judicial Crisis Network
Severino, a former clerk to Thomas, told FoxNews.com that the only "reasonable explanation" for the recent attacks on Thomas is fear that Justice Elena Kagan, former solicitor general for the Obama administration, is going to have to recuse herself from future health care cases before the court.
"I'm not sure she will need to recuse herself, either, but there's a lot of questions out there," she added. "Already we've seen that she was involved at a supervisory level with strategizing to defend this law."
Severino said just because a spouse has an opinion -- or even earns a living off a position that may be debated before the court -- doesn't mean a jurist loses impartiality. If Mrs. Thomas had filed a case or brief in the issue, or was involved in the case, that'd be one thing, Severino said. But that's not the case here.
"All of them have spouses and opinions. There has to be a rational stopping point for this kind of effort," she said.
At the same time that Democrats go after Thomas for his wife's interests, another group is using those same disclosure forms to argue that the justice should be investigated by the FBI.
ProtectOurElections.org, run by Kevin Zeese, argued in a letter sent last week to the FBI that Thomas deliberately excluded his wife's income over the past 20 years and "engaged in judicial corruption" by receiving $100,000 in support from Citizens United during his nomination in 1991.
The group alleges that Thomas then paid up on a quid pro quo 19 years later when the court voted in favor of Citizens United in a campaign finance ruling that enables corporations and unions to donate to candidates without naming its contributors.
"The Citizens United decision has a major impact on elections by allowing unlimited funding by corporations, and the Citizens United Foundation financial support shows a conflict of interest for Justice Thomas in a 5-4 decision," Zeese told FoxNews.com.
But Severino said that such an in-kind donation "is so absurd it's hard to even respond to such an exaggerated allegation."
"They are about 20 years too late," she said. "Frankly, most of these (charges) are so far-fetched that they almost don't merit a response."
ProtectOurElections.org also alleges that Thomas "conspired with his wife in a form of 'judicial insider trading' by providing her with information about the result of the court's decision in Citizens United prior to its issuance, which she then used to launch a new company to take financial advantage of that decision to benefit her and her husband."