Group files ethics complaint over Christie's trips to Cowboys games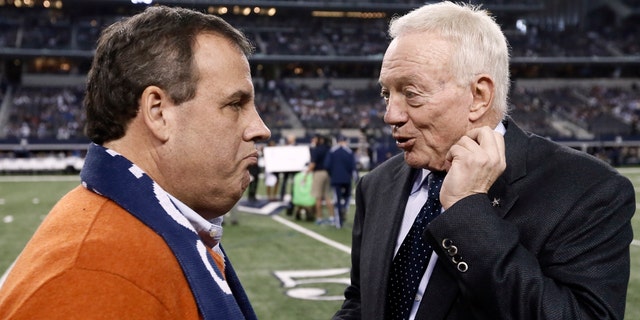 NEWYou can now listen to Fox News articles!
A liberal group filed an ethics complaint against New Jersey governor Chris Christie claiming he broke the state's rules by accepting tickets to a Dallas Cowboys football game as a gift.
Christie was seen celebrating in the press box at AT&T Stadium with Cowboys owner Jerry Jones as the team won its playoff game against the Detroit Lions Sunday. Jones claims Christie is part of the team's "mojo" and he wants the governor there "all the way."
Christie and his family have gone to three Cowboys games with tickets provided by Jones, NorthJersey.com reports.
Gifts, such as the tickets, are banned by state law. However, the governor's office says there is an exception allowing gifts from family and friends. Christie considers Jones a personal friend.
The American Democratic Legal Fund, a self-described watchdog, has an issue with Jones' business relationship with Port Authority, the website reports.
The Cowboys are part owners of Legends Hospitality LLC, a company that has a contract with Port Authority to operate the One World Trade Center observatory.
Port Authority said in a statement Tuesday that the observatory contract was awarded through a competitive bidding process.
The group's president Brad Woodhouse is also the head of a political action committee American Bridge, which has attacked the governor. Woodhouse says Christie is misinterpreting the state's ethics rules.
Another Washington-based watchdog group, Common Cause, says Christie should be concerned about the possible violation and should reconsider attending Dallas' game against the Green Bay Packers in the NFL's divisional playoff round.
Christie said on New York sports radio station WFAN that he hopes to attend the game at Lambeau Field Sunday.