Green Bay Packers Still Hoping for Their White House Moment Amidst Debt & NFL Deal Delays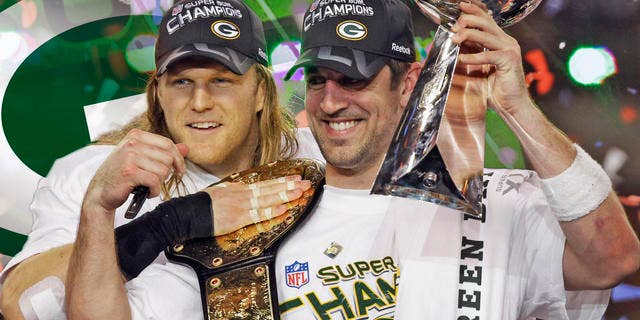 NEWYou can now listen to Fox News articles!
The XLV Super Bowl winning Green Bay Packers are still hoping to get a visit to the White House, but the NFL labor dispute and negotiations over the debt ceiling are making scheduling tough.
Packers quarterback and Super Bowl MVP Aaron Rodgers sent a tweet Monday night while President Obama was making a prime time address about the latest on the debt talks. "Watching Obama on tv talking about the debt ceiling, hope he hasn't forgotten about the SB. Still waiting on the invite... "
But the debt deal is only half of the equation. The NFL has just narrowed in on an agreement this week after months of wrangling over a labor dispute that threatened if the upcoming season would even happen at all.
It's customary for the Super Bowl champs to visit the White House and meet with the president. Last year the New Orleans Saints came to 1600 Pennsylvania Avenue on August 9.
Of course that doesn't leave room for some to speculate and conspire that Obama, being a Chicago Bears fan, might not be that eager to fit in the Bears' northern neighbor.
Earlier this month on ABC's "Jimmy Kimmel Live," Rodgers was asked about the invite.
"I don't think he's [Obama] a big fan, he's a Bears fan," Rodgers said. As whether he thinks he's being held out, Rodgers said yes, but didn't know why."[W]isconsin is a democratic state, I don't know what the problem is," Rodgers told Kimmel.
Obama has also been on the record saying he was a childhood fan of the team the Packers beat at this year's Super Bowl, the Pittsburgh Steelers. President told KDKA Political Editor Jon Delano in March 2008 he revealed he was a Steelers fan growing up.
"You know when I was kid, we didn't have our own football team. I was growing up in Hawaii. This is back in the 1970s, so the Steelers - that was my team," Obama said. Packers president and CEO Mark Murphy on Monday told reporters that a visit to D.C. would be tough during the regular season, however they're hoping to squeeze date in August.
Murphy told reporters, "I hope we can make it. I think it'd be such a special and unique opportunity for our players."
NFL teams are under a crunch for training, with practices lost during the lockout.Of course, the president has the debt negotiations hanging over his schedule for the last couple weeks, and he has a pending vacation to Martha's Vineyard later in August.
"I do realize that President Obama has more important things to deal with now than this," Murphy added.
White House Press Secretary Jay Carney has said that they will adjust the president's schedule as necessary to get the debt deal done.
Obama visited Wisconsin during the playoffs and was presented with a Packers jersey signed by safety Charles Woodson that read, "See you at the White House. Go Packers."
"I'm looking forward to seeing Charles Woodson and President Obama shake hands," Murphy said.
The Associated Press contributed to this report.
(NOTE: In full disclosure, the author of this article is a biased cheesehead and Packers fan.)