Grassley raises concerns on prisons using terror-tied groups to vet Islamic chaplains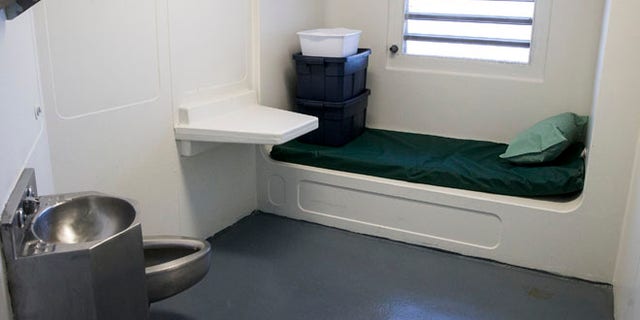 NEWYou can now listen to Fox News articles!
A top Senate Republican is warning that the federal Bureau of Prisons could be letting Muslim groups with terror ties vet chaplains and religious instructors, increasing the risk of indoctrination and radicalism behind bars.
Senate Judiciary Committee Chairman Charles Grassley, R-Iowa, in a letter to the agency, flagged "recent revelations that the bureau enlisted an organization previously found to have ties to terrorist organizations" to screen potential Islamic chaplains.
"It is imperative that the BOP take every measure possible to ensure the safety of its personnel within federal prisons and take all reasonable measures to ensure that Islamic extremism is stopped at the gates of each prison. Currently, it is not clear whether the BOP is doing so," Grassley wrote in the Jan. 27 letter to BOP Acting Director Thomas Kane, asking for clarification on the prisons' vetting policies and compliance.
The letter comes after the bureau provided Grassley a list of the organizations that are helping vet religious services for the prisons.
One of those organizations turned out to be the Islamic Society of North America (ISNA), which was listed as an unindicted co-conspirator in the Holy Land Foundation terror financing case in 2008. In that case, five members of the Holy Land Foundation were convicted of funneling $12 million to Hamas, which is a designated terrorist organization under U.S. law.
BOP did not return calls for comment by FoxNews.com on Thursday.
According to Grassley's office, the senator became concerned about the background check process for religious prison contractors in 2015 after reports suggesting individuals with radical backgrounds may be slipping through the cracks. In particular, Imam Fouad al-Bayly, who had once called for the death of anti-Islamic activist Ayann Hirsi Ali, was working in the federal correction center in Cumberland, Md. Al-Bayly's contract was terminated in March 2015 after the prison was notified of the controversy, according to BOP.
BOP has been working with the committee to explain the process, including how the screeners are themselves vetted, a spokesman for Grassley told FoxNews.com.
In October, BOP told his staff that al-Bayly's hiring was "an oversight," and according to a compliance survey, not all prisons were adhering to guidance in regards to background check policies. BOP listed a number of steps it was taking to improve. So far, the bureau has not addressed why it includes ISNA in the "list of Islamic Chaplaincy Endorsers."
But Ibrahim Hooper, spokesman for the Council on American-Islamic Relations (CAIR), pointed out that ISNA was never charged or convicted for anything relating to terrorism.
"This is an extremely old issue that has been circulated endlessly on anti-Muslim hate sites and it's a bit surprising to see an elected official promoting these kinds of Islamophobic smears," Hooper told FoxNews.com. "(ISNA) is a well-respected Muslim organization that for decades has made positive contributions to our nation, and like any Muslim-American organization they are frequently targeted by scurrilous attacks whose only goal seems to be to demonize and marginalize American Muslims."
In a statement to FoxNews.com Friday night, Hazem Bata, Secretary General of ISNA, called Grassley's complaints "defamatory and inflammatory."
"ISNA does not, has never, and will never have any ties to terrorism, terrorists, or terrorist organizations," the statement said.
She added that the reference to ISNA as an "unindicted co-conspirator" was erroneous and based "upon an unauthenticated document supposedly by groups, including the Muslim Brotherhood, purportedly that considered ISNA and other organizations to be 'friendly' or 'sympathetic' to their mission; however, ISNA has never willingly or knowingly had any relationship with the Muslim Brotherhood, Hamas, or any other terrorist organization, nor is ISNA friendly or sympathetic to these organizations. To the contrary, ISNA has frequently condemned terror, violence in all its forms, and extremism."
Asked whether radicalization in the prison system is a viable concern, Hooper said it's been blown out of proportion.
"The most pressing issue in any prison system is gang violence, sexual violence, recidivism, and drug use. If this is an issue, it's way down on the list of priorities," he said.
Grassley's office pointed to testimony by American officials, including then-Sen. John Kerry, who have warned of radicalization in prisons for years.
"Islamic extremism in U.S. prisons is a bipartisan concern -- and unfortunately a real concern," Grassley wrote in his letter to Kane.
FoxNews.com's Kelley Vlahos contributed to this report.