Grassley Questions Whether ATF Tried to Thwart Gunrunning Probe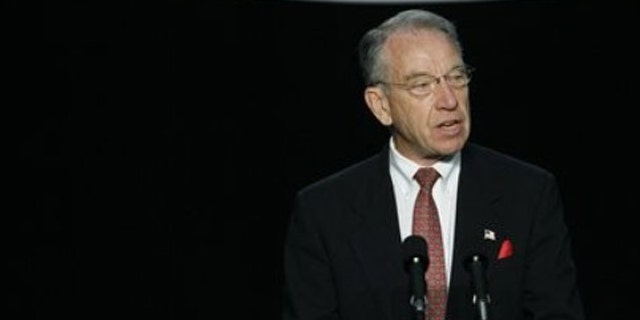 NEWYou can now listen to Fox News articles!
A top Senate Republican is trying to find out whether the Bureau of Alcohol, Tobacco, Firearms and Explosives intentionally blocked its employees from cooperating with his inquiry into a gunrunning sting which authorities suspect may be connected to the death of a U.S. Border Patrol agent.
Sen. Charles Grassley, R-Iowa, ranking Republican on the Senate Judiciary Committee, sent a letter to the bureau Friday complaining about the contents of an ATF email he obtained. The email, he said, contained guidance regarding his investigation telling employees they "are in no way obligated" to respond to Congress' questions and urging employees to refer congressional staffers to a particular office.
Though it was unclear whether the email was ever sent out, Grassley wrote in the letter to Acting Director Kenneth Melson that the instructions were "of grave concern." He suggested it would be illegal for the main office to prevent other employees from dealing with Congress and expressed concern that ATF was trying to filter information through a liaison.
"If people have concerns they should be able to express themselves without feeling pressure from their bosses," Grassley said in a statement.
The Iowa senator has been trying to investigate a controversial program known as Project Gunrunner and its Phoenix offshoot, Operation Fast and Furious. Under the program, agents allowed straw buyers to illegally buy and export guns to track where they surfaced in Mexico.
Whistleblowers say the guns were allowed to "walk" across the border, and records show more than 1,700 guns ended up being trafficked to Mexico under the program.
The program has come under increased scrutiny followed the death of Border Patrol Agent Brian Terry. Authorities are trying to determine whether the gun that was used to kill Terry was originally sold under the auspices of Operation Fast and Furious.
President Obama already has acknowledged that the plan may have been a "serious mistake." He said neither he nor Attorney General Eric Holder authorized it.
Grassley, trying to dig up more about the sting, complained that he has not gotten a "substantive response" from ATF, or the departments of Justice and State, regarding the policy. He said face-to-face contact with employees at the bureau is critical as his investigation moves forward.
"Without such direct, unfiltered communications, Congress would still be unaware of, and unable to inquire about, the serious allegations involving the death of Border Patrol Agent Brian Terry and the sales of weapons to known and suspected gun traffickers," he wrote in the letter to Melson.
Grassley asked for more information about what guidance was given to ATF personnel on communicating with Congress.