GOP Questions Obama's Vocal Support for Domestic Drilling to Lower Gas Prices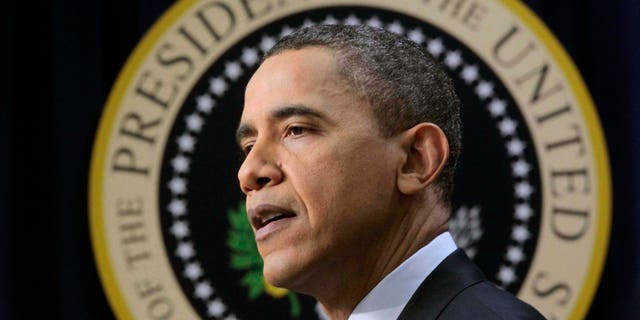 NEWYou can now listen to Fox News articles!
Republican lawmakers questioned President Obama's honesty after he said Friday he favors boosting domestic drilling in a responsible way to help tackle rising gas prices -- a goal that the GOP fully supports.
But the president, at a press conference, said improvements in energy efficiency are the only way to break U.S. dependence on foreign oil in the long term, and dismissed as political posturing Republicans' claims that his environmental policies have choked off American drilling.
"It doesn't match up with reality," the president said, prompting more criticism from GOP lawmakers who claimed he was stretching the truth.
"The gap continues to wide between what President Obama claims to be true about domestic energy production and what Louisianians know is true," Sen. David Vitter, R-La., said in a statement. "With prices at the pump climbing toward $4 per gallon, the president is asking us to believe that his administration supports expanded drilling off the Gulf Coast. I guess that's true only if you don't actually need a permit."
Vitter noted that the Interior Department has only issued one permit for deepwater exploration since last April, for a rig that was already active at the time of the BP oil spill.
As turmoil in the Middle East shakes the oil markets, Obama said the United States needs a "comprehensive energy strategy." He called a press conference Friday specifically to address that point -- and while it was consumed by questions about possible military intervention in Libya, the tsunami in Japan, and the budget debate on Capitol Hill, Obama tried to assure Americans that he empathizes with their concerns about gas prices.
"For Americans already facing tough times, it's an added burden," he said. Obama also stressed that the United States should be able to weather any disruption due to the unrest in Libya.
Answering the calls of Democrats, he said his administration is prepared to open the Strategic Petroleum Reserve. He would not specify the conditions that would trigger tapping the reserve but said it was teed up and could happen quickly if he should choose to call for it. The government is cautious about going to the petroleum reserve, typically holding off except in very extreme cases such as 2005's Hurricane Katrina near the Gulf of Mexico drilling areas.
"If we see significant disruptions or shifts in the market that are so disconcerting to people that we think a Strategic Petroleum Reserve release might be appropriate, we'll take that step," Obama said.
Obama also said his administration is monitoring to ensure nobody is "gouging" consumers at the pump amid the uncertainty.
Gas prices in the U.S. now average $3.54 per gallon. Oil prices have surged 24 percent since the middle of February as unrest in the Middle East rattled world markets, although prices slid Friday on the possibility of reduced demand because of the devastating tsunami that hit Japan.
Republicans have sought to blame Obama's policies for the high gas prices, saying he should be allowing more offshore drilling, although experts say more domestic production would not immediately affect prices. Obama rejected that criticism Friday, saying domestic oil production rose to a seven-year high last year.
Republicans fired back Friday, criticizing him for restricting production in the Gulf of Mexico in the wake of the BP spill and noting that domestic production is not as high as projected just a few years ago.
"While the Obama administration claims to be committed to American energy production, the facts and its own actions say otherwise," House Speaker John Boehner said in a written statement.
Boehner and other House Republicans pledged to introduce a slew of bills in the coming weeks aimed at boosting domestic energy production.
Obama claimed to have the same goal. He said he has directed the Interior Department to assess how many onshore and offshore oil leases already held by industry are going undeveloped so that companies can be encouraged to produce from those leases. He also said the administration was looking at the potential for new production in Alaska and elsewhere. He said these steps and others could increase domestic production in the short- to medium term but were not a long-term solution considering the United States has 2 percent of the world's oil reserves but accounts for more than a quarter of worldwide consumption.
The Associated Press contributed to this report.