GOP putting pressure on Sen. Marco Rubio to run for reelection in November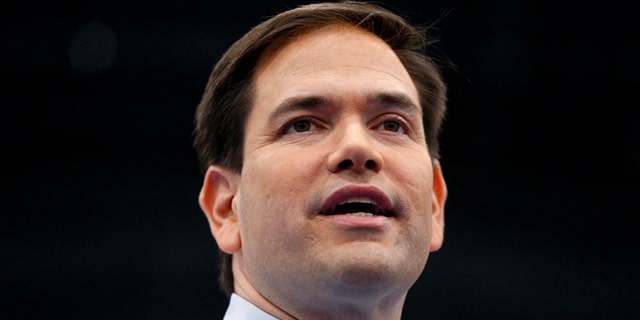 NEWYou can now listen to Fox News articles!
Fearing that they will lose their majority in the Senate, Republicans are pressuring Florida Sen. Marco Rubio to run for re-election in November — despite his adamancy that he has no plans to stay on Capitol Hill.
Senate Majority Leader Mitch McConnell is taking the lead in a campaign to get him to reconsider his plans to retire and Sen. Bob Corker of Tennessee has taken the unusual step of issuing a public statement calling Rubio a "very valuable member of the Senate" and disclosing that "earlier this afternoon, I strongly encouraged him to reconsider his decision and seek re-election."
Rubio himself has been adamant about his decision to leave the Senate, where he's been widely reported to be frustrated at the slow pace of action and the limited legislative opportunities for a freshman senator. He was seen as likely to bide his time before running for president again in 2020. Rubio told reporters Thursday that it was "unlikely" he'd reconsider, but he didn't close the door altogether and acknowledged facing pressure.
"I enjoy serving with my colleagues, I respect them very much, I'll always listen to what they have to say, but you know, I don't think anything's going to change," Rubio said.
The primary in Florida is not until August and the filing deadline is still a month away on June 24.
There are a number of Republicans already running in the primary, one of whom, Lt. Gov. Carlos Lopez Cantera, is a close friend of Rubio's, something Rubio cited as a factor in his thinking. But none of them has wide name recognition in Florida, where it costs many millions to run statewide and attain the kind of name ID Rubio already has.
Democrats are excited about their prospects of winning the state presuming their favored candidate, Rep. Patrick Murphy, gets through the primary against liberal agitator Rep. Alan Grayson. However if Murphy ends up facing Rubio he would likely have a much tougher climb than against any of the other GOP candidates.
"I don't pretend to know what Sen. Rubio will ultimately conclude but there are a ton of people hoping beyond hope that he'll run," said Josh Holmes, a GOP consultant and former chief of staff to McConnell.
Based on reporting by The Associated Press.
Like us on Facebook
Follow us on Twitter & Instagram