GOP Lawmakers Call for Probe Into Possible 'Threats' Against Thomas, Scalia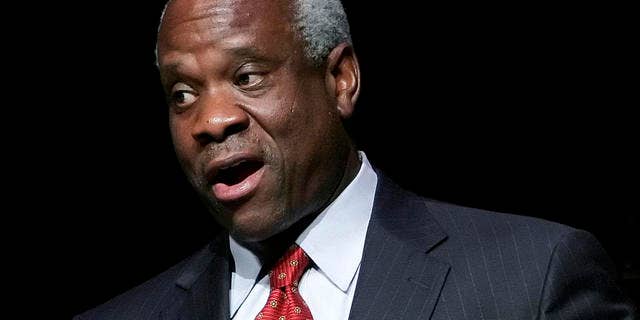 NEWYou can now listen to Fox News articles!
Several Republican members of Congress are calling on Attorney General Eric Holder to investigate possible "threats" against conservative Supreme Court justices, claiming the advocacy group Common Cause is providing a platform for inflammatory rhetoric.
The congressmen, in a draft letter to Holder that has not yet been sent, allege that rallies held by the organization appear to "incite violence and encourage racial slurs," with Justice Antonin Scalia, Justice Clarence Thomas and his wife Virginia being the targets.
The letter cited a newspaper report on a Common Cause rally at which protesters were quoted, in reference to Thomas, saying they should "string him up" and put him "back in the fields." Thomas is black.
The lawmakers also plan to forward to Holder a number of fundraising e-mails from the group which they claim "promote anger" toward the justices.
The e-mails themselves, obtained by FoxNews.com, do not include any violent rhetoric. Rather, they outline Common Cause's rationale for wanting Holder to open an investigation into whether Scalia and Thomas had a conflict of interest when they voted to roll back campaign finance restrictions in the so-called Citizens United case.
Common Cause cited reports that the justices attended sessions sponsored by Koch Industries, owned by libertarian financiers Charles and David Koch; that Thomas didn't initially disclose money his wife earned from a conservative organization; and that Virginia Thomas is active with conservative causes.
Common Cause spokeswoman Mary Boyle rejected the notion that the organization was cultivating a hostile atmosphere. She said the accusations were "laughable" and that the group is committed to civility.
Asked about the rally cited by the GOP lawmakers, she noted that Common Cause had already condemned the comments made by protesters.
"We do not know who those people were," she said. "That was an aberration in the protest. That was largely a peaceful protest."
The rally was described in a Feb. 3 Wall Street Journal story, which detailed the contents of a video shot for a conservative website at a Common Cause rally. The videographer asked individuals in the crowd what should be done with Thomas and Scalia. After some coaxing by the videographer, those shown in the tape used violent or racially charged language in response. In regard to Thomas, one said, "torture." Another said "cut off his toes." Another said, "Hang him."
Boyle said the language was "not something that we condone."
But Rep. Louie Gohmert, R-Texas, and other lawmakers sending the letter to Holder said Common Cause was opening the door for violent rhetoric and any threats against a sitting judge "must be taken seriously" and investigated.
Asked whether one woman in the videos who said she wanted to hang Thomas really posed a threat, Gohmert told Fox News he couldn't dismiss it.
"Did you think the guy who shot Gabby posed a threat to her?" Gohmert asked, referring to the gunman who killed six and injured 13, including Rep. Gabrielle Giffords, D-Ariz., during an outdoor town hall meeting in Tucson in January.
In the draft letter, Gohmert, Rep. Steve King, R-Iowa, and others say Common Cause "is sponsoring programs and public protests that incite violence and encourage racial slurs against several Justices of the Supreme Court and their families.
"Common Cause's actions appear to be part of a well-orchestrated effort to smear certain justices in order to achieve a political goal, all of which is particularly disconcerting given that this organization claims to be a watchdog group with no one watching it," he said.
They urged the Justice Department to probe whether the activities sponsored by the organization "pose a threat" to officials and their families and whether they are consistent with their non-profit tax-exempt status.