GOP Campaign Committee Says It's Raised Big Enough War Chest To Hold Majority In House Of Representatives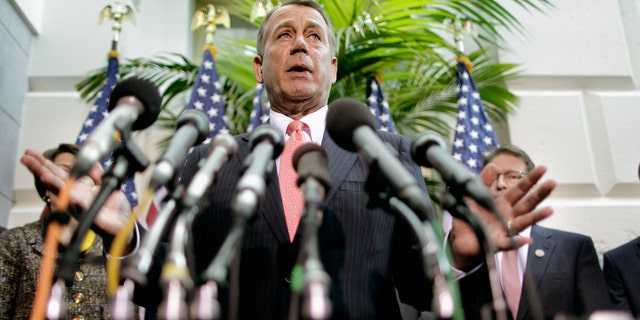 WASHINGTON (AP) — The House Republican campaign committee raised almost $10 million in March and has $31.2 million banked to defend the party's majority, according to financial reports filed Sunday.
The National Republican Congressional Committee's $21.2 million fundraising haul in January, February and March gave the group its best first-quarter showing since 2003. It also puts the committee roughly $8 million ahead of its fundraising at this point in 2012.
Still, the GOP committee faces a well-funded challenge from House Democrats, who amassed a $40 million fund.
Those fundraising updates — like dozens of others due by midnight Sunday — suggest that donors are starting to open their wallets for groups willing to spend hundreds of millions of dollars on federal races from coast to coast. The fundraising was fast approaching the $1 billion mark, fueled by donors on each side writing checks to committees and organizations in a show of just how politically divided the United States remains.
"This outstanding fundraising effort will enable the NRCC to stay on offense against House Democrats who continue to support Obamacare and failed leadership of (House Democratic leader) Nancy Pelosi," committee executive director Liesl Hickey said.
The Democratic Congressional Campaign Committee raised $10.3 million in March despite deep skepticism that Republicans can lose their majority in November. Its $40 million in savings puts it atop the fundraising contest among party-directed campaign committees and outpaced most three-month fundraising tallies released thus far from super political action committees, which can accept unlimited donations. Donations to party-run campaign committee are capped at $32,400.
"The DCCC has sustained a blistering fundraising pace this election cycle because Americans are sick and tired of a Republican Congress," Rep. Steve Israel of New York, who leads the Democrats' House campaign arm, said this past week.
Republicans outnumber Democrats by 34 seats in the 435-member House and there are three vacancies. Democrats face a steep climb to reclaim control for the first time since tea party-aligned candidates helped put the GOP back in power after the 2010 elections.
Democrats also had an advantage with their Senate committee. The Democratic Senatorial Campaign Committee reported raising $8.1 million in March and saved $22 million. The National Republican Senatorial Committee reported raising almost $6.4 million in March and saving $15.9 million.
Republicans need to pick up six seats in win the majority in the Senate.
At the central committees, Republicans had an edge. The Republican National Committee reported raising $10.2 million last month and banking $12 million. The Democratic National Committee raised $10.3 million last month and had $9.8 million in the bank.
The DNC also remains laden in debt: $14.1 million, to be exact.
Heading into Sunday's filing deadline for groups that disclosure their finances every month, Democrats appeared to be raising more cash than Republicans.
Among outside groups, Democrats enjoyed a more than 2-to-1 margin.
But some of the Republicans' most visible allies reported strong fundraising numbers. For instance, the Senate Conservatives Fund raised almost $2 million during the first three months of 2014. The group, which often challenges GOP leaders' preferred candidates, has raised almost $9.7 million so far this cycle and has spent $9.4 million, according to filings ahead of Sunday's midnight deadline.
And the Karl Rove-backed American Crossroads super PAC raised more cash in March than it did during the previous 14 months combined. The group in March returned to its donor network after a one-year fundraising hiatus. The group raised almost $5.2 million last month and reported it had more than $6.3 million in the bank.
American Crossroads was expected to release its donors' identities by Sunday's deadline, as well.
Yet at party-run committees, just $22 million separated Democrats from Republicans — out of the $503 million the six major campaign committees have raised combined.
All told, Democrats' outside groups and committees had about a 30 percent advantage over what Republicans had reported, although GOP groups such as Americans for Prosperity operate under rules that let them delay reporting.
Follow us on twitter.com/foxnewslatino
Like us at facebook.com/foxnewslatino