Giuliani not worried about Cohen talking to investigators, 'as long as he tells the truth'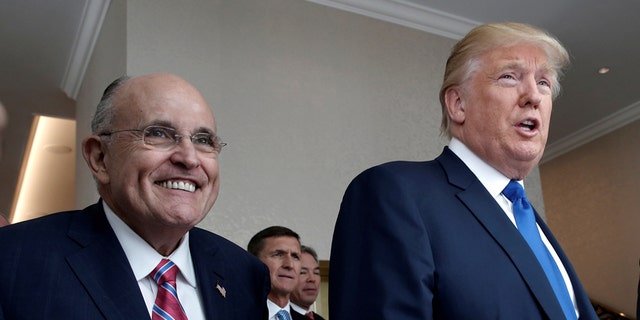 Rudy Giuliani made the rounds of the morning talk shows on Sunday to downplay concerns that President Trump's former personal attorney Michael Cohen will reveal any damning information during interviews with government investigators.
Giuliani, Trump's current attorney, said on ABC's "This Week" that neither he nor the president have any worries about what Michael Cohen will say "as long as he tells the truth."
"I have no concern that Michael Cohen is going to do anything but tell the truth," Giuliani said.
Giuliani's television appearances come on the heels of an admission earlier this week to ABC's George Stephanopoulos by Cohen -- who once boasted he would "take a bullet" for Trump -- that he is putting "family and country first" and protecting the president is not his priority.
While he wouldn't tell Stephanopoulos if he would cooperate with prosecutors, he also didn't dampen such speculation, taking issue with some of Trump's criticisms of the special counsel's Russia investigation and even going out of his way to praise the FBI.
He repeated previous denials that he had any involvement with Russian attempts to interfere with the 2016 presidential election, but he refused to criticize the investigation led by former FBI Director Robert Mueller.
Cohen's home, office and a hotel room in New York were raided by the FBI in April as part of an investigation into his business dealings.
Among other things, investigators are looking into a $130,000 payment he handled as part of a confidentiality agreement with porn star Stormy Daniels, who says she had an affair with Trump in 2006. Trump denies the affair.
Cohen, 51, has scrubbed any mentions and photos from his Twitter profile that previously identified him as "Personal attorney to President Donald J. Trump" and, in what has been called a "warning shot," hired Lanny Davis, a close friend of Bill and Hillary Clinton, to join his legal team.
Speaking on Sunday, Giuliani seemed unfazed by the recent developments – noting that Cohen "should cooperate with the government."
"We have no reason to believe he did anything wrong," the former New York City mayor said of Cohen.
When questioned about a possible pardon for Cohen should he be charged and convicted, Giuliani said he has advised Trump that there should be "no discussion of pardons," adding that is "something you can decide down the road."
During an appearance on NBC's "Meet The Press," Giuliani added that he would not recommend that Trump sit down with special counsel Robert Mueller for an interview.
"We're pretty much decided we are waiting for a decision of the counsel," Giuliani said, adding that there needs to be "some basis for investigation."
The Associated Press contributed to this report.