Gipper's memento: Reagan's signed oath of office goes up for sale
NEWYou can now listen to Fox News articles!
Even Ronald Reagan needed most of January to begin signing the correct year, and the proof is in a one-of-a-kind document inscribed by the Gipper and given to a trusted aide the day the 40th president took the oath of office.
After giving the 41-word oath to Chief Justice Warren Burger on Jan. 20, 1981, Reagan inscribed and dated the printed version he'd used for practice for a trusted aide.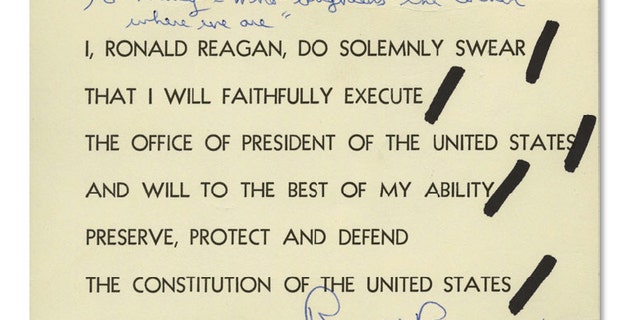 "To Nancy – who 'brightens the corner where we are,' Ronald Reagan 1/20/80," he wrote to Nancy Clark Reynolds, a longtime friend, aide and member of the Reagan transition team.
The document is now up for sale for $62,500, according to rare documents dealer Nathan Raab, whose Philadelphia-area company obtained the item from an unnamed seller.
"This is a unique document," Raab told FoxNews.com. "Reagan is someone whose legacy is widely admired, by both Democrats and Republicans, and his inauguration marked a turning point in American history."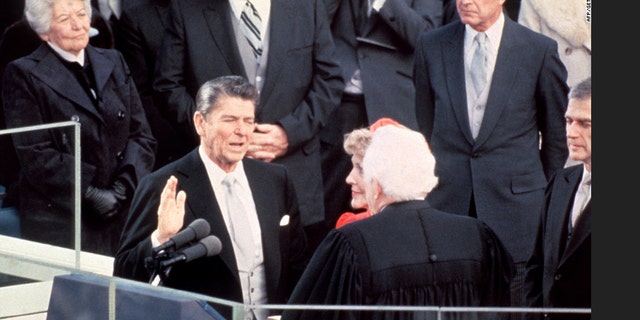 Raab believes the document is likely the only original presidential oath of office signed by a president to ever reach the market. It is up for sale at the fixed price just days before President-elect Donald Trump takes the same oath, some 36 years later.
The document was previously passed along by Reynolds, now 89 and living in Santa Fe, N.M., but details were not clear. Reynolds' son, Michael Reynolds, told FoxNews.com he could vouch for the document's authenticity.
"Oh, it's real," Reynolds said, noting that the quote Reagan used was from an old hymn. "Maybe related to his view that America is a 'shining city upon a hill'."
Michael Reynolds described the close relationship the Reagans had with his mother, and remembered spending almost every Christmas in the White House with the president and first lady Nancy Reagan.
"People would call my mother the "other" Nancy," recalled Reynolds, who recalled witnessing the inauguration at age 15 from a seat behind former Secretary of State Henry Kissinger and TV legend Johnny Carson.
"It was very special to be able to celebrate his election and the presidency -- those were great years, and my mom was up on the main stage with him," he said. "It was kind of overcast and cloudy that day, but pretty much as soon as he took the oath and gave his inaugural address, the skies opened up and it became sunny, leaving people joking, 'wow, is this a sign?'"