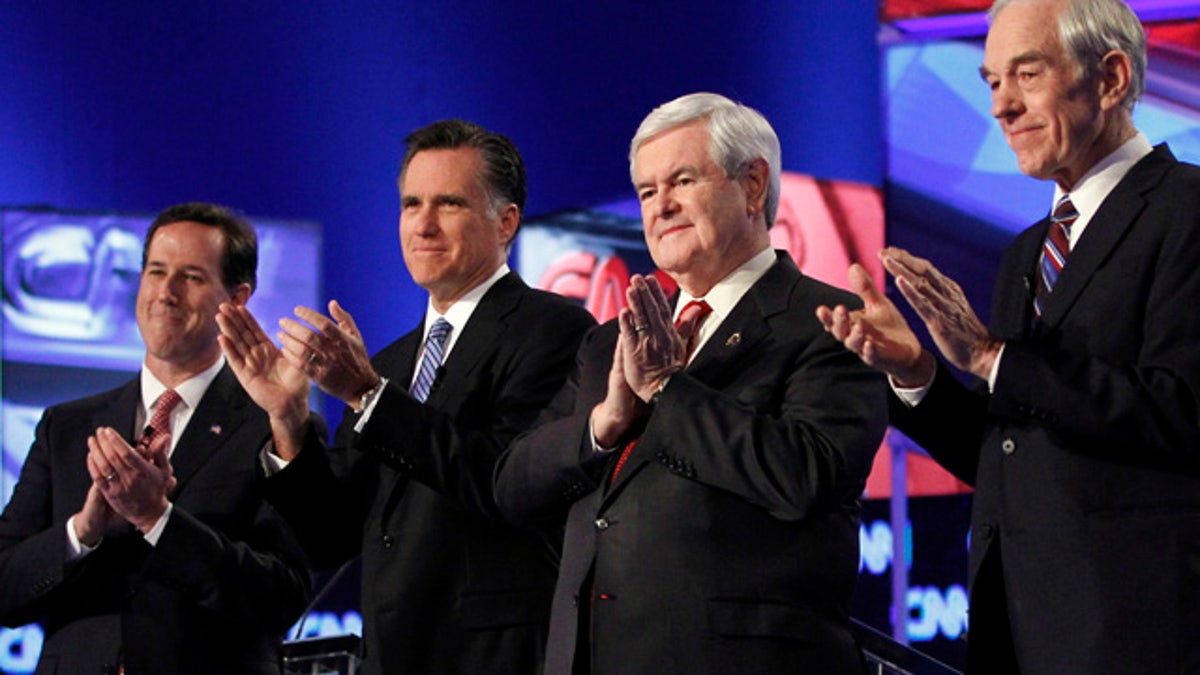 Newt Gingrich, rising in the polls, may have captured momentum by not only slamming the door on questions about his personal life, but reminding his rivals -- and voters -- that he's battling to the end to win the hearts and minds of America's conservatives.
The former House speaker, ahead of Saturday's South Carolina primary, used the debate stage Thursday night to position himself as the chief challenger to Mitt Romney. Though he faced tough questions over his leadership style and past support of a controversial health insurance mandate, it was his opening response to a question about salacious allegations made by his second ex-wife that set the tone for the night and left no doubt that Gingrich would take on all-comers.
"I am appalled that you would begin a presidential debate on a topic like that," Gingrich told the moderator. "To take an ex-wife and make it, two days before the primary, a significant question in a presidential campaign, is as close to despicable as anything I can imagine."
The attention on Gingrich comes as he rises in the polls, even picking up the endorsement of Rick Perry after the Texas governor dropped out of the race Thursday morning. Against this new dynamic, Gingrich found himself sparring frequently not only with Romney but Rick Santorum, who lunged at Gingrich at the debate over his past support for an individual health insurance mandate and described him as an ineffective and undisciplined leader dating back to his time as House speaker.
Santorum said that while he'll give Gingrich "his due" on having "grandiose ideas," he can't say the same about his ability to execute those ideas.
"Four years into his speakership, he was thrown out by the conservatives. There was a coup against him in three," Santorum said. "It was an idea a minute, no discipline, no ability to be able to pull things together."
Santorum, by contrast, described himself as "steady" and "solid."
Ceding no ground on the debate stage, which to date has been Gingrich's place to shine, the former speaker accused Santorum of writing a "selective history."
"Long before Rick came to Congress, I was busy being a rebel, creating a conservative opportunity society, developing a plan to win a majority in the Congress," Gingrich said, describing that history as fact even if it's "inconvenient for Rick's campaign."
The clash came after Gingrich earlier in the week suggested Santorum, as well as Perry, drop out of the race. While Perry bowed out Thursday, Santorum is vowing to put up a stiff fight in Saturday's South Carolina primary – Santorum was buoyed by new certified results out of Iowa that showed he led Romney by 34 votes in the caucuses. Though Romney was not technically conceding defeat, Santorum goes into South Carolina claiming he's one-for-two in the first two presidential contests. Romney won the New Hampshire primary by a decisive margin.
But recent polls show Gingrich creeping into the lead in South Carolina. And at the top of the debate, Gingrich defended himself over a story that could potentially threaten his rise – a pair of interviews his ex-wife Marianne granted in which she claimed Gingrich once sought an "open marriage."
"The story is false," Gingrich said.
Gingrich confronted CNN moderator John King, who posed the question about Marianne's claims.
He said, "I am frankly astounded that CNN would take trash like that and use it to open a presidential debate."
As the debate proceeded, Ron Paul at times suggested he was being ignored as the other three candidates took shots at one another. Paul, who came in second in the New Hampshire primary, stressed that with Perry out he is the only veteran left in the race. He also reiterated his call to cut $1 trillion from the federal budget.
In a reflection of the complex political dynamics of the race, first Gingrich and then Santorum challenged Romney over his well-documented switch of position on abortion. Once a supporter of a woman's right to choose, he now says he is "pro-life."
Gingrich didn't exactly question Romney's change in position, but he didn't embrace it, either, saying, "He had an experience in a lab and became pro-life."
Romney bristled. "I'm not questioned on character or integrity very often. I don't feel like standing here for that."
Both Gingrich and Romney faced heated criticism from Santorum over their past support for the idea of a requirement that Americans buy health insurance.
Santorum accused Romney of standing by Massachusetts' plan, which he helped implement as governor, despite it being an "abject failure."
And Santorum said either candidate would have a hard time going up against President Obama in a general election because of difficulty they would have distinguishing themselves over the individual mandate issue.
"These are two folks who don't present the clear contrast that I do," he said. "I've been fighting for health reform, private sector bottom up … for 20 years, while these two guys were playing footsies with the left."
Romney defended the Massachusetts plan, saying it has slowed the growth of health insurance costs in the state. He vowed to repeal the federal health care overhaul, calling it a "monster."
Santorum accused Romney and Gingrich of previously backing what was at the "core" of the federal health care overhaul. But Gingrich said he'd have a retort for Obama should he bring that up in a general election – "I can say, you know, I was wrong and I figured it out. You were wrong and you didn't."
Though the candidates sparred with Gingrich on several issues, they steered clear of the controversy involving his ex-wife.
"Let's get onto the real issues, that's all I've got to say," said Romney, although he pointed out that he and his wife, Ann, have been married for 42 years.
All four remaining GOP candidates lustily attacked Obama, while Santorum in particular sought to raise his own profile. Santorum jabbed at both Gingrich and Romney, but seemed to focus more attention on the former. If Gingrich is the party nominee, he said, "you sort of have that worrisome moment that something's going to pop. And we don't need that in a nominee."
Romney is also facing pressure to release his income tax returns before the weekend. He told reporters it wouldn't happen. "You'll hear more about that. April," Romney said, a position he renewed during the debate.
Gingrich released his own tax return during the day, reporting that he paid the IRS nearly $1 million in taxes on more than $3.1 million in income. He also donated about 2 percent of his income to charity.
His effective tax rate, roughly 31.6 percent of his adjusted income, was about double what Romney told reporters earlier this week he had paid.
The candidates had one area of agreement. Standing in near unison, the candidates condemned a proposed anti-online piracy law that its critics say is overly aggressive.
Romney said the law is "far too intrusive" and too broad. He said if the Stop Online Piracy Act becomes law, it could stop job creation and hurt the economy.
Gingrich said the law pre-emptively censors the Internet on behalf of corporations. He said there are patents and copyrights to protect creators' rights and that, if someone is stealing, then the owners should sue under existing laws.
Santorum said he doesn't like the law but added that the Internet is not somewhere "where anyone can do anything they want." And Paul said the bill threatens freedom.
The Associated Press contributed to this report.