Gingrich Looks to Reignite Campaign After Recent Setbacks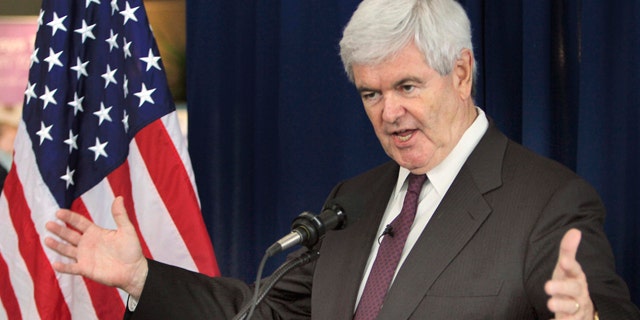 LOS ANGELES – Just days after his top staff resigned en masse, Newt Gingrich on Sunday sought to reboot his troubled presidential bid with a foreign policy speech accusing the Obama administration of placing "political correctness above common sense" in its dealings on the world stage.
The address before the Republican Jewish Coalition, scheduled for Sunday night in Beverly Hills, will be Gingrich's first since he was rocked by the sudden exodus of 16 senior strategists and advisers. They bolted Thursday less than a month after his White House campaign was formally launched.
Pledging to soldier on, Gingrich vowed to start fresh in Los Angeles, where he said his campaign "begins anew."
In remarks prepared for delivery and provided to The Associated Press, Gingrich makes only a passing reference to the upheaval, vowing to carry his message of renewal around the country "no matter what it takes."
The West Coast speech had been planned well before the Gingrich campaign imploded.
But as the former House Speaker scrambles to prove he remains a viable contender, the appearance allows him to showcase the two strongest sides of his personality: policy heavyweight and verbal bomb thrower.
Gingrich argues that "both Israel and America are at a dangerous crossroads at which the survival of Israel and the safety of the United States both hang in the balance."
Gingrich was also set to deliver red meat to the pro-Israel audience. He will pledge that, if elected president, he would sign an executive order on his first day in office moving the American embassy to Jerusalem from Tel Aviv. Palestinians contend moving the U.S. embassy to Jerusalem would be recognition of Israel's claim to the city. Gingrich argues that Israel has every right as a sovereign nation to choose its own capital and Americans should respect that choice.
In the remarks, Gingrich says his decades in public life mean that he's familiar with the rigors of the campaign trail.
Still, even for the veteran politician, the path forward is challenging.
Gingrich must replace the core of his campaign infrastructure -- a daunting task, especially after telegraphing to would-be staffers that he's difficult to manage. And with the GOP race still taking shape, Republican donors will be less than enthusiastic about writing checks to a campaign in disarray.
Gingrich heads to New Hampshire for a debate Monday night among Republican White House hopefuls. Also on Monday, Gingrich's new book "A Country Like No Other" is set to hit bookstores. It's the 24th book for the prolific Gingrich, who has also been making political documentaries with his wife, Callista, since resigning as House speaker in 1999.
He'll be screening one of those documentaries before tea party crowds in Philadelphia and Savannah, Ga., in coming days as he tries to craft what he describes as a citizen-driven campaign, heavy on new media and other nontraditional events.
It was, in part, deep disagreement over that strategy that prompted top Gingrich staffers and operatives on the ground in the early-voting states of Iowa, New Hampshire and South Carolina to step down.
His aides had been urging Gingrich to hew to a more traditional campaign schedule of grassroots events in states like Iowa, where voters are accustomed to spending time with candidates in advance of the first-in-the-nation caucuses.
Departing aides cited deep differences over strategy and questioned whether Gingrich is committed to spending enough time on the road in key states to win.
Former Georgia Gov. Sonny Perdue, who had signed on as Gingrich's national campaign co-chairman, defected to the Pawlenty camp. In an interview with The Associated Press, Perdue praised Gingrich's intellect and skills as a speaker, but said his strengths simply weren't shining through on the campaign trail.
Perdue also said Gingrich's lengthy luxury cruise in the Greek Isles, just as the presidential contest was heating up, made him skeptical about his commitment to the race.
"It raised a real question in my mind," Perdue told the AP.