Georgia Democratic gubernatorial candidate Stacey Abrams helped torch state flag during college protest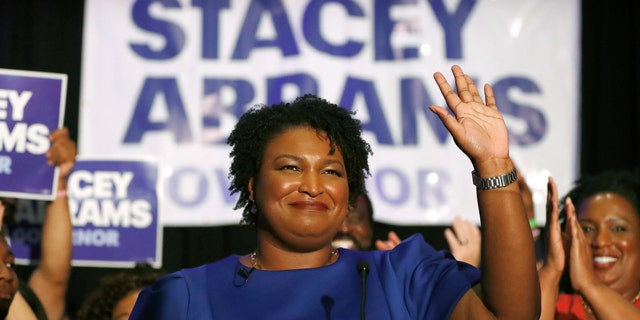 The Democratic gubernatorial nominee in Georgia, Stacey Abrams, helped light a state flag on fire on the steps of the state's Capitol in June 1992, as part of a protest that her campaign on Monday night characterized as an effort to "overcome racially divisive issues."
The flag at the time incorporated designs from the Confederate battle flag, and Abrams, then a freshman at Atlanta's Spelman College, was one of about a dozen demonstrators involved, according to contemporaneous newspaper accounts and several social media posts that surfaced the issue late Monday.
An article from the Atlanta Journal-Constitution shows Abrams torching the flag in a photograph. A 20-year-old senior at the school told the paper that the protest was designed to "send Georgia's racist past up in flames," and "fight fire with fire. ... Burn, baby, burn!" No arrests reportedly occurred at the protest.
Abrams is set to face off in a debate Tuesday against her Republican opponent, two-term Georgia Secretary of State Brian Kemp, who had called her an "extreme" candidate before Monday's dramatic revelation.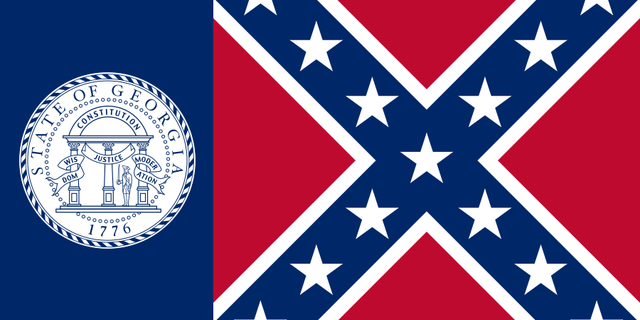 The two are neck-and-neck according to most polls; Abrams is hoping to become the first female black governor in the country's history.
"During Stacey Abrams' college years, Georgia was at a crossroads, struggling with how to overcome racially divisive issues, including symbols of the Confederacy, the sharpest of which was the inclusion of the Confederate emblem in the Georgia state flag," read a statement from Abrams' campaign, first obtained by The New York Times. "This conversation was sweeping across Georgia as numerous organizations, prominent leaders, and students engaged in the ultimately successful effort to change the flag."
The statement continued by highlighting Abrams' long career in local politics.
AFTER CONFEDERATE STATUTE CONTROVERSIES, STATES MOVE TO TEAR DOWN MONUMENTS DEEMED OFFENSIVE TO NATIVE AMERICANS
"Abrams' time in public service as deputy city attorney and as a state legislative leader have all been focused on bringing people together to solve problems," her campaign said.
Last year, Abrams, 44, called for the removal of a Confederate carving in Stone Mountain, saying it was a symbol of white supremacy. Kemp defended the carving for its historical value.
It was not immediately clear what effect Monday's sudden revelation would have on the gubernatorial race. A recent poll from the AJC/Channel 2 puts Abrams and Kemp within two points of each other, reinforcing many political analysts' prediction of the Peach State turning purple.
The last Democratic governor was Roy Barnes, elected in 1998 -- and, as The Times reported, his support for changes to the Confederate symbols on the state flag may have cost him his job.
The state adopted a new flag without the Confederate battle flag symbols in 2003.
Robert Howard, a political science professor at Georgia State University, told Fox News it's not a matter of if but when Georgia sees a blue wave, considering its dramatic demographic changes.
The metro Atlanta area's nonwhite population nearly doubled from 1970 to 2015, according to a Georgia State University study.
"If it's not quite a bellwether state, it is moving towards that column," Howard added, noting the stronghold the Democratic Party has on minority voters across the country.
Fox News' Emilie Ikeda contributed to this report.