Georgia Dem gubernatorial nominee says 'blue wave' will include undocumented immigrants
A "blue wave" in the midterm elections will be fueled in part by undocumented immigrants, Democratic gubernatorial nominee Stacey Abrams said at a campaign rally last week.
"But the thing of it is, the blue wave is African-American. It's white, it's Latino, it's Asian Pacific Islander. It is disabled. It is differently abled. It is LGBTQ. It is law enforcement. It is veterans," Abrams said to cheers. "It is made up of those who are told they are not worthy of being here ... those who are documented and undocumented."
Abrams, running for governor in Georgia, made the comments at a rally on Tuesday with Sen. Elizabeth Warren, D-Mass., according to the Washington Free Beacon. The remarks quickly made headlines, as they appeared to suggest illegal immigrant participation at the polls -- though Abrams may have simply been saying their interests would be represented.
GOP nominee Brian Kemp told Fox News on Monday that Abrams "wants illegals to vote in Georgia."
FOX NEWS MIDTERM ELECTIONS HEADQUARTERS
"I think hard-working Georgians should decide who their governor is, not people here illegally like my opponent wants," Kemp said on "Fox & Friends," adding it would be unlawful for undocumented immigrants to vote in the gubernatorial election.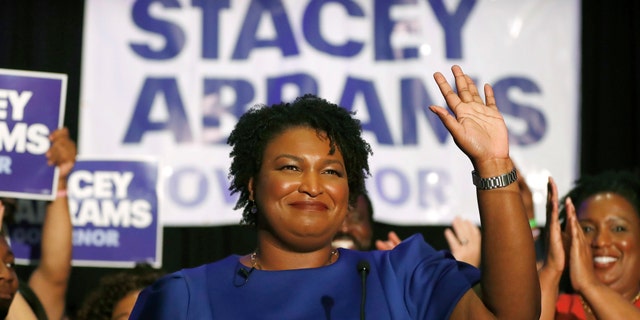 Abrams, 44, is vying to be the first black female governor in America. She stood out in her bid to win the Democratic nomination as she insisted the way to dent the GOP's domination in Georgia wasn't by cautiously pursuing older white voters who have abandoned Democrats in recent decades. Instead, she is seeking to widen the electorate by attracting young, diverse voters who haven't been casting ballots.
WHO IS STACEY ABRAMS, THE GEORGIA GOVERNOR HOPEFUL WHO COULD BECOME FIRST BLACK, FEMALE STATE LEADER?
An award-winning romance novelist, Abrams is a former state representative and was endorsed by former Secretary of State Hillary Clinton in her gubernatorial bid.
Ahead of the election, Abrams has ratcheted up her assertion Kemp is effectively suppressing minority and female voters in his role as Georgia's secretary of state. At issue is Georgia's so-called "exact match" voter registration law, which Kemp helped lobby Georgia's GOP-run legislature to adopt.
The law requires information on a voter's registration application to exactly match information on file with Georgia's driver's license agency of the Social Security Administration. Abrams argues, for instance, that women who have changed or hyphenated their names after being married could be tripped up.
Kemp called Abrams' accusations a "smokescreen" and "distraction" in an attempt to "hide her radical views."
Abrams' campaign did not respond to a request for comment from Fox News Monday morning. Fox News has ranked the gubernatorial race between Abrams and Kemp a toss-up.
The Associated Press contributed to this report.