George H.W. Bush's reported last words: a dad affirming love for son George
NEWYou can now listen to Fox News articles!
The final exchange between former President George H.W. Bush and his son George W., before the elder's death on Friday was a sweet moment, one in which the pair expressed affection for one another, according to a report from The New York Times on Saturday.
In the conversation, George W. – who told his father on speaker phone that he loved him – said what a "wonderful dad" he'd been, the outlet reported.
And in his final words, George H.W. reportedly answered simply: "I love you, too."
The 41th president died shortly after 10 p.m. Friday, about eight months after the death of his wife, Barbara, the family spokesman, Jim McGrath, announced. Bush was 94 years old.
GEORGE H.W. BUSH, 41ST PRESIDENT OF THE UNITED STATES, DEAD AT 94
Upon the ex-president's death, George W. issued a statement saying he "was a man of the highest character and the best dad a son or daughter could ask for."
"Jeb, Neil, Marvin, Doro, and I are saddened to announce that after 94 remarkable years, our dear Dad has died," he said. "The entire Bush family is deeply grateful for 41's life and love, for the compassion of those who have cared and prayed for Dad, and for the condolences of our friends and fellow citizens."
Moments from the end of Bush's life were shared with The Times by James A. Baker III, who was the former president's companion, as well as his secretary of state and White House chief of staff during his administration (1989-93).
Baker paid him a visit Friday morning, and was there when he expired, he told the outlet.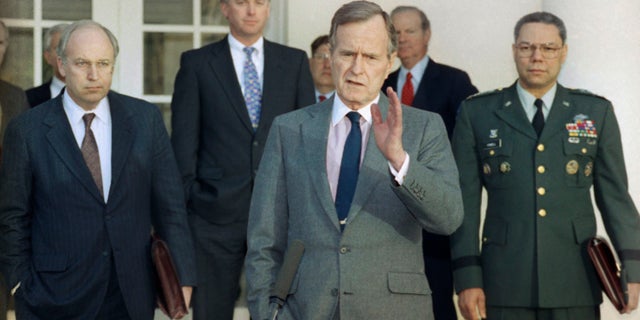 FORMER PRESIDENT GEORGE H.W. BUSH, FONDLY REMEMBERED AND WIDELY PRAISED FOR SERVICE
"I can't even hardly talk about it without welling up," Baker told The Times. "It was as gentle a passing as I think you could ever expect anyone to have. And he was ready."
In recent days, Bush's demeanor had changed – he spent much of his time in bed and had lost his appetite, Baker said. But his spirits seemed to lift by Friday.
"Everybody thought this is going to be a great day and he's back and he's bounced back again," Baker told The Times.
That changed by the evening, however, and Baker returned to Bush's side, according to the outlet. By 10:10 p.m., George H.W. Bush was gone.
"If those things could be sweet," Baker told The Times, "it was sweet."
Fox News' Louis Casiano contributed to this report.