Former President George H.W. Bush, fondly remembered and widely praised for service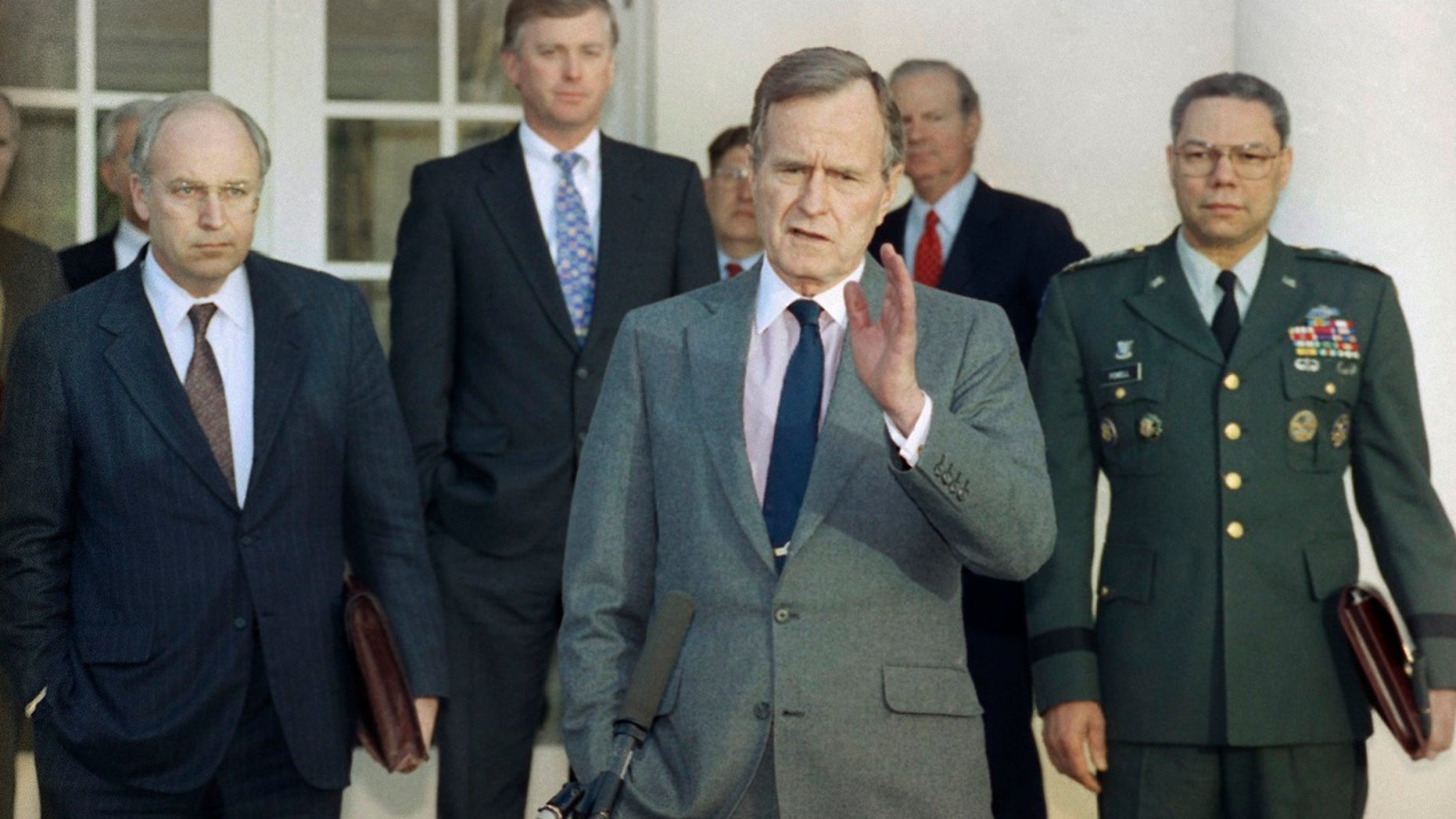 Soon after news broke that former President George H.W. Bush had died Friday at age 94, tributes and remembrances started arriving from President Trump, past White House occupants and members of the Bush administration -- as well as friends and admirers of the former commander in chief and his family.
Trump, in Argentina for the G20 summit, issued a statement on behalf of himself and first lady Melania Trump. It read in part: "Melania and I join with a grieving Nation to mourn the loss of former President George H.W. Bush, who passed away last night.

"Through his essential authenticity, disarming wit, and unwavering commitment to faith, family, and country, President Bush inspired generations of his fellow Americans to public service — to be, in his words, "a thousand points of light" illuminating the greatness, hope, and opportunity of America to the world."
The White House confirmed Saturday morning that the Trumps would attend Bush's funeral.
White House Press Secretary Sarah Sanders told Fox News: "The president and first lady were notified late last night of President George H.W. Bush's passing. President Trump is scheduled to speak with President George W. Bush this morning and offer his condolences on behalf of himself, the first lady and the entire country. A state funeral is being arranged with all of the accompanying support and honors."
She said Trump was designating Wednesday a "National Day Of Mourning. He and the first lady will attend the funeral at the National Cathedral in Washington, D.C."
Former President George W. Bush, 41's eldest son and the nation's 43rd president, posted a photo of his parents boarding Marine One with the caption, "Jeb, Neil, Marvin, Doro, and I are saddened to announce that after 94 remarkable years, our dear Dad has died. George H.W. Bush was a man of the highest character and the best dad a son or daughter could ask for. The entire Bush family is deeply grateful for 41's life and love, for the compassion of those who have cared and prayed for Dad, and for the condolences of our friends and fellow citizens."
Former President Barack Obama and former first lady Michelle Obama called Bush a "patriot" and a "humble servant" in a statement, and praised him for expelling former Iraqi dictator Saddam Hussein from Kuwait and helping to bring about a peaceful end to the Cold War.
The Obamas credited him with "expanding America's promise to new immigrants and people with disabilities. Reducing the scourge of nuclear weapons and building a broad international coalition to expel a dictator from Kuwait. And when democratic revolutions bloomed across Eastern Europe, it was his steady, diplomatic hand that made possible an achievement once thought anything but - ending the Cold War without firing a shot.
"George H.W. Bush's life is a testament to the notion that public service is a noble, joyous calling," the statement read. "It's a legacy of service that will never be matched, even though he'd want all of us to try."
In a statement released by former Vice President Joe Biden, he wrote that the "nation has lost a great leader" amid the death of the 41st president. He also reflected on Bush's kindness while remembering a trip his family had taken to Houston in 2015 "to honor the doctors that cared for our deceased son Beau."
"President Bush insisted on coming out to see us. He wanted to personally welcome us to Houston and offer his condolences for the loss of our son," Biden recalled. "That was George H.W. Bush — decent, kind, and welcoming. With President Bush it was seldom about himself. Always about others. His life of service was legendary."
While noting the former president's military service and his time in government, "Bush chose a path of service," Biden said.
"Over the course of the many years we worked with together — and against each other — on the biggest issues of the day, differences of policy were always based on substance. It was never personal. It was never petty. It was always with respect for our institutions and the people they govern," Biden said. "As we mourn his passing today, we remember a life totally and completely dedicated to the country he loved."
Another White House alumnus, Bill Clinton, said he and former Secretary of State Hillary Clinton "mourn the passing of President George H.W. Bush, and give thanks for his great long life of service, love, and friendship.
"I will be forever grateful for the friendship we formed. From the moment I met him as a young governor invited to his home in Kennebunkport, I was struck by the kindness he showed to Chelsea, by his innate and genuine decency, and by his devotion to Barbara, his children, and their growing brood."
Hillary Clinton echoed her husband's sentiments, describing Bush as "a beloved father & grandfather, a war hero, a public servant, & a class act."
"In my experiences w/ him, I always valued his desire to listen, look at evidence & ask for ideas, even from people w/ different beliefs," she tweeted. "My heart goes out to the entire Bush family."
The daughters of the late former President Richard Nixon also paid tribute to Bush's life and public service.
"Our father believed in George H.W. Bush," a statement from Tricia Nixon Cox and Julie Nixon Eisenhower said. "George H.W. Bush lived a life that was purposeful, and extraordinary rewarding -- for out nation, and for our world."
As for Bush predecessor Jimmy Carter, he, too, had words of tribute to offer on his family's behalf: "Rosalynn and I are deeply saddened by the death of former President George H.W. Bush. His administration was marked by grace, civility, and social conscience. Through his Points of Light initiative and other projects, he espoused a uniquely American volunteer spirit, fostering bipartisan support for citizen service and inspiring millions to embrace community volunteerism as a cherished responsibility. We again extend our heartfelt condolences to the Bush family."
George P. Bush, said his grandfather was the "greatest man I ever knew."
Dan Quayle, who served as vice president under the senior Bush, was considered by many a surprise choice when Bush selected the senator and former congressman from Indiana as his running mate in 1988.
"As so many Americans did, I had true affection for the man George Bush," Quayle said in a statement. "He was a completely genuine, decent and honorable person. What's more, he went into and out of the office as absolutely the same man. I think that exemplifies his character. I have often told my children, 'If you want a role model in your life — look to President George Herbert Walker Bush.' The world mourns the loss of a great American. But, it also celebrates a life well lived."
"As so many Americans did, I had true affection for the man George Bush. He was a completely genuine, decent and honorable person. What's more, he went into and out of the office as absolutely the same man."
Former Vice President Dick Cheney, who served as secretary of defense under the 41st president, recounted his time in the administration.
"They were not tranquil times, and American leadership was tested repeatedly – in Central America, in Europe, in the Middle East. Our president was more than equal to the challenges, managing events with calmness and clear thinking, and emerging as one of the most respected statesmen of his era.  This was never truer than in days of war, when he showed real courage and real wisdom – and never forgot the young Americans under his command.
"George Bush was a president who welcomed responsibility, kept his nerve, stood behind his team, and brought out the best in all of us.  It was easy to feel loyalty and affection for him because he was such a thoroughly admirable and decent man.  He had no illusions about politics or life, but there wasn't a trace of cynicism in him.  His sense of duty and code of honor were uncompromising, yet he carried himself with gentle ease and without pretense or self-regard.  If you knew George Bush you felt lucky and proud, and you always looked forward to being in his company.
"Our forty-first president leaves a legacy of public service and character that will stand down the ages.  He was also my good friend for more than 40 years, and I will miss him."
Former Vice President Al Gore said Bush inspired others to volunteer in their communities through his Thousand Points of Light initiative.
James A. Baker III, secretary of state and White House chief of staff during the Bush administration (1989-1993), said in a statement that the late president's legacy "will be forever etched in the history of America and the world."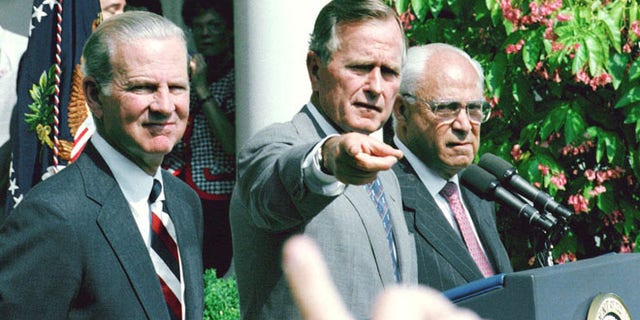 "It is a lifelong record of selfless patriotic service to our nation," Baker continued. "He was the youngest Navy pilot in World War II, a Texas congressman, UN ambassador, America's first envoy to China, CIA director, vice president and president.
"In each and every one of these positions, he led with strength, integrity, compassion and humility -- characteristics that define a truly great man and effective leader. With a singularly unique consistency, he always demonstrated these traits, whether on the global stage or interacting with people in his everyday life. His passion was a deep love of family and our country. It was my pleasure and great joy to have had him as my special friend for more than 60 years. Susan joins me in grieving the passing of our dear friend and sending the entire Bush family our deepest love and condolences."
"His passion was a deep love of family and our country. It was my pleasure and great joy to have had him as my special friend for more than 60 years. Susan joins me in grieving the passing of our dear friend and sending the entire Bush family our deepest love and condolences."
Former Secretary of State Condoleezza Rice said Bush "was the epitome of a public servant. He loved America with all of his heart and served her as fully and completely as anyone ever has.
"I am so grateful that I had the opportunity to work for him, to learn from him and to experience his deep and abiding commitment to his fellow citizens. He was a mentor to me and a dear friend."
The former president was also director of the CIA, and the agency issued a statement from its current director, Gina C. Haspel, saying: "We've lost a great champion of the Agency—an accomplished Director, faithful advocate, and dear friend—with the passing of former President George H.W. Bush.  As a heroic Navy pilot in the Second World War, a skilled statesman who deftly managed the collapse of the Soviet Union and liberated Kuwait from Saddam Husayn's aggression, and a committed citizen who remained engaged in public service throughout his later years, President Bush exemplified the virtues of patriotism, duty, and compassion.  Officers here at the George Bush Center for Intelligence and deployed around the globe honor the memory of a great American.  On behalf of the men and women of CIA, I extend our heartfelt condolences to the Bush family."
The British monarch Queen Elizabeth II released a statement expressing her condolences to the Bush family while describing the former president as "a great friend and ally of the United Kingdom."
"It was with sadness that I learned of the death of President George H W Bush last night," the statement read. "He was also a patriot, serving his country with honour and distinction in Office and during the Second World War. Prince Philip and I remember our days in Texas in 1991 with great fondness. My thoughts and prayers are with President Bush's family and the American people."
Sen. Orrin Hatch, R-Utah, said a statement on Bush's death would come Saturday morning, but simply tweeted "Rest In Peace, President Bush."
House Speaker-designate Nancy Pelosi wrote of the former president's "duty, sacrifice, commitment and patriotism."
"President Bush profoundly believed in the power of ordinary Americans to make a difference," she said in a statement. "His belief in a 'kinder, gentler' America encouraged people to embrace the spirit of service and encouraged them to share his vision of 'a thousand points of light.'  We will all remember his great humility, unwavering compassion, deep faith and extraordinary kindness in and out of the political arena."
Secretary of Defense James N. Mattis wrote, "President George Herbert Walker Bush, naval aviator, decorated in his youth for valor in combat, took his experience in war to build a better world as our commander in chief. His service to our nation demonstrated how we as a people can draw on our humility, diversity and devotion to our country to meet every challenge with fortitude and confidence. We will miss him, but at the going down of the day, his example will long guide our Sailors, Soldiers, Airmen and Marines for how to live life without regret."
The U.S. Navy tweeted out a memorial of the former president, who enlisted when he turned 18. The memorial cited a common mariner wish, "Fair winds and following seas, Sir. We have the watch."
Justice Clarence Thomas, who was nominated to the Supreme Court by 41 in 1991, said,:"It is with deep and profound sadness that Virginia and I learned of the passing of President Bush. I was honored to be nominated by him to the United States Court of Appeals for the District of Columbia Circuit and the Supreme Court of the United States. Both he and Mrs. Bush were the essence of decency and kindness then and throughout the years. Virginia and I extend our thoughts and prayers to the entire Bush family."
And Chief Justice of the Supreme Court, Justice John G. Roberts Jr., said the former president was, "an extraordinary American patriot and fundamentally decent man.  I extend my heartfelt condolences to the Bush family."
Mike Huckabee, former governor of Arkansas and Republican presidential candidate, said: "I first met President George HW Bush in 1980 in Little Rock when he was a candidate for President.  He ultimately became Ronald Reagan's Vice-President and I met him again at a Bassmaster's Classic in Pine Bluff, Arkansas where he (an avid angler) presented the trophies. When I ran for my first political race, he was running for re-election as President and he called me to encourage me. That he took the time to do that was remarkable.
"He was a thoughtful leader, and his life was one of sacrifice and service, starting with his heroic service as a fighter pilot in WWII where he was shot down in the Pacific, but survived to start his own business in Midland, Texas, later became Congressman, Ambassador, Director of the CIA, Chairman of the GOP, Vice President, President, and forever senior statesman and patriarch until his death after a long, adventurous and exceptional life.  Janet and I are saddened to learn that his exceptional life has ended, but celebrate a life 'Done Well.'"
Outgoing Sen. Jeff Flake, R-Ariz., offered his condolences in a tweet, adding that "We all owe a debt of gratitude for his honorable and humble service to the nation, and for his enduring example of kindness."
Former Texas governor and current Energy Secretary Rick Perry posted a photo of him and Bush on Instagram.
"Honoring a great & good man who inspired all," the post read. "We are all better knowing this fine gentleman. Gig 'em & God Bless."
House Speaker Paul Ryan, R-Wis., honored the former president's "qualities he once described as 'those little touches of grace and affection and humor that make life sing.'"
"George H.W. Bush was a man for all seasons. He was great in his impact, making the world safer and freer. He was great in his character, leading with decency and integrity. A war hero and statesman, the country is inspired by his example.
"Like so many Americans, I admired President Bush not only for how he served but for how he lived. He took pride in being a family man. The affection he showed for his children, grandchildren, and great-grandchildren was so endearing. His 73 years of marriage to Barbara marks a long and beautiful love story."
Sen. Marco Rubio, R-Fla., remembered Bush as a "wise and generous man."
House Majority Leader Kevin McCarthy (CA-23) said, "A bright point of light has gone out in the world."
He continued, "From start to finish, George Bush was a fighter for the cause of freedom. He began his public service in a Navy bomber, where he helped defeat the Axis Powers in World War II. He capped his public service in the Oval Office, where he oversaw the fall of the Berlin Wall and then the Soviet Union…. His life is a model of dignity, effective leadership, and patriotism…. Judy and I extend our deepest condolences to the Bush family as they mourn the loss of a father, grandfather, and American hero."
Sen. Claire McCaskill, D-Mo., called Bush "a class act," in a tweet, adding that "he loved this country and spent a lifetime in its service."
Franklin Graham, the son of the late evangelist Billy Graham and president of the Billy Graham Evangelistic Association, also remembered Bush in a Twitter message.
"President and Mrs. Bush were friends of my parents' through the years. May God bring comfort to all the Bush family," he tweeted.
"He inspired countless Americans to volunteer and improve their communities through his Points of Light Foundation. President Bush leaves behind an American legacy of a lifetime of service that will be revered for generations," his statement said.
Fox News' Elizabeth Zwirz contributed to this report.