Gates: No Idea How Long U.S. Military Could Be Involved in Libya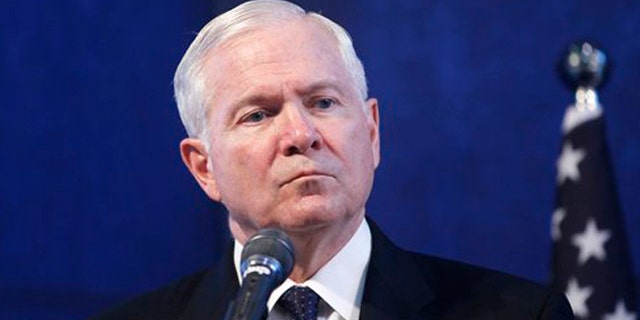 NEWYou can now listen to Fox News articles!
Defense Secretary Robert Gates said Sunday that nobody has "any idea" how long the United States military could be involved in Libya, though he stressed that Libyan leader Muammar al-Qaddafi's forces have been crippled by U.S.-led airstrikes.
Asked whether he expects the mission to be over by year's end, Gates said, "I don't think anybody knows the answer to that."
Gates discussed the intervention over the course of several interviews Sunday alongside Secretary of State Hillary Clinton. While he declined to give any estimates for how long the United States could be involved, the two officials stressed that significant gains have been made and NATO is taking on a much bigger role.
"We have taken out (Qaddafi's) armor," Gates said.
Clinton said, "we're beginning to see, because of the good work of the coalition, his troops begin to turn back toward the west -- and to see the opposition begin to reclaim the ground they had lost."
Libyan rebels kept pushing westward Sunday toward the capital, Tripoli. Brega, a main oil export terminal in eastern Libya, fell after a skirmish late Saturday, and advancing rebel forces seized the massive oil refining complex of Ras Lanouf on Sunday. Earlier, U.S.-led airstrikes allowed anti-government forces to recapture the key eastern city of Ajdabiya.
Shortly after Clinton and Gates spoke, ambassadors approved a plan to have NATO assume command of all aerial operations -- including ground attacks -- in Libya from the U.S.-led force that has been conducting air strikes.
Amid lingering questions about the scope and direction of U.S. involvement, President Obama is expected to deliver an address to the nation Monday evening.
Gates said Sunday that the no-fly zone was fully in place and could be sustained with "a lot less effort than it took to set it up." He said the Pentagon was planning how to draw down resources that will be assigned to European and other countries pledging to take on a larger role.
The two Cabinet officials spoke on NBC's "Meet the Press," CBS' "Face the Nation," and ABC's "This Week."
Clinton and Gates insisted that the objective was limited to protecting civilians, even as they hoped the pressure of concerted international penalties and isolation might strip away Qaddafi's remaining loyalists and cause his government to crumble.
"One should not underestimate the possibility of the regime itself cracking," Gates said.
He said Qaddafi shouldn't feel too comfortable after 42 years of dictatorship: "I wouldn't be hanging any new pictures if I were him."
Clinton added that his military and political advisers were increasingly seeking talks as they feel the international pressure.
The administration is "sending a message to the people around him," she said. "Do you want to be a pariah? Do you really want to end up in the international criminal court? Now is your time to get out of this and to help change the direction."
Yet even after a week of air strikes, Pentagon officials say forces loyal to Qaddafi are a potent threat to civilians. Defense officials are looking at plans to expand the firepower and airborne surveillance systems in the military campaign, including using the Air Force's AC-130 gunship armed with cannons that shoot from the side doors, as well as helicopters and drones. Gates said the U.S. could supply rebels with arms, but the administration hadn't made a decision.
Talk of any escalation will surely raise concerns. With the United States already trying to exit long wars in Iraq and Afghanistan, the administration has gone to great efforts to define the Libya operations as limited in scope and duration -- and necessary to prevent Qaddafi from possibly massacring civilians while his forces were reaching the rebel stronghold of Benghazi.
The Associated Press contributed to this report.