GAO Report Shows Redundancies and Red Tape Within Department of Transportation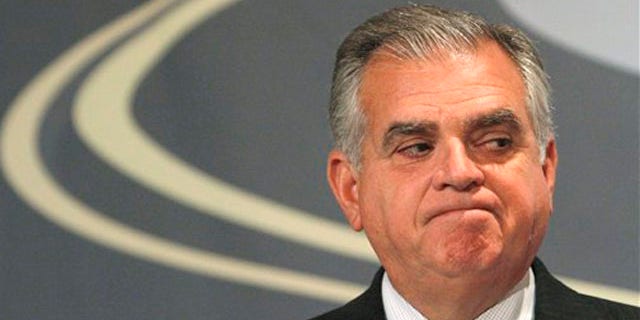 The Department of Transportation's massive budget is loaded with redundancies and duplicate programs, according to a new report on federal waste.
In the recently released report, the Government Accountability Office found wasteful programs ranging from fuel and energy requirements placed on government vehicles to road construction.
The GAO report suggested the department had become a giant, layered bureaucracy with many of those layers contradicting each other.
"We have an agency that's got its roots several decades ago and hasn't really updated its overall mandate to fit the realities here of the 21st century," said Robert Puentes, a senior fellow at the Brookings Institution who studies transportation and infrastructure.
That constant layering of bureaucracy has led to what the GAO report calls "an agglomeration of policies and programs established over half a century without a well-defined overall vision of the national interest…"
For instance, managers of the government's 600,000-plus non-military vehicle fleet often face conflicting policies and programs as they try to reduce both petroleum use and emissions by purchasing alternative-fuel vehicles.
The report says the fleet's energy requirements have been set through a series of statutes and executive orders that were issued in "a piecemeal fashion" and don't work together to help the federal government meet the divergent goals they set.
Many of the vehicles the federal government buys must be capable of running on ethanol, though it is rarely available. That means fleet managers are requesting – and in most cases receiving -- waivers to fuel these vehicles with gasoline or diesel fuel.
Rules requiring the purchase of alternative fuel vehicles often clash with rules on emission requirements since they often release higher emissions than petroleum-fueled vehicles. And requirements that agencies buy hybrid vehicles can also put them in violation of standards on electricity consumption.
More than 20 agencies that use parts of the federal fleet have to adhere to rules that are administered by several different orders and regulations such as the EPA acts of 1992 and 2005, the Energy Independence and Security Act of 2007, and Executive Orders 13423 and 13514.
The Government Services Administration says it is working with agencies to reduce red tape.
"GSA is working closely with the administration to simplify the requirements around purchasing clean energy vehicles for the federal fleet so that we can further reduce our dependence on foreign oil, save taxpayer money and invest in the innovative technologies that will be the backbone of our economy," a spokesman said in a statement.
But the GAO report says the redundancies and policy conflicts within the Department of Transportation don't stop with fuel, efficiency and emission standards.
Highways, rail, transit and safety programs are managed by 6,000 workers divided among five different agencies within the department. The report says those five agencies administer more than 100 individual programs, each with their own streams of revenue. There has been talk in Washington of consolidating DOT programs but thus far, nothing has been done.
"There was a proposal out of the House transportation committee that proposed collapsing some programs. President Obama's most recent budget also proposed collapsing some programs down to just a few, so this is not a new thing," Puentes said.
He adds that Department of Transportation programs have become similar to a lumbering ship that needs a change in direction.
"It's very difficult to change this bureaucratic inertia and try to actually have some substantial reform in how these departments are organized as opposed to just doing something that looks more like rearranging the deck chairs."
The House Transportation and Infrastructure Committee may have found a way to right the ship. Ranking Democrat Rep. Nick Joe Rahall of West Virginia says the committee can cut 75 of DOT's more than 100 programs.
"As we look to reauthorize the federal transportation bill this year, [the committee's chairman Rep. John Mica, R-Fla.] and I have agreed there is a lot of duplication that can be eliminated in our efforts to streamline the federal process," Rahall said.
And Transportation Secretary Ray LaHood points to the Obama administration's recently released 2012 budget and consolidations it suggests within DOT.
"If you look at the budget the president put out and look at what he did, we collapsed 50 programs into four and we are now, I think, consolidating and doing what the president wants to do is make sure there are efficiencies in the programs. And that's the reason why these 50 programs were collapsed," LaHood said in congressional testimony.
But Sen. Tom Coburn, R-Okla., says the Department of Transportation's ballooning bureaucracy has led it to stray from its intended mission.
"Transportation with the Eisenhower administration made great strides," Coburn told Fox News. "We have now a Department of Transportation that is way too involved in state matter. We have 15 percent of the money that's not going to build anything -- enhancements to make things look nice -- when in fact we've got 250,000 bridges falling down in America."
Coburn says transportation funds could be better spent by the states.
"What I'd like for Oklahoma to have is all their money that they send up here, just let us keep it. We'll meet federal standards on highways. Let us manage it and do it ourselves. We'll do it in a much more efficient way and a much more effective way."
But when asked by Fox News about the report after a House budget hearing Tuesday, LaHood said he didn't have any idea what report was being asked about.
"I don't have any comment on that," LaHood said. "I don't know enough about what you're talking about to even give you a comment."