Fox News Polls: Republicans Finish Strong in Key States on Eve of Election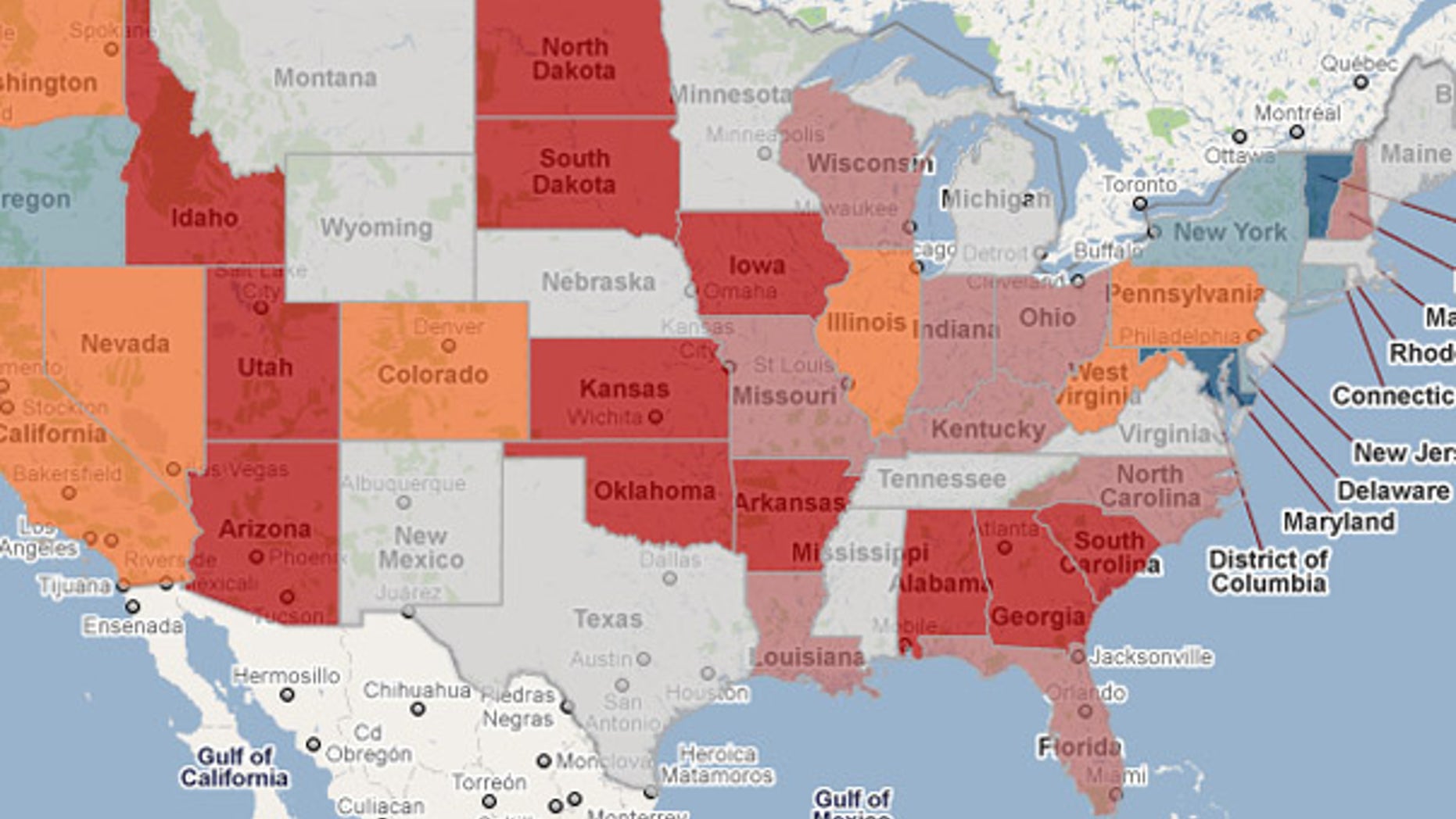 On election eve, Republicans are finishing strong in key states.
The final round of Fox News battleground state polls shows Democratic incumbents in trouble across the country.
The latest surveys were conducted on Oct. 30 by Pulse Opinion Research for Fox News. Each survey included 1,000 likely voters and has a margin of error of 3 points.
Nevada Poll Shows Angle with Momentum
Senate Majority Leader Harry Reid heads into Election Day in dire shape for holding on to his Nevada Senate seat.
The latest Fox News Battleground state poll shows Republican Sharron Angle now leading Reid by 3 points, 48 percent to 45 percent among likely voters. Reid dropped two points from the last Fox poll of the Silver State two weeks ago.
It's yet another sign that the Oct. 21 debate in the race may have been a tipping point for Angle, whom Reid's campaign had attacked as "extreme," "nuts" and "crazy" for months. By outperforming expectations in the debate, and with her "Man up, Harry Reid" zinger, Angle seems to have gone a long way in closing the deal in this race.
Favorable views of Angle shot up from 36 percent to 43 percent and unfavorable views of the former state senator dropped from 58 percent to 52 percent.
Voters turned just as sharply against Reid as they became more approving of Angle. Unfavorable views of Reid climbed 4 points to a toxic 60 percent.
But Nevada voters are generally unhappy with Democrats, including President Obama.
Obama's approval rating dropped to a new low in the Fox News battleground state poll of 38 percent and a new high of 53 percent said that Obama's policies had hurt Nevada's economy.
Women seem to be more uneasy about Angle as evidenced by a giant gender gap. While Angle has the edge among male voters 53 percent to 37 percent, among women, the Republican is down 53 percent to 43 percent.
Click here for the complete questionnaire
Click here for additional demographics
Republican Buck Widens Lead in Colorado Senate
Colorado Republican Ken Buck is closing strong in his bid to unseat Democratic Sen. Michael Bennet.
Buck gained 4 points from the Fox News battleground state poll taken two weeks ago and now leads Bennet 50 percent to 46 percent among likely voters. For a Senate challenger to be leading so late and be above 50 percent is a serious sign that Bennet may be headed for defeat.
The race for Colorado governor also continues to show American Constitution Party nominee Tom Tancredo closing in on Democrat John Hickenlooper, now trailing by a scant 3 points. Republican Dan Maes has largely been abandoned by members of his party for Tancredo, a former five-term Republican member of the House.
Hickenlooper now takes 47 percent of the vote to Tancredo's 44 percent. Maes drew just 6 percent support, down from 10 percent two weeks ago. Seventy three percent of Republicans backed Tancredo over their party's nominee.
President Obama's agenda continues to be unpopular in Colorado. His job approval in the state is steady at 40 percent and a consistent 48 percent believe his policies have hurt Colorado's economy.
In the Senate race, Bennet has attacked Buck over and over again on hot button social issues like abortion and gay rights. But more voters seem to have reconciling themselves to Buck's stances. A dangerously high 49 percent agreed that Buck was "too extreme" two weeks ago. That number dropped to 47 percent this week.
The percentage of voters, though, who believe that Bennet is too closely allied with Obama remained steady at 51 percent.
Much of Buck's strength comes from his 8-point advantage among independent voters.
Click here for the complete questionnaire
Click here for additional demographics
Obama's Senate Seat Leaning GOP
Republican chances to capture the Senate seat formerly held by President Obama are improving markedly in final days of the election.
Rep. Mark Kirk doubled his 2-point lead in last week's Fox News battleground state poll of likely voters, and now leads Democratic candidate Alexi Giannoulias 46 percent to 42 percent.
Giannoulias continues to suffer from Democratic defections to Green Party candidate LeAlan Jones, who drew 6 percent support, including 8 percent of Democrats.
In the state's gubernatorial election, Republican state Sen. Bill Brady added a point to his margin over incumbent Gov. Pat Quinn from last week's poll. Brady now leads Quinn by 6 points, 44 percent to 38 percent. In this race, the Democrat is suffering at the hands of two minor candidates, the Green Party's Rich Whitney and independent Scott Lee Cohen.
Whitney and Cohen are taking a combined 10 percent of the vote, largely from Democrats or liberal-leaning voters. Cohen, a successful pawnbroker, won the Democratic nomination for lieutenant governor but was chased out of the race by Quinn and others after allegations of domestic violence emerged.
Kirk's improving performance in the Senate race may spring from greater voter confidence in his character. Kirk, who was found to have embellished the list of military citations he received, was seen as honest and trustworthy by only 18 percent a month ago. That number has nearly doubled and is now at 34 percent, even with the percent who don't trust him.
Giannoulias, meanwhile, has gone the other direction. Amid persistent questions about his family's failed bank and its connections to organized crime, the percentage of voters who distrust Giannoulias raised 11 points in a month to 45 percent.
President Obama's job approval rating in his home state remained steady at 46 percent, and his policies are viewed negatively. Sixty percent favor scrapping all (42 percent) or some (18 percent) of Obama's national health insurance law.
Click here for the complete questionnaire
Click here for additional demographics
Murray and Rossi Down to the Wire in Washington
Incumbent Sen. Patty Murray has grabbed a narrow lead in the final Fox News battleground poll in Washington State.
Murray leads Republican challenger Dino Rossi by 2 points, 49 percent to 47 percent, in the poll of likely voters. Three weeks ago, Rossi led by 1 point and Murray led by 1 percent in late September. The race seems certain to head down to the wire.
The survey found voters with their minds made up – there was less than 1 percent still undecided and 95 percent of the supporters of each candidates said they were certain about their choice.
With her vanishingly small lead, Murray has reason to be concerned about how the leader of her party is faring her state. Forty percent of respondents approve of the job President Obama is doing, down from 44 percent two weeks ago.
The reason for the drop seems clear. Voters increasingly think that Obama's policies have damaged the state's economy. In September, 39 percent said Obama's agenda had hurt the state's economy. Three weeks ago the number was 42 percent. This week, it's 45 percent.
Fifty-eight percent favored repealing all (40 percent) or parts (18) of the president's national health insurance law.
Neither of the candidates in the Senate race is proving to be very well liked by voters. About half of voters had unfavorable views of both of them.
Murray has attacked Rossi on divisive cultural issues like abortion in an effort to lock up female voters, but so far, Rossi has held his own in that demographic group. He only trails Murray by 6 points among women, a fairly typical spread for a Republican.
Click here for the complete questionnaire
Click here for additional demographics
Kasich Holding on in Ohio
Democratic Ohio Gov. Ted Strickland has been unable to close the gap between him and his Republican challenger, former Rep. John Kasich.
Strickland needed to see a breakthrough in this last Fox News Battleground state poll of likely Ohio voters, but instead still trails by 4 points, 48 percent to 44 percent.
And while President Obama paid yet another visit to try to help Strickland on Sunday, the poll, taken before Obama's arrival, shows that the president is largely unpopular in the state.
Only 39 percent of respondents said they approved of the job Obama was doing and 48 percent though Obama's policies had hurt the state's already battered economy.
Click here for the complete questionnaire