Fox News Poll: Voters say more Obama vetoes would be bad for country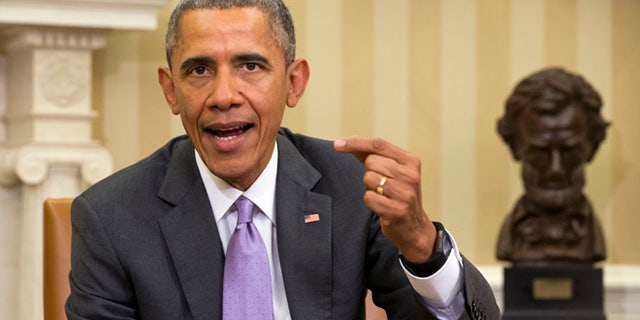 NEWYou can now listen to Fox News articles!
President Obama expects to use his veto pen more now that Republicans control Congress. Voters don't like the sound of that. By 54-30 percent, they say it would be a "bad thing" for the country, according to the latest Fox News poll.
Perhaps it's no big surprise Democrats say more Obama vetoes would be good for the country by a 33 percentage-point margin (57 percent good vs. 24 percent bad), while Republicans feel the opposite by 78 points (85 percent bad vs. 7 percent good).
CLICK HERE TO READ THE POLL RESULTS
Obama recently vetoed the Keystone XL Pipeline bill. More voters disapprove (46 percent) than approve (33 percent) of that action. About one in five is unsure (21 percent).
In January, voters wanted Obama to sign the legislation approving Keystone by a margin of 65-22 percent. Overall support for the pipeline has held steady over the last couple years: it was 68 percent last year, 70 percent in 2013 and 67 percent in 2012.
Obama's job rating stands at 42 percent approve vs. 53 percent disapprove. That's down a bit from last month when 45 percent of voters approved and 49 percent disapproved.
The dip in approval is despite 44 percent saying it feels like the economy is getting better. That's not only up from 34 percent who felt that way a year ago, but it also matches the high for the number saying things are looking up (January 2004).
Yet for almost as many voters -- 43 percent -- it feels like the economy is getting worse, down from 51 percent in March 2014.
The poll finds 17 percent of voters approve of Congress. That's down from 21 percent in early February, which might not sound like much unless you know the last time approval of Congress was above the teens was almost four years ago (June 2011). Seventy-six percent disapprove of Congress.
Pollpourri
While 38 percent of voters have a favorable opinion of the 2010 health care law, "also known as ObamaCare," a majority -- 58 percent -- has an unfavorable view.
More than two-thirds of Democrats view the law positively (68 percent). Most Republicans (86 percent) and over half of independents (58 percent) have a negative view.
For the time being, it appears Republican leaders have let go of the idea of tying a funding bill for DHS to a rollback of the president's executive action on immigration. Tuesday night the U.S. House passed a bill funding DHS without connecting it to immigration.
Voters are worried about both issues: while nearly three-quarters are concerned about Obama acting unilaterally on immigration, almost as many are concerned about a delay in funding for DHS.
Seventy-four percent are at least somewhat concerned about Obama bypassing Congress and allowing millions of illegal immigrants to stay in the United States. At the same time, 68 percent are worried about even a temporary delay in homeland security funding.
One difference: a 53-percent majority is "very" concerned about executive overreach on immigration, while just 37 percent feel "very" concerned about delaying DHS funding.
The Fox News poll is conducted by telephone with live interviewers under the joint direction of Anderson Robbins Research (D) and Shaw & Company Research (R). The 1,011 registered voters were reached via landline and cell phone numbers randomly selected for inclusion in this nationwide survey from March 1-3, 2015. The full poll has a margin of sampling error of plus or minus three percentage points.