Fox News Poll: Voters are holding steady financially, optimistic about economy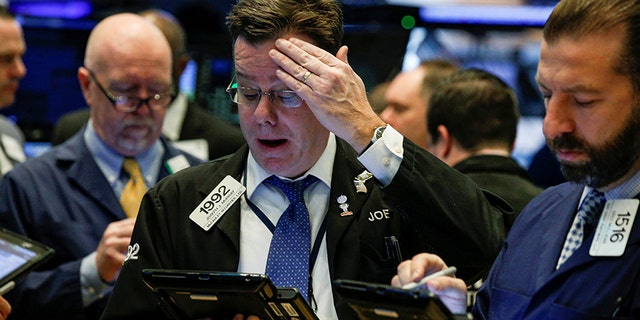 The mood of America? It's complicated.
Most voters are optimistic about the economy, as three in ten see their wallet getting fatter. And while most still don't like the way the federal government is working, the number that does is at a high point.
Those are just some of the findings from the latest Fox News national poll.
READ THE COMPLETE POLL RESULTS.
Thirty percent of voters are happy with how the government is working (5 percent "enthusiastic" and 25 percent "satisfied"). That's up from 26 percent in November 2016, just before the presidential election. Moreover, it's the most positive rating voters have ever given in a Fox News poll. We first asked the question in 2010.
Frustration with the government, however, remains high. Two-thirds are either "dissatisfied" or "angry." And five times as many are "angry" (26 percent) as are "enthusiastic" (5 percent).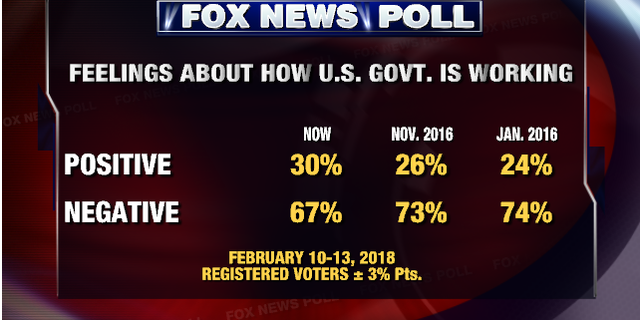 Republicans split: 49 percent enthusiastic/satisfied vs. 49 percent dissatisfied/angry. Nearly 9 in 10 gave a negative rating before the 2016 election (89 percent dissatisfied/angry).
Some 82 percent of Democrats are unhappy with the way the government is working, up from 54 percent in 2016.
Overall, President Trump's job performance rating is underwater by 10 points: 43 percent of voters approve and 53 percent disapprove. That's little changed since January, when it was 45-53 percent, and almost the same as last March when it was 43-51 percent.
The president is underwater by a similar 9-point margin when voters are asked what they ultimately expect from his policies. Some 38 percent think they will help the country, while 47 percent say they'll hurt the country. Another 11 percent say they won't make much difference.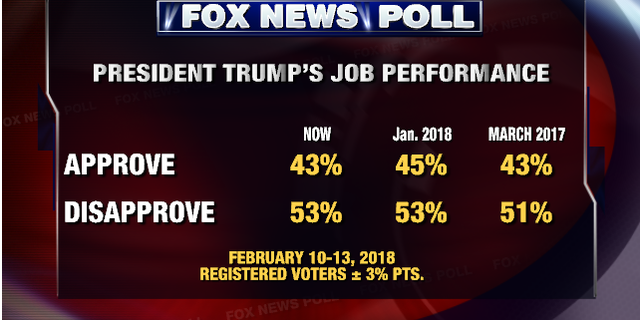 "Views toward Donald Trump have been remarkably stable over the last year," says Democratic pollster Chris Anderson, who conducts the Fox News poll with Republican Daron Shaw. "It has been a tumultuous year of political news and intrigue, yet high level evaluations of the president remain largely unchanged."
A majority, 63 percent, continues to be optimistic about the economy. Sixty-four percent felt that way last June, and 66 percent in January 2017.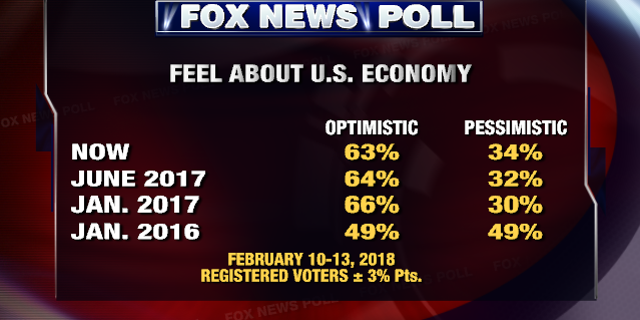 In addition, while voters are more likely to see the job situation in their area getting better rather than getting worse (38 percent vs. 14 percent), nearly half say it hasn't changed (45 percent).
"Compared to eight years ago, attitudes about the economy have improved dramatically, but that's a pretty low bar," says Shaw. "The predominant view now is things aren't getting worse anymore."
On their personal finances, a slim majority, 52 percent, says they're "holding steady." The rest split between "getting ahead" (23 percent) and "falling behind" (24 percent).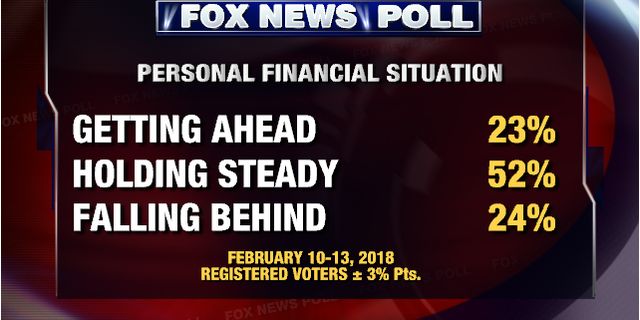 Compared to a year ago, 29 percent feel like they have more money in their pocket these days. Roughly the same number, 28 percent, say they have less cash, while the largest number says it's the same as last year (42 percent).
The poll also asks whether the federal government should be cutting spending right now or increasing spending on things like infrastructure and national defense. By a 63-29 percent margin, voters support increasing spending.
Even so, more disapprove (44 percent) than approve (32 percent) of the bipartisan budget deal Congress passed that significantly increased spending and suspended the debt ceiling. Republicans (52 percent) are three times as likely as Democrats (17 percent) to approve.
That same partisanship is evident on the new federal tax law. Most Republicans approve (71 percent) and most Democrats disapprove (66 percent). That leaves views split overall, 39-39 percent (22 percent no opinion).
On immigration, 85 percent of Democrats favor creating a pathway to citizenship for illegal immigrants currently living in the United States. Far fewer Republicans, 43 percent, favor the idea (49 percent oppose). Overall, 65 percent favor vs. 29 percent oppose.
Twice as many voters say immigrants help rather than hurt the country (51 percent vs. 23 percent). That's a record high "help the country" number, up from 45 percent in 2013. The first time the question was asked on a Fox News poll in 2003, views were more evenly divided: 38 percent help and 33 percent hurt.
Poll pourri
What message do voters want to give the government? Just over half, 51 percent, would say "leave me alone." Forty-one percent would ask Washington to "lend me a hand."
The number of Democrats who would ask Uncle Sam to "lend me a hand" has declined. Fifty-two percent feel that way, down from 62 percent from two years ago. And while most Republicans would still tell the government to "leave me alone" (64 percent), those asking for a hand has increased 11 points. It was 18 percent in 2016 and stands at 29 percent now.
The Fox News poll is based on landline and cellphone interviews with 1,005 randomly chosen registered voters nationwide and was conducted under the joint direction of Anderson Robbins Research (D) and Shaw & Company Research (R) from February 10-13, 2018. The poll has a margin of sampling error of plus or minus three percentage points for all registered voters.