Fox News Poll: Republicans make gains in top Senate races
A new round of Fox News battleground polls shows a Republican trend in the fight for the U.S. Senate. The GOP candidates are helped by increased interest in the election among Republicans and pro-Donald Trump sentiment.
There's been an uptick in GOP interest in all five states surveyed. Compared to early September, the number of Republicans feeling "extremely" interested in the upcoming election is up by 2 points in Arizona, up by 9 points in Indiana, up 8 points in both Missouri and North Dakota, and up 11 points in Tennessee. In each state, Republicans are now just as likely as Democrats to say they are extremely interested -- erasing an edge Democrats had in several states last month.
The battle over Brett Kavanaugh's confirmation to the U.S. Supreme Court might explain increased interest in the election among Republicans. And how incumbent Senate Democrats vote on Kavanaugh could tip tight races, especially in Missouri and North Dakota. Voting against his nomination hurts more than helps the Democrats in those states.
However, the races are far from settled.
Only one of the Senate candidates has a lead outside the survey's margin of sampling error. And that same candidate is also the only front-runner above the important marker of 50 percent support from their electorate.
Starting with Arizona, here are the state-by-state results:
Arizona
Democrat Kyrsten Sinema tops Republican Martha McSally by a 47-45 percent margin in the Senate race to fill the open seat of retiring Republican Sen. Jeff Flake. Last month, Sinema was up 47-44 percent (September 8-11).
Sinema is helped by strong backing among women (+9 points), voters under age 45 (+14) and Hispanics (+29). She also enjoys greater party loyalty, as 91 percent of Democrats back her vs. 83 percent of Republicans for McSally.
READ THE COMPLETE ARIZONA POLL RESULTS.
However, McSally's overall support is stronger, with 83 percent of her backers saying they are certain to vote for her compared to 71 percent of Sinema's.
Veterans prefer McSally, a retired Air Force pilot, by a 25-point margin. In addition, she leads among white voters (+5) and voters over age 45 (+4).
The two candidates are about equally liked. For Sinema, 48 percent have a favorable opinion vs. 41 percent unfavorable. For McSally, it's 46-45 percent.
President Trump won Arizona by nearly four percentage points in 2016. That's in line with his current job rating, as 51 percent of the state's likely voters approve, while 47 percent disapprove.
Indiana
Democratic incumbent Joe Donnelly tops Republican challenger Mike Braun by two points (43-41 percent), while Libertarian Lucy Brenton takes 6 percent. Eight percent are undecided.
That's a reversal from early September, when Braun had a two-point edge (45-43 percent).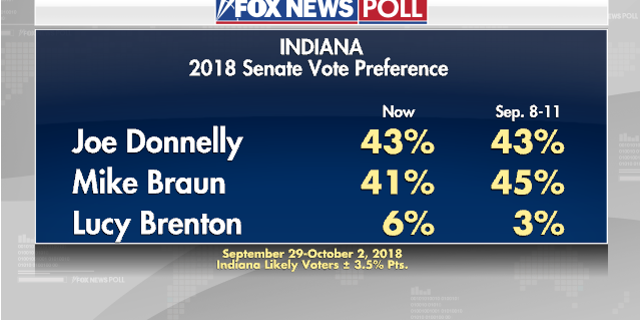 Men are more likely to back Braun by a 9-point margin, while women pick Donnelly by 11.
READ THE COMPLETE INDIANA POLL RESULTS.
Voters with a college degree support Donnelly by 10 points, while those without a degree go for Braun by 3 points.
Strength of support is about equal: 77 percent of Braun's backers say they are certain to vote for him. It's 74 percent for Donnelly.
If Donnelly votes against Kavanaugh, 30 percent say it would make them more likely to vote for him, 32 percent say less likely, and 34 percent say no difference.
The Democrat announced he would vote against Kavanaugh on September 28, after Senate Judiciary Committee hearings that included testimony by Christine Blasey Ford on her sexual assault allegations against Kavanaugh.
While Trump beat Hillary Clinton by 19 points in Indiana, today Hoosier voters approve of his job performance by just 6: 52 percent approve, while 46 percent disapprove.
Missouri
The Missouri Senate race is all tied up at 43 percent apiece for incumbent Democratic Sen. Claire McCaskill and Republican challenger Josh Hawley, while other candidates garner 8 percent and six percent are undecided. Three weeks ago, McCaskill was up 44-41 percent (September 8-11).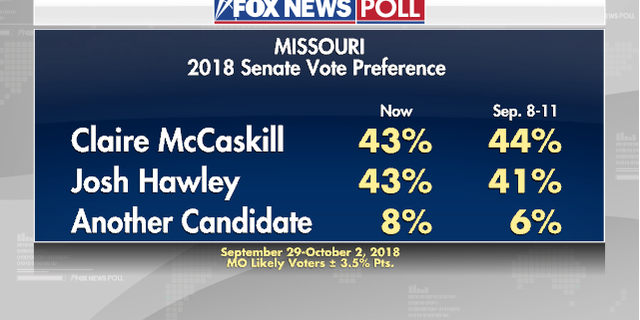 The survey also finds the race tied, 46-46 percent, in a hypothetical two-way matchup.
READ THE COMPLETE MISSOURI POLL RESULTS.
Suburban women (+15 points) and voters under age 45 (+6) are more likely to back McCaskill.
The gender gap is somewhat diminished, as McCaskill's advantage among women stands at 4 points, down from 9 points last month.
Hawley has the edge among men (+5 points) and rural voters (+22).
About three-quarters of both McCaskill's (75 percent) and Hawley's supporters (74 percent) feel certain they will back their candidate.
McCaskill announced she would vote against Kavanaugh September 19, a week before Kavanaugh and Ford testified.
Among the 28 percent of voters who say they could still switch candidates, almost twice as many say McCaskill voting against Kavanaugh's confirmation would make them less inclined to back her.
In general, voters have mixed views of both McCaskill (48 favorable vs. 48 unfavorable) and Hawley (47-45 percent).
The president remains popular in the Show-Me State: a majority of 54 percent approves of the job Trump is doing, while 45 percent disapprove. He won Missouri by 19 points.
North Dakota
Democratic Sen. Heidi Heitkamp is one of the most vulnerable Senate Democrats this year, along with Missouri Sen. Claire McCaskill and Indiana Sen. Joe Donnelly.
The survey shows Heitkamp may be in the most difficult position, as Republican challenger Kevin Cramer now leads by 12 points (53-41 percent). Last month, he was up by four (48-44 percent).
READ THE COMPLETE NORTH DAKOTA POLL RESULTS.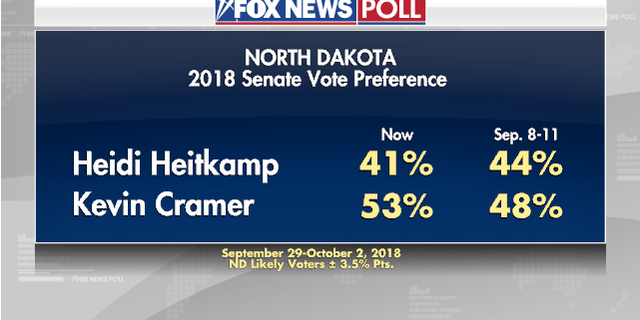 The shift comes mainly from declines in support for Heitkamp among women (was up by 7 points, now trails by 4), and voters with a college degree (was up by 7, now trails by 8).
More Democrats back Heitkamp (94 percent) than Republicans back Cramer (87 percent), but in a state so red that Trump won by nearly 40 points, that isn't enough.
Strength of support is also with Cramer. Nearly 9 in 10 (87 percent) of his supporters are sure of their vote, compared to 8 in 10 Heitkamp backers (79 percent).
Heitkamp remains undecided on Kavanaugh. If she votes against his confirmation, twice as many say they would be less likely (34 percent) rather than more likely (17 percent) to vote for her.
By a 64-35 percent margin, likely voters approve of the president. That 29-point spread comes close to matching his 36-point margin of victory in 2016.
Meanwhile, Republican Kelly Armstrong (51 percent) leads Democrat Mac Schneider (34 percent) by 17 points for the state's only House seat, which Cramer vacated to run for Senate.
Tennessee
The president held a rally Monday in Johnson City, Tennessee. He won the state by 26 points, and voters there still love him. Likely voters in the Volunteer State approve of Trump's job performance by 60-39 percent.
READ THE COMPLETE TENNESSEE POLL RESULTS
That helps put Republican Marsha Blackburn ahead of Democrat Phil Bredesen by a 48-43 percent margin. Blackburn's 5-point advantage is inside the poll's margin of error.
Last month, she had a 3-point edge over Bredesen. They are competing for the seat being vacated by retiring Republican Sen. Bob Corker.
Women go for Bredesen by 5 points, while men are more likely to pick Blackburn by 17. Among white men, her lead grows to 30 points.
Bredesen stays in the game by garnering greater party loyalty (92 percent of Democrats back him compared to 82 percent of GOP for her), while also taking 10 percent of Republicans.
About the same share of Bredesen (79 percent certain) and Blackburn (77 percent) supporters say they are certain to vote for them.
Plus, roughly equal numbers have a positive view of both Blackburn (50 favorable vs. 41 unfavorable) and Bredesen (51-39 percent), who served as Tennessee's governor from 2003 to 2011.
Governor Pollpourri
In the Arizona governor's race, Republican incumbent Doug Ducey leads: 55 percent vs. 37 percent for Democrat David Garcia. One in five of Sinema's supporters (20 percent) split their ballot and back the Republican, Ducey, for governor.
By a 17-point margin, Tennessee likely voters back Republican Bill Lee (53 percent) over Democrat Karl Dean (36 percent) in the state's gubernatorial race. Fourteen percent of those backing Bredesen in the Senate race defect to support Lee, the Republican, for governor.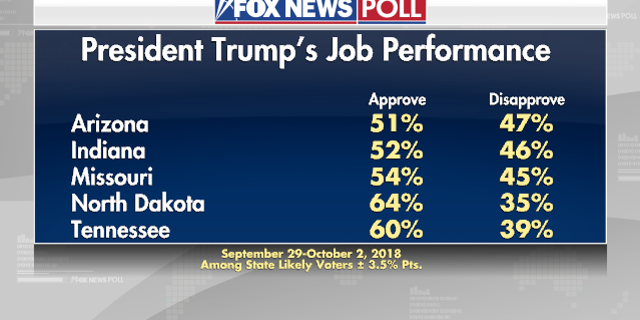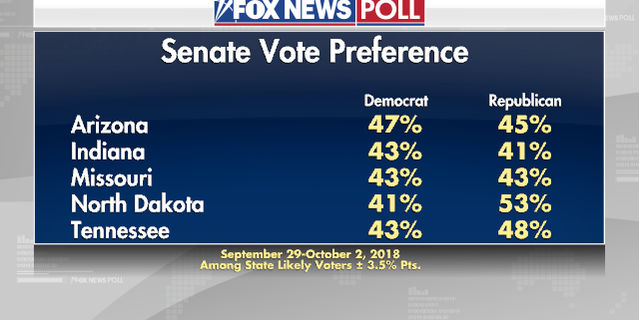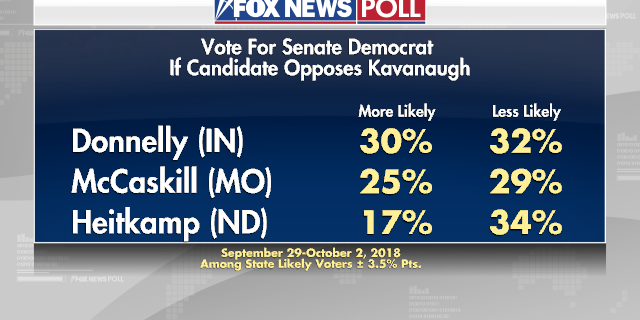 The Fox News Poll is conducted under the joint direction of Anderson Robbins Research (D) and Shaw & Company Research (R). The poll was conducted September 29-October 2, 2018 by telephone (landline and cellphone) with live interviewers among likely voters in Arizona (716), Indiana (695), Missouri (683), North Dakota (704) and Tennessee (666). Results based on the full sample in each state have a margin of sampling error of plus or minus 3.5 percentage points. Registered voters were randomly selected from a statewide voter file (except in ND where all eligible voters were included), and respondents answered screening questions about their likelihood to vote in the November elections.