Fox News Poll: Republican ahead of incumbent Democrat in Indiana Senate race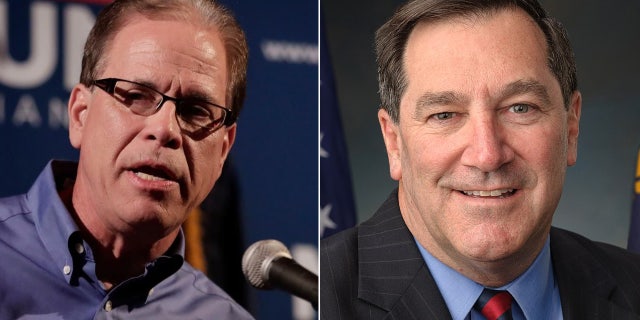 President Trump remains popular in Indiana, a state he won by 19 percentage points -- and that's bad news for incumbent Democrat Sen. Joe Donnelly.
A Fox News poll of Indiana likely voters shows Republican challenger Mike Braun ahead of Donnelly by 45-43 percent. Libertarian Lucy Brenton captures three percent and eight percent are undecided.
CLICK TO READ THE COMPLETE POLL RESULTS.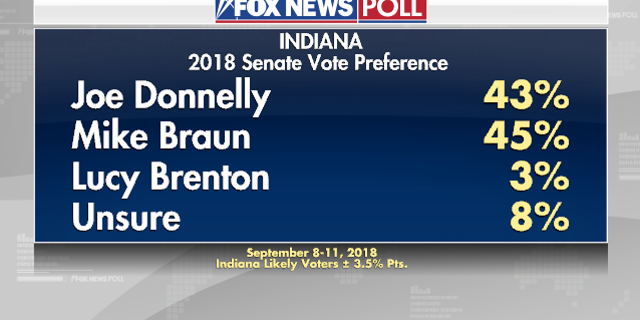 The result is far from certain. Braun's two-point edge is within the poll's margin of sampling error, and one in three voters say they could change their mind before Election Day.
The poll, released Wednesday, finds 54 percent approve of the job the president's doing, and twice as many say their financial situation is better rather than worse compared to two years ago (37 vs. 18 percent).
Meanwhile, 33 percent say they will cast their Senate vote to show support for the president, while 31 percent say it will be to express opposition.
Braun tops Donnelly among women by five points and voters over age 45 by 10 points. One of the widest margins comes from white women, who prefer the Republican by 16 points.
"In an electorate that is likely to be nearly 90 percent white and majority female, a Democrat has almost no path to victory without at least drawing even among white women," says Democratic pollster Chris Anderson, who conducts the Fox News poll with Republican Daron Shaw.
"This is a Republican state and this seat is one of the most difficult that the Democrats are defending," adds Shaw. "Donnelly is even with suburban whites and manages to get 12 percent of Hoosiers who voted for Trump, yet he's still down in the race right now."
Donnelly is considered one of the most vulnerable Senate Democrats, along with Missouri Sen. Claire McCaskill and North Dakota Sen. Heidi Heitkamp.
Donnelly could make it even harder on himself if he votes against Brett Kavanaugh's nomination to the Supreme Court. Voters who say they could switch their pick in the Senate race say a vote against Kavanaugh would make them less likely to support Donnelly by a 29-21 percent margin. The largest share, 38 percent, say it won't make a difference.
The top three issues in the Senate race are the economy (28 percent), health care (27 percent) and immigration (16 percent). Voters prioritizing the economy and immigration prefer Braun by wide margins, while health care voters strongly go for Donnelly.
Donnelly is better liked, as 52 percent have a favorable view of him (39 unfavorable), while 47 percent have a positive opinion of Braun (38 unfavorable). Neither matches Vice President Mike Pence, who is well-liked by fellow Hoosiers: 56 percent view him favorably vs. 39 percent unfavorable. Some 35 percent have a "strongly" favorable opinion of Pence.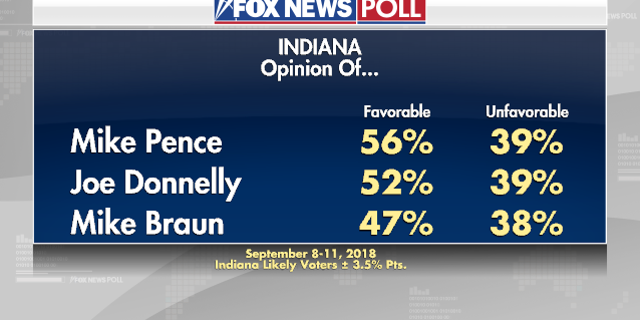 The Fox News Poll is conducted under the joint direction of Anderson Robbins Research (D) and Shaw & Company Research (R). The poll was conducted September 8-11, 2018 by telephone (landline and cellphone) with live interviewers among 677 Indiana likely voters and has a margin of sampling error of plus or minus 3.5 percentage points. Registered voters were randomly selected from a statewide voter file, and respondents answered screening questions about their likelihood to vote in the November elections.