Fox News poll: More than 6 in 10 worried about Ebola spreading to US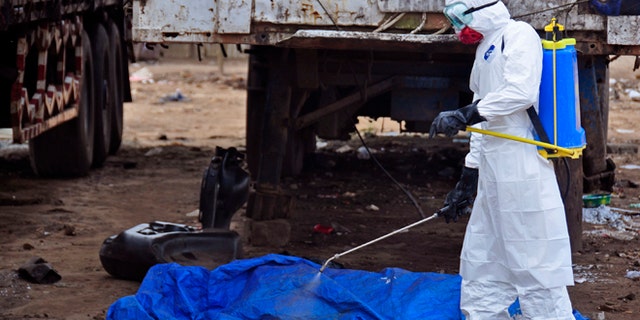 While there is widespread concern about the latest Ebola outbreak, most agree with the decision to allow two infected Americans into the country to receive treatment, according to a Fox News poll released Thursday.
The poll finds 62 percent of Americans are concerned the Ebola virus in West Africa will spread to the United States. That includes 30 percent who are "very" concerned.
CLICK HERE TO READ THE POLL RESULTS
Two U.S. aid workers were evacuated from West Africa to a special isolation facility in Emory University Hospital. Both are reported to be showing signs of improvement.
About one in four (27 percent) disagrees with letting the infected Americans into the country for treatment. Most voters -- 68 percent -- agree with allowing them in.
Even among those concerned about an Ebola outbreak here at home, 59 percent think the Americans should have been allowed into the country for treatment. That jumps to 84 percent among those not concerned about the virus spreading.
More than a thousand people have died from the Ebola outbreak since March, according to the World Health Organization. The virus has spread to four African countries.
Current worry over the spread of Ebola is almost identical to concerns over the spread of the H1N1 swine flu in 2009 (65 percent concerned) and bird flu in 2006 (61 percent concerned).
Looking at some demographics, men (60 percent) and women (63 percent) are about as likely to say they are concerned Ebola will spread to the U.S., and voters under 45 and those ages 45 and over are equally likely to express concern (62 percent each). Voters living in the South (66 percent) are more concerned about Ebola than those in the Midwest (63 percent), West (59 percent) or Northeast (56 percent).
The Fox News poll is based on landline and cell phone interviews with 1,001 randomly chosen registered voters nationwide and was conducted under the joint direction of Anderson Robbins Research (D) and Shaw & Company Research (R) from August 10-12, 2014. The full poll has a margin of sampling error of plus or minus three percentage points.