Fox News Poll: Majorities disapprove of Obama on Iraq, Israel and Ukraine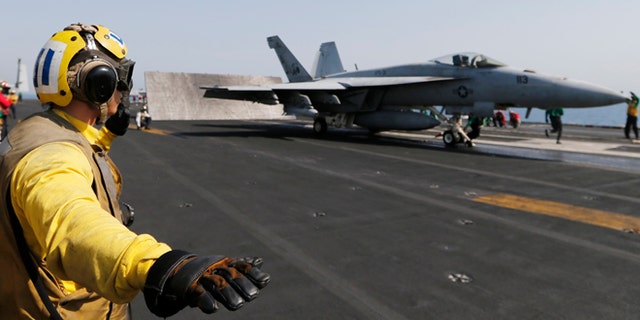 Voters are generally dissatisfied with how President Obama is handling the world's hot spots -- most give him a thumbs-down for the job he is doing on Iraq, Israel and Ukraine. At the same time, they approve of U.S. airstrikes he's ordered against ISIS militants in Iraq.
That's according to a new Fox News national poll released Wednesday.
Click here for the poll results.
Amid new cold war anxieties, most voters say Obama hasn't been tough enough on Russia, and that Vladimir Putin doesn't take Obama seriously.
A 74-percent majority thinks Obama hasn't been tough enough on Russia, up from 66 percent in March. Six percent say Obama has been too tough, 10 percent volunteer "about right" and 11 percent have no opinion. Sizable majorities of Democrats (65 percent), independents (69 percent) and Republicans (88 percent) agree Obama should be tougher on Russia.
Just 16 percent of voters think Putin takes Obama seriously, while 77 percent think he doesn't. That jumps to 87 percent among those who think Obama hasn't been tough enough on Russia.
Some 64 percent of Democrats say the Russian president doesn't take Obama seriously.
Overall, 64 percent think it is likely there will be a new cold war with Russia. That's up from 54 percent who felt that way in August 2008, during the conflict between Russia and the Republic of Georgia. Democrats (+6 points), independents (+12) and Republicans (+15) are all more inclined to expect another cold war now than they were six years ago.
Thirty-one percent of voters approve of how Obama is handling the situation in Ukraine, while 50 percent disapprove. Approval among Democrats (52 percent) is far outweighed by disapproval among Republicans (70 percent).
The president's ratings are similar on the Israeli-Palestinian conflict: 30 percent approve, while 54 percent disapprove.
More voters say the administration has "not been supportive enough" of Israel (38 percent) than think it has been "too supportive" (18 percent) or "about right" in its support (33 percent).
Republicans (62 percent) are more than four times as likely as Democrats (15 percent) to think the White House should do more for Israel.
A majority disapproves of the job Obama is doing on Iraq overall (37 percent approve vs. 52 percent disapprove), yet most voters -- 65 percent -- approve of recent airstrikes he authorized against insurgents. Majorities of Democrats (59 percent), independents (68 percent) and Republicans (73 percent) approve of the action.
Veterans and those currently serving in the military are more likely than voters overall to approve of the airstrikes (83 percent), yet they are also more disapproving of the job Obama is doing on Iraq (60 percent).
The president authorized airstrikes Thursday against Islamic militants in Iraq. Over the weekend the U.S. expanded its air campaign and also conducted airdrops of food and water for thousands of refugees trapped in the Sinjar mountains. Interviewing for the poll started Sunday.
All in all, more voters continue to disapprove (53 percent) than approve (35 percent) of Obama's handling of foreign policy.
In the fall of 2012, some 49 percent of voters approved of his performance on foreign policy -- higher than any other issue.
Obama received his worst job rating on foreign policy earlier this summer when just 32 percent approved and 60 percent disapproved (June 21-23, 2014).
The Fox News poll is based on landline and cell phone interviews with 1,001 randomly chosen registered voters nationwide and was conducted under the joint direction of Anderson Robbins Research (D) and Shaw & Company Research (R) from August 10-12, 2014. The full poll has a margin of sampling error of plus or minus three percentage points.