Fox News Poll: Imperial or imperiled? Mixed views on Obama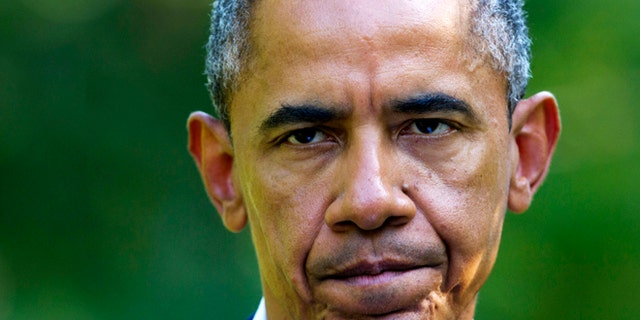 President Obama's job rating has been underwater for over a year. Some people criticize him for exceeding his authority by going around Congress to push his policies through. Others say he is getting little accomplished because of a lack of leadership and willingness to compromise. Well, which is it?
The latest Fox News national poll finds that Americans are more likely to think Obama falls in the just-do-it category than the do-nothing camp.
Click here for the poll results.
Obama is a "strong leader who does what it takes to get his policies enacted," say 47 percent of voters. Compare that to 39 percent who say he is a "weak leader who doesn't seem to do much of anything."
Most Democrats say Obama does what it takes, while most Republicans say he can't get the job done. Still, 20 percent of Republicans (one in five) describe Obama as a leader who does what it takes to push his policies through. "This is an interesting messaging problem for the Republicans who want to make the midterm elections about President Obama," says Republican Pollster Daron Shaw who conducts the poll along with Democratic pollster Chris Anderson.
"Is he a dictator or is he a do-nothing president? He can't be both."
Among independents, more see Obama as a weak leader who doesn't do much (49 percent) than as a strong leader who does what it takes (36 percent).
Meanwhile, 52 percent of voters see the president as engaged and "on top of things" vs. 44 percent who think Obama is disengaged and "already checked out."
Not surprisingly, most Democrats say Obama is fully engaged, while most Republicans see him as already checked out. On the flip side, 23 percent of Republicans say Obama is engaged and on top of things, while just 15 percent of Democrats see him as disengaged.
Just over half of voters -- 52 percent -- are confident in Obama's ability to make the right decisions for the country. Just under half -- 47 percent -- are not. That's mostly unchanged from sentiment in 2012, when 54 percent were confident and 45 percent weren't.
Obama's overall job rating holds in the low forties. The poll, released Wednesday, finds 42 percent of voters approve of his job performance, while 49 percent disapprove. Last month it was 42-52 percent.
On the issues, Obama performs best on the economy (43-51 percent) and health care (42-53), and worst on the Israeli-Palestinian conflict (30-54), Ukraine (31-50) and immigration (33-57).
But enough about job ratings and work! The president went to Martha's Vineyard for a two-week vacation Saturday. Do you wish you were there with him? Voters are torn: 39 percent would rather spend their summer vacation with Laura and George W. Bush, while almost the same number -- 38 percent -- prefers the Obamas. Some 18 percent volunteer "neither."
And what if the choices were Michelle and Barack vs. Bill and Hillary? By a 42-25 percent margin, voters would pick the Clintons as vacation partners, but more than one in four would stay home (27 percent "neither").
The Fox News poll is based on landline and cell phone interviews with 1,001 randomly chosen registered voters nationwide and was conducted under the joint direction of Anderson Robbins Research (D) and Shaw & Company Research (R) from August 10-12, 2014. The full poll has a margin of sampling error of plus or minus three percentage points.