Fox News Poll: 67 percent approve of US using airstrikes on Syria
Two-thirds of voters approve of the missile strikes President Trump ordered on Syria in response to its suspected use of chemical weapons against its people. But a plurality thinks the United States should not get any more involved in Syria.
The U.S. launched nearly 60 cruise missiles at a Syrian airbase April 6.
The latest Fox News Poll shows 67 percent approve of the airstrikes on Syria, while 29 percent disapprove.
For comparison, that's more support than voters give for the U.S. destroying an ISIS tunnel complex in Afghanistan with the largest conventional bomb ever used in combat (61-33 percent).
CLICK HERE TO READ THE RESULTS OF THE FOX NEWS POLL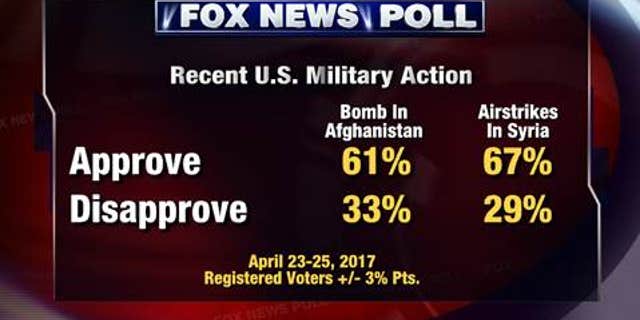 Forty-eight percent say the U.S. should stay out of Syria because it's a civil war and involvement could end up helping anti-American extremists. That's down 20 points since 2013 when 68 percent of voters said stay out. The shift comes mostly from a 40-point drop among Republicans: 40 percent say the U.S. should stay out now compared to 80 percent in September 2013.
Forty-one percent think the U.S. should be more involved because there's a humanitarian crisis in Syria and it's a strategically important country. Only one-quarter felt that way in 2013.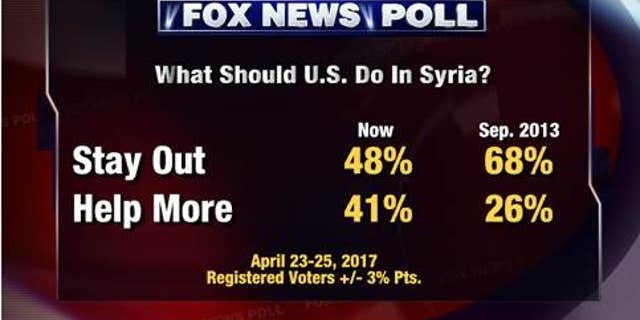 Currently, 48 percent of voters approve of how Trump is handling Syria, while 45 percent disapprove.
He performs better on his handling of China (49-40 percent), but receives lower ratings on North Korea (45-47 percent) and Iran (43-44 percent). Trump's worst ratings are on Russia (40-52 percent).
Forty-three percent approve of the president's handling of foreign policy in general (49 percent disapprove).
Trump's overall job performance rating stands at 45 percent approve vs. 48 percent disapprove.
Do the recent military interventions lead people to question whether Trump is keeping his "America First" promise? Not so far: 62 percent say he's keeping that promise, while 32 percent feel he's abandoned it.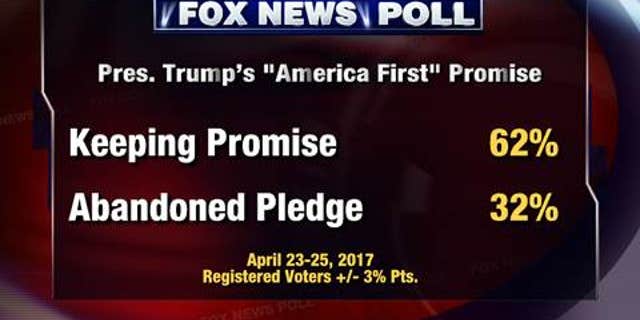 Some 46 percent of voters think Trump is keeping his overall campaign promises.
Political Parties
Almost all Republicans (91 percent) believe the president is keeping his "America First" promise, and a majority of independents agrees (62 percent). Over half of Democrats say he's abandoned that pledge (56 percent).
Nearly 9-in-10 Republicans (88 percent) and two-thirds of independents (65 percent) approve of the U.S. airstrikes against Syria. Democrats split: 48 percent approve vs. 47 percent disapprove.
The Fox News poll is based on landline and cellphone interviews with 1,009 randomly chosen registered voters nationwide and was conducted under the joint direction of Anderson Robbins Research (D) and Shaw & Company Research (R) from April 23-25, 2017. The poll has a margin of sampling error of plus or minus three percentage points for all registered voters.