Former Wrestling CEO McMahon Returns for Next Round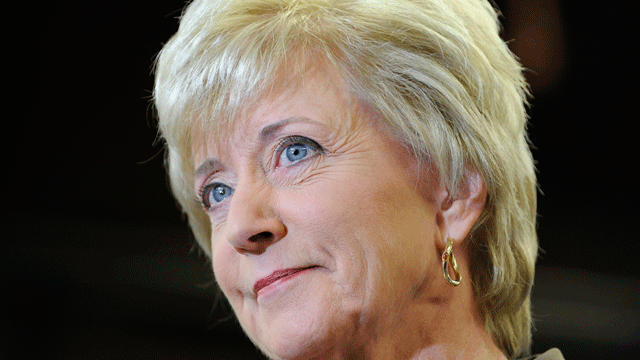 You can't keep a good woman down – especially one known for putting the smackdown on her opponents.
Former World Wrestling Entertainment executive Linda McMahon is back, running for U.S. Senate in Connecticut after her first bid fell short last year against the now-Sen. Dick Blumenthal.
And just like in wresting, when a character changes his tune, McMahon, 62, is expected to trying a different approach with the voters, ensuring she comes out on top this time around to succeed the retiring Sen. Joe Lieberman.
"There's going to be a kinder and gentler image to her this time," said Gary L. Rose, the chairman of the Department of Government and Politics at Sacred Heart University. "I think she's going to be a more viable candidate."
Rose added, "I think you're going to see a much more seasoned campaigner in McMahon, one who has learned a lot. She was a complete novice when she first ran."
McMahon burned through more than $50 million of her own money in last year's primary and general election, the largest amount of spending by a candidate in the state's history. But she still lost to Blumenthal -- the Democratic attorney general who survived a high-profile controversy over his mischaracterization of his military record -- by more than 10 points.
For this campaign, she is said to be planning to rely on private donors in addition to tapping her vast fortune.
But Democrats are again attacking her big-spending ways and her wrestling background.
"Linda McMahon tried to buy the election last year with more than $50 million dollars of attacks and negative campaigning," said Matt Canter, spokesman for the Democratic Senatorial Campaign Committee.
"But even last year, when voters everywhere were electing Republicans, Connecticut voters said they didn't need a greedy CEO like McMahon who made her fortune by putting her own profits before the health and safety of her workers and marketing sex and violence to children," he said.
"Nothing has changed about McMahon since voters resoundingly rejected her candidacy last year and she shouldn't be surprised when it happens against this time around," he said.
McMahon's campaign did not respond to a request for comment.
First, McMahon has to get past Christopher Shays in the Republican primary. Shays is kicking his campaign into high gear after finishing his work on a federal commission studying wartime contracting time in Iraq and Afghanistan.
Like McMahon's last GOP opponent, Rob Simmons -- whom she crushed by spending more than $20 million of her own money -- Shays is a former U.S. congressman with moderate views. Shays served for 20 years until he was defeated in 2008 by now-Rep. Jim Himes, a Democrat. But that's where the similarities end.
"In a lot of ways, Shays is a different candidate," said Scott McLean, a political scientist at Quinnipiac University who analyzes national and state elections. "It would be a real mistake in the McMahon campaign if they were not taking him seriously."
McLean noted that the district Shays used to represent is a microcosm of Connecticut, covering wealthy and poor areas, the suburbs and the inner-city, and swing voters in both parties. Shays, he said, had always positioned himself just right of center -- a social moderate and a fiscal conservative -- to win the support of that broad spectrum of constituents.
"He's a classic Northeastern type of Republican. That's what you need to be to win the state," he said, adding it may not win over today's more conservative GOP.
A Quinnipiac poll last month found that McMahon has a 15-point lead over Shays. But she's trailing the two leading Democratic candidates, Rep. Chris Murphy and former Secretary of State Susan Bysiewicz. Murphy is up 49 percent to 38 percent over McMahon while Bysiewicz holds an 8-point lead with 46 percent of the vote.
And McMahon's high negatives that dogged her in last year's race are still a problem now, the poll found.
But analysts believe McMahon has a better chance of winning this time because there's no Blumenthal in the race.
"Whether it's Bysiewicz or Murphy, she's not going to be running against Blumenthal, who was the heir apparent," Rose said, adding that Blumenthal was a household name who was on TV all the time. "So she's going to be running against a less formidable candidate."