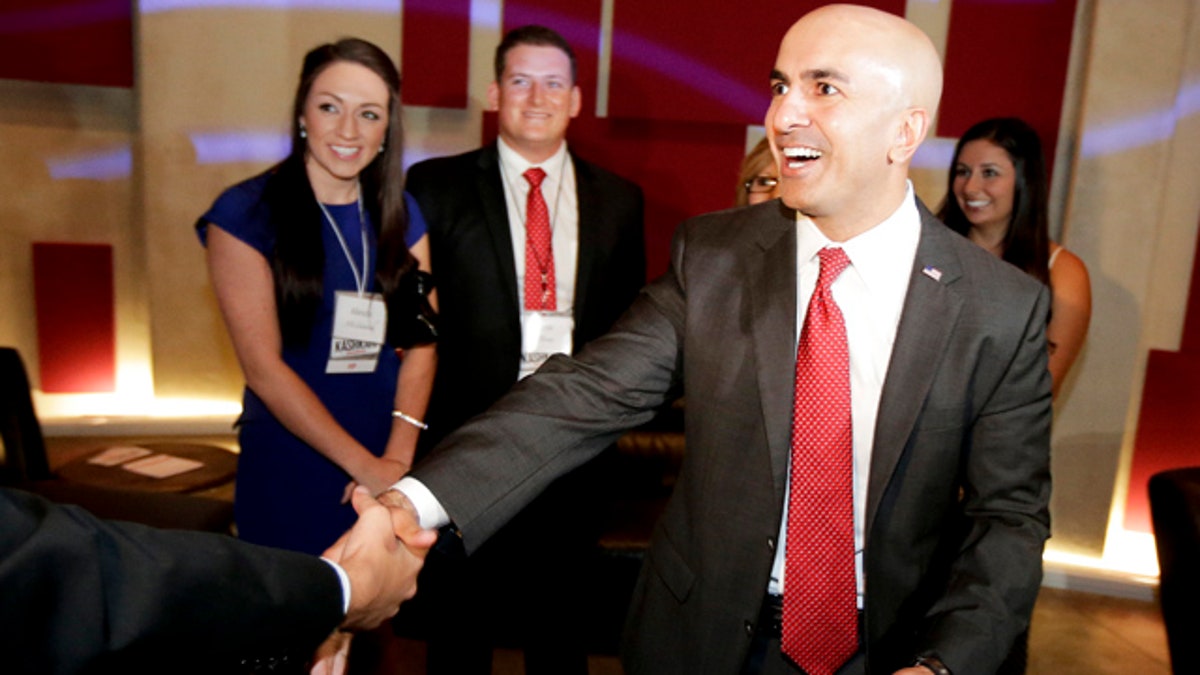 Former Goldman Sachs banker and Treasury official Neel Kashkari won the right to face California Gov. Jerry Brown in the November general election Tuesday night.
With most precincts reporting early Wednesday, Kashkari, a Republican, only had 18.9 percent of the vote, but that was enough to best state Assemblyman Tim Donnelly, who could only manage 14.9 percent of the vote.
"Beginning tonight, Republicans must come together, support one another and focus our energy on changing Sacramento," Kashkari said in a statement early Wednesday after Donnelly called to concede the race. "My commitment is to rebuilding California's middle class and re-energizing the Republican Party."
By contrast, the 76-year-old Brown easily won one of the top two slots to advance to November, with 54.5 percent of the vote. He addressed reporters outside the governor's mansion in Sacramento, saying "I take nothing for granted" in November. California's nonpartisan primary system allows the top two candidates, whichever party they are from, to advance to the general election.
"At this point, 40 years from the time I won my first primary for governor of California, I'm ready to tackle problems, not on a partisan basis, but on the long-term basis of building California and making sure we're ready for the future," Brown said.
Kashkari, a son of Indian immigrants, won the support of the state GOP establishment by emphasizing a pragmatic approach as a social libertarian and fiscal conservative. By contrast, Donnelly ran on a socially conservative platform that included expanding gun rights and restricting immigration. In the race's final weeks, Kashkari poured $2 million of his own money into the campaign as polls showed him trailing Donnelly.
The California race was also notable for the presence of noted anti-war activist Cindy Sheehan, who ran on behalf of the Peace & Freedom Party. She garnered over 36,000 votes, good enough for seventh in the 15-person field.
In other gubernatorial races Tuesday, Republican South Dakota Gov. Dennis Daugaard breezed to a Republican primary victory in his bid for a second full term in office. He will face Democratic State Rep. Susan Wismer in November. South Dakota hasn't elected a Democrat as governor since 1974.
In New Mexico, two-term Attorney General Gary King won the Democratic gubernatorial contest Tuesday for the right to challenge Republican Gov. Susana Martinez, who is favored to win a second term in November.
Iowa Gov. Terry Branstad was nominated for a sixth term, winning 83.3 percent of the vote against activist Tom Hoefling. Branstad will face Democrat Jack Hatch, who ran unopposed.
In Alabama, Gov. Robert Bentley defeated two other candidates with 89 percent of the vote. He will face former congressman Parker Griffith, who defeated former pro baseball player Kevin Bass to secure the Democratic nomination.
The Associated Press contributed to this report.