Former Senator George McGovern, '72 Democratic presidential nominee, dies at 90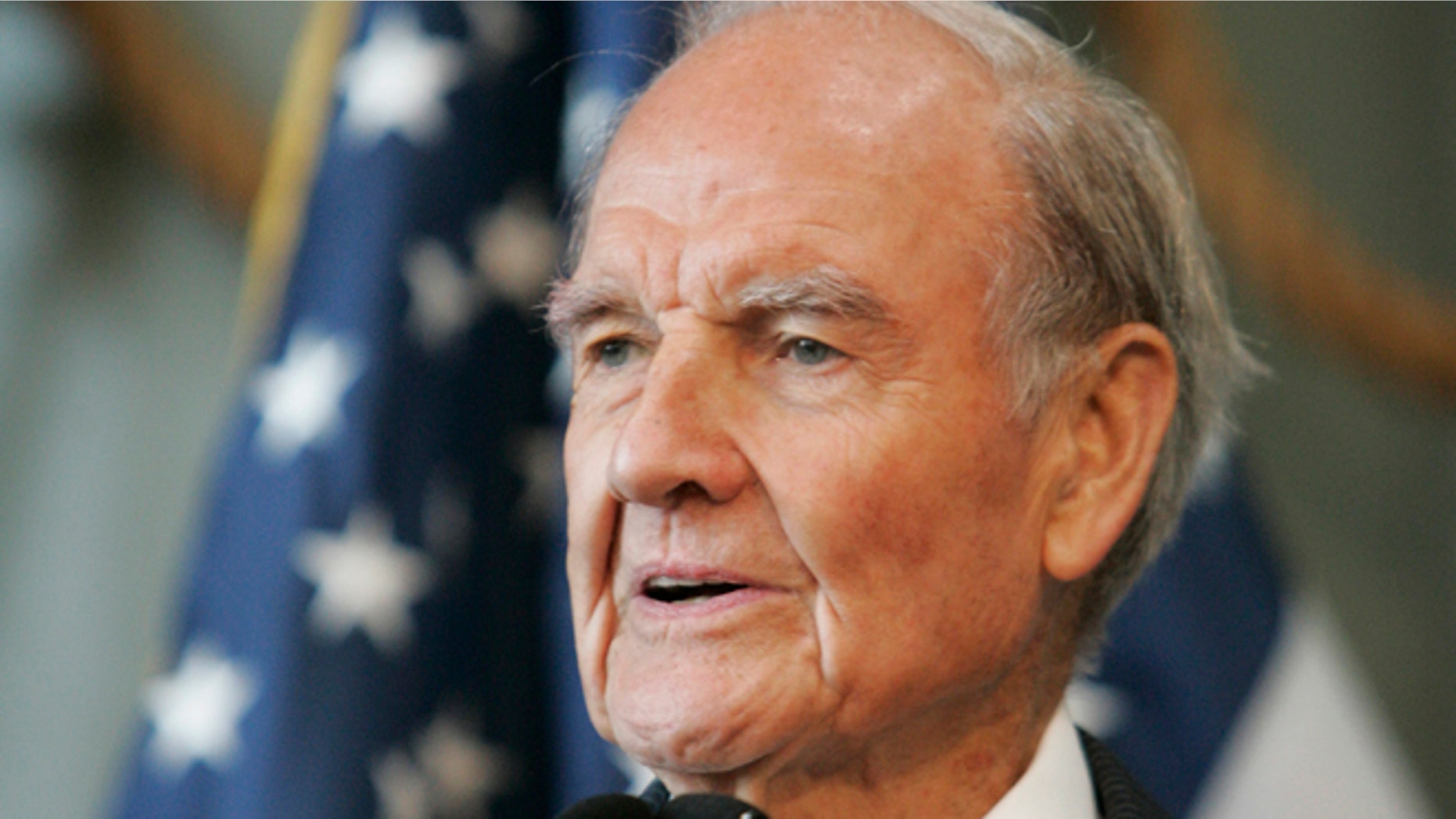 George McGovern, the 1972 Democratic presidential nominee, has died after a short stay in a South Dakota hospice, after what his family termed a "combination of medical conditions."
He was 90 years old.
A 22-year veteran of the House and Senate from South Dakota, McGovern was one of the most storied American politicians of the 20th century. McGovern was best known for his outspoken opposition to the Vietnam War and advocacy for agricultural and world hunger issues.
McGovern lost the 1972 presidential election to the incumbent President Richard Nixon in one of the biggest landslides in American history, winning only Massachusetts and the District of Columbia. Nixon later resigned from the presidency in 1974 due to the Watergate scandal.
McGovern, a former World War II bomber pilot, was one of the most prominent "doves" of his time. He flew 35 combat missions over Nazi-occupied Europe and earned the Distinguished Flying Cross for leading an emergency landing of a damaged plane that saved his crew.
He first won election to Congress in 1956. His longtime advocacy on the behalf of farmers and the poor began with his service on the House Agriculture Committee. The panel's longtime chairman, Rep. Harold Cooley (D-N.C.), said, "I cannot recall a single member of Congress who has fought more vigorously or intelligently for American farmers than Congressman McGovern."
After two terms in the House of Representatives, McGovern made his first bid for the Senate during the 1960 election to unseat the incumbent Sen. Karl Mundt (R-S.D.). He ultimately lost by more than 15,000 votes. But the newly elected president, John F. Kennedy, offered McGovern a position in his administration as the first director of the Food for Peace Program, which oversaw food donations to developing countries.
Two years later, McGovern launched a second campaign for South Dakota's other Senate seat held by Sen. Francis Case (R-S.D.). But Case died in June 1962, and McGovern ultimately ran against the appointed senator, Lieutenant Gov. Joseph Bottum. McGovern won by less than 1,000 votes.
In 1968, McGovern briefly ran for the Democratic presidential nomination after the assassination of Sen. Robert F. Kennedy (D-N.Y.). Some of Kennedy's aides urged McGovern to run because of their opposition to the remaining front-runners, Eugene McCarthy and Hubert Humphrey. McGovern was initially reluctant to join the race due to concerns about his own Senate reelection prospects and that Robert Kennedy's brother Ted would run. But McGovern announced his candidacy two weeks ahead of the 1968 Democratic National Convention. He declared that he was running for "the goals for which Robert Kennedy gave his life."
Chaos reigned at the convention as Democrats found themselves deeply split. While Humphrey appeared to have the most delegates, many who had originally been pledged to Kennedy rallied around McGovern. McGovern ultimately endorsed Humphrey at the convention and returned full time to his Senate reelection efforts.
In response to the tumultuous convention and their resounding losses, McGovern co-chaired the McGovern-Fraser Commission with Rep. Donald Fraser (D-Minn.) to reform the party's presidential delegate selection procedures.
Upon his return to the Senate, McGovern turned to introducing legislation to end the Vietnam War. In 1970, he co-authored an amendment with Sen. Mark Hatfield (R-Ore.) to the annual military funding bill which ordered a complete withdrawal by the end of the year.
Shortly before the Senate voted on the measure, McGovern took to the chamber floor to castigate colleagues who opposed a hasty pullout.
"This chamber reeks of blood," he said. "It does not take any courage at all for a congressman, or a senator, or a president to wrap himself in the flag and say we are staying in Vietnam, because it is not our blood that is being shed. But we are responsible for those young men and their lives and their hopes."
The amendment failed to pass. But the continued engagement with Vietnam – and the anti-war left's resulting frustration – infused momentum into McGovern's 1972 candidacy for the Democratic presidential nomination.
"The doors of government will be opened and that war will be closed," McGovern declared in his acceptance speech at the Democratic National Convention in Miami Beach, Fla.
McGovern's campaign hit a major snag just two weeks after the convention when reports surfaced that his running mate, Sen. Thomas Eagleton (D-Mo.), had received electroshock therapy for clinical repression in the previous decade. Many questioned Eagleton's credentials for the vice presidency. Although McGovern stated that he still supported his running mate "a thousand percent," he accepted Eagleton's offer to step aside a few days later.
McGovern eventually recruited President Kennedy's brother-in-law, ambassador to France and director of the Peace Corps, Sargent Shriver, as his new running mate. The campaign would later become a cautionary example for properly vetting vice presidential candidates.
Nonetheless, McGovern's seriously weakened campaign trudged on. In one memorable incident late in the campaign, McGovern confronted a Nixon supporter heckling one of his speeches. He whispered in the man's ear, "Listen, you son of a b---h, why don't you kiss my ass?" Within days, McGovern supporters could be seen sporting "KMA" buttons.
But Nixon soundly defeated McGovern in the general election, winning 61 percent to 37 percent.
After the loss, McGovern kept a relatively low profile in the Senate. He ultimately became a casualty of the 1980 Republican wave which sent Ronald Reagan's to the White House and granted the GOP control of the Senate for six years.
But four years later, McGovern reentered presidential politics for the third time. He intended to influence the party's platform despite a long-shot candidacy. The former senator also pledged early in the campaign that he would cede the race unless he placed well in the Massachusetts primary. After finishing third, he dropped out and endorsed the eventual nominee, Walter Mondale.
Much of McGovern's work in his final years focused on world hunger and agriculture. In 1998, President Bill Clinton appointed him as the U.S. Ambassador to the United Nations Agencies for Food and Agriculture, serving until 2001. Clinton also awarded McGovern with the Presidential Medal of Freedom in August 2000.
Additionally, McGovern and former Senate Majority Leader Bob Dole (R-Kan.) founded the George McGovern-Robert Dole International Food for Education and Nutrition Program in 2000. They won the World Food Prize in 2008 for their work reducing global poverty and food shortages.
In December 2011, McGovern fell and hit his head shortly before an interview on C-SPAN about his political legacy. McGovern underwent hospitalization in April 2012 to treat spells in which he would lose consciousness and his ability to speak.