Former President George H.W. Bush honors late wife's commitment to literacy by wearing socks with books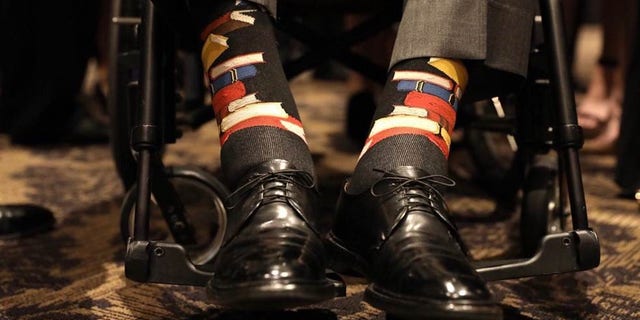 Former President George H.W. Bush honored his late wife Saturday by wearing socks embellished with books on them to celebrate the former first lady's commitment to literacy.
Bush wore the black socks decorated with colorful books at the funeral service at St. Martin's Episcopal Church in Houston.
Bush's former White House spokesperson, Jim McGrath, tweeted about the socks raising awareness about their meaning.
BARBARA BUSH'S PASSION FOR EDUCATION AND FAMILY LIVES ON
"To honor his wife of 73 years and her commitment to family literacy, for which she raised over $110 million over the course of over 30 years, George H.W. Bush will be wearing a pair of socks festooned with books at today's funeral service for former first lady Barbara Bush," McGrath tweeted.
McGrath then tweeted a photo of the socks stating, "The socks worn by the 41st President of the United States at today's funeral for former first lady Barbara Bush."
The former first lady died Tuesday at the age of 92 surrounded by her family at her Houston home. Some 1,500 people gathered Saturday to say their farewells to Bush a day after more than 6,000 people paid their respects during a public viewing.
FORMER FIRST LADY BARBARA BUSH TO BE LAID TO REST IN HOUSTON
Bush spoke about the importance of literacy during her tenure as first lady and encouraged people to read. The Barbara Bush Foundation for Family Literacy has provided more than $110 million to create or expand family literacy programs in all 50 U.S. states and the District of Columbia, according to the foundation.
"I chose literacy because I honestly believe that if more people could read, write, and comprehend, we would be that much closer to solving so many of the problems that plague our nation and our society," the former first lady said.
Fox News' Charlie Lapastora and the Associated Press contributed to this report.