Florida lawmaker accused of politicizing death of Marlins ace José Fernández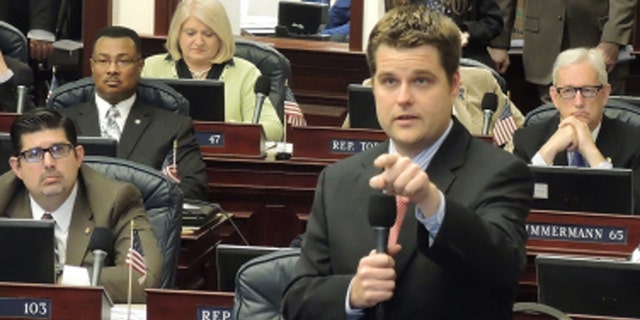 A Florida lawmaker has come under fire for a controversial tweet he made shortly after news broke of the death of 24-year-old Miami Marlins' pitcher José Fernández.
"To all who will kneel during the anthem today — just remember how Jose Fernandez risked his life just for the chance to stand for it," tweeted Matt Gaetz, a Republican member of the Florida House of Representatives who is currently running for election in the state's First Congressional District.
The self-dubbed constitutional conservative's words were purportedly aimed at San Francisco 49ers quarterback Colin Kaepernick and other players in the NFL who have chosen to kneel during the national anthem to protest what they call racial injustice and police brutality.
Gaetz's tweet quickly drew criticism on social media and he was accused of politicizing Fernández's sudden death.
Fernandez, who escaped from Cuba by boat on his fourth try as a teenager and pulled his mother out the water when she fell into the Yucatán Channel during the journey, died when the 32-foot vessel he was in slammed into a jetty off Miami Beach sometime around 3 a.m. on Sunday. Along with Fernández, two other people in the boat were also killed.
Keith Olbermann, a liberal political commentator and host of GQ's political web show "The Closer with Keith Olbermann," called Gaetz a "cheap exploitative humanoid scumbag" and told the Florida politician to delete his Twitter account.
Esquire magazine writer Charlie Pierce went even further when he told Gaetz to "Delete your career."
Gaetz responded to the criticism by defending his words and saying they are just his opinion.
"My point is that while America remains imperfect, so many do so much to enjoy our freedoms," Gaetz tweeted. "Seems ungrateful to kneel. Just my opinion."
This is not the first time the 34-year-old, Florida Pandhandle-area lawmaker has been slammed for his words on social media.
In May of 2015, Gaetz was accused of racism when he tweeted about a lawsuit filed by Senate Democrats challenging a House decision to adjourn the regular legislative session early.
"This lawsuit reads like it was researched and drafted by Sen Joyner … and spell checked by Sen Bullard," Gaetz wrote, according to Florida Politics. Both Senate Minority Leader Arthenia Joyner and Senator Dwight Bullard are black.
Like us on Facebook
Follow us on Twitter & Instagram