Florida judge rules ballots were illegally destroyed in Wasserman Schultz race
A Florida Circuit judge ruled Friday that that the state's second-most populous county violated state and federal laws by destroying ballots from a 2016 Democratic primary race which Rep. Debbie Wasserman Schultz won.
Circuit Judge Raag Singhal decided that the records were wrongly destroyed because the laws require elections offices to keep the ballots in federal elections for 22 months. Elections Supervisor Brenda Snipes destroyed the ballots just after 12 months, the Sun-Sentinel reported.
The judge also noted that because the ballots were subject to a lawsuit, only a court order should have allowed their destruction.
Snipes "has not presented any evidence refuting that the public records sought were destroyed while this case was pending before this court," Singhal said.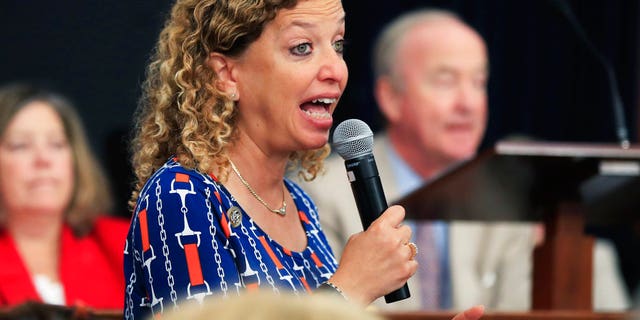 Gov. Rick Scott's administration announced shortly after the ruling that Florida's Department of State will send election experts to the Broward elections office in the next election to "to ensure that all laws are followed."
Snipes' predecessor was fired from the elections office by former Gov. Jeb Bush and the Florida Senate after failing to ensure a smooth election process in the 2002 Democratic gubernatorial primary, according to Politico.
The lawsuit was brought by Tim Canova, the defeated Democratic primary candidate who sued the elections office after seeking to check for voting irregularities. He lost the primary race by nearly 7,000 votes to Wasserman Schultz, the former chair of the Democratic National Committee.
Canova, who will be challenging the congresswoman again this year as an Independent, sought the paper ballots in March 2017, but was forced to sue three months later after he said Snipes failed to comply with the request and wanted to charge $72,000 to sort and produce the records, Politico reported.
Snipes testified that the push to destroy the ballots, which she did in September, was a "mistake," adding that the boxes were mislabeled. She said "nothing on my part that was intentional."
But the judge dismissed the argument, saying "Defendant's lack of intent to destroy evidence while this case was pending is irrelevant."
An attorney for Snipes, Burnadette Norris-Weeks, said she will appeal the decision because the elections office never declined to provide the ballots to Canova, only objected to unreasonable demands.
"It was a mistake [destroying the original ballots], but the ballots were preserved," Norris-Weeks told the Sun-Sentinel. "They were scanned shortly after the election."
Canova is now pushing for Snipes to lose her job.
"I think dismissal is an appropriate remedy," Canova told the newspaper.