Florida Immigration Advocates Mount Final Fight Against Arizona-Style Bills in Their State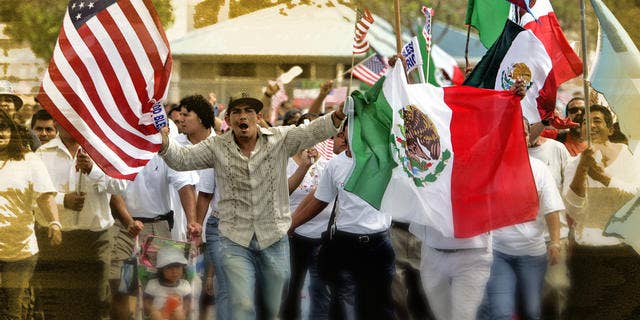 NEWYou can now listen to Fox News articles!
With two weeks left in Florida's legislative session, opponents of two immigration bills pending in the state House and Senate are mounting a final fight.
They boarded buses by the hundreds around the state Monday to hold protests in Miami's Little Havana and Tallahassee, the state capitol, against bills that would allow police to check immigration status, would require employers to use E-Verify, the federal database, to check on the status of workers, and would make it a state crime to be undocumented in Florida.
A group from Clearwater was heading to Tallahassee to join a march by immigrant children. On Tuesday in Tallahassee, growers and fieldworkers will highlight the bills' effects on agriculture. A day later, Dream Act-eligible students will target lawmakers.
Those who back the bills say something must be done to address the failed immigration system and maintain businesses are simply protecting cheap labor. They say undocumented immigrants are a drain on public services, and are taking jobs away at a time of high unemployment.
Those who oppose them say they will lead to racial and ethnic profiling, make life uncomfortable even for legal immigrants and U.S. citizens whom a police officer may suspect of being in the country illegally, and hurt tourism and agriculture in Florida.
Last week, the Florida Immigrant Advocacy Center along with the American Civil Liberties Union said they plan to sue the state immediately if the Florida legislature passes either of the two pending immigration bills. Immigrant advocates say components of the House bill closely resemble the very ones in Arizona's new immigration law that a federal appeals court recently upheld were unconstitutional.
"Some of our legislators are trying to push forward bills that would have devastating effects on the state," said executive director Cheryl Little during a news conference with community leaders and the ACLU. She said it will make immigrants already fearful of law enforcement more afraid of cooperating with local officials.
"If one of these bills becomes law, FIAC is ready to sue," she added.
The Senate bill is more limited, but it still requires local law enforcement check the immigration status of inmates, encouraging them to go beyond simply using federal criminal and immigration databases. The Senate bill would also allow businesses to let employees use a driver's license as proof they are authorized to work, instead of the E-Verify program.
Supporters of stronger immigration enforcement say the Senate version of the bill is worthless because driver licenses from other states are too easy to forge and won't prove work eligibility.
The Advocacy Center's attorneys said they were dumbfounded that Florida Rep. William Snyder, R-Stuart, would propose a bill that includes provisions so close to the Arizona measures that have been blocked.
Attorney Tania Galloni added that the Florida House provision for allowing state criminal judges to decide whether individuals are in the country illegally for sentencing purposes directly usurps federal immigration judges' authority and would also likely be held unconstitutional.
Several organizations including the SEIU began running ads this week on Spanish-language radio attacking South Florida's State Sen. Anitere Flores, who has shepherded the bill through the Senate, and House Majority Leader Carlos Lopez-Cantera, who has opposed the legislation but has done little publicly to sway his colleagues.
Neither those officials, nor Snyder, returned calls from The Associated Press Thursday seeking comment.
Little did not focus on the E-Verify aspect of the legislation. But for some supporters of the bills, that is key.
Joyce Tarnow of the Floridians for a Sustainable Population was deeply disappointed with the Senate version of the bill, not because its enforcement provisions are watered down but because it doesn't make E-Verify mandatory.
She noted the latest review of the program by the U.S. Congress found it was accurate nearly 98 percent of the time.
"E-Verify is free, easy to use, highly accurate," she said, adding, "The agricultural industry and hotel industries just don't want to lose their access to cheap labor. It's the simplest, clearest way to have people self-deport."
This is based on a story by The Associated Press.
Follow us on twitter.com/foxnewslatino
Like us at facebook.com/foxnewslatino