Florida GOP Gov. Rick Scott announces Senate campaign, says Washington is 'broken'
Florida Republican Gov. Rick Scott struck an anti-Washington tone as he announced plans Monday to run for the Senate against Democratic Sen. Bill Nelson, setting up what could be one of the most highly-watched races in the country.
"Some say as governor, I have never fit in or played by the political rules in Tallahassee," Scott said in a video released by his campaign. "Well that's true. And I never planned to fit in."
Scott, first elected governor in 2010, kicked off his campaign Monday during a morning event in Orlando. He called for enacting term limits in Congress and discussed how he was raised in low income housing by a mother and stepfather who worked multiple jobs.
"I won't fit in in Washington either," Scott said. "It's time to shake that place up. We don't need another politician in Washington. It's full of politicians. And that's why it's broken."
Nelson, a longtime lawmaker who famously went through NASA training and spent six days orbiting Earth aboard the space shuttle Columbia, is the only statewide elected Democrat.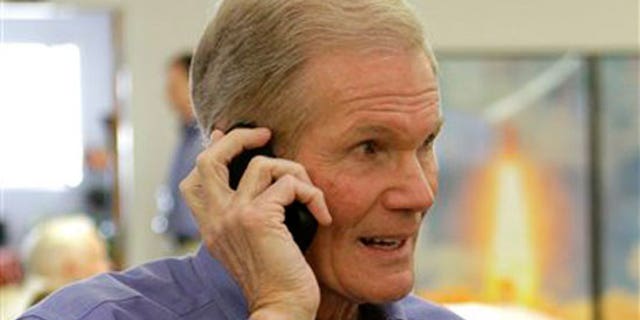 "I've always run every race like there's no tomorrow —regardless of my opponent," Nelson said Monday. "While it's clear that Rick Scott will say or do anything to get elected, I've always believed that if you wake up every day and if you try to do the right thing, the politics will take care of itself."
President Trump urged Scott to seek the seat, including during public events in Florida. During a tour of storm damage during Hurricane Irma in September, the president told reporters: "I hope this man right here, Rick Scott, runs for the Senate."
Scott's entrance puts Democrats, who are trying to flip control of the Senate, on defense in the state. Republicans on Monday began running digital ads against Nelson for voting against the tax reform bill.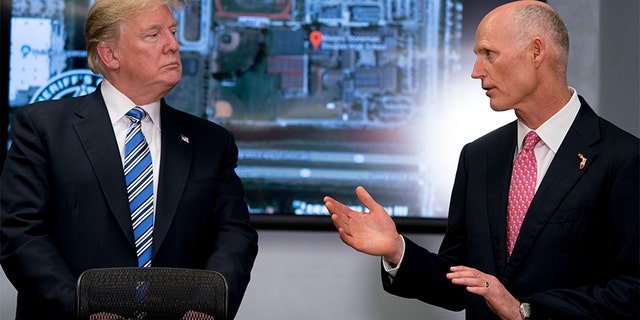 "Not only did Bill Nelson vote against the GOP tax cuts responsible for bigger paychecks, new job opportunities and higher wages, but Floridians now must worry about Nelson repealing their new economic benefits," National Republican Senate Committee communications director Katie Martin said.
Democrats have been anticipating his move for months and have ramped up their criticism, noting that Scott had been forced out as chief executive of Columbia/HCA amid a federal fraud investigation. Although Scott was never charged with any wrongdoing, the health care conglomerate paid a then-record $1.7 billion fine for Medicare fraud.
Democrats also plan to fault Scott over his record while governor, including his initial push for deep budget cuts to education and his back-and-forth position on whether to expand Medicaid.
"In the Senate Rick Scott would do what he's always done: look out for himself at Floridians' expense," Democratic Senatorial Campaign Committee spokesman David Bergstein said Monday.
Scott has recently been in the national spotlight, amid hurricane recovery efforts and February's school shooting massacre at Marjory Stoneman Douglas High School in Parkland.
Scott last month publicly broke with his longtime allies at the National Rifle Association to sign new gun regulations into law. Scott, a Republican who has received high praise from the NRA in the past, said he was signing the legislation because it's a "time for all of us to come together, roll up our sleeves and get it done."
The law raises the minimum purchasing age for buying a rifle from 18 to 21, invokes a three-day waiting period on purchases and enables school employees and many teachers to be armed. It also allows law enforcement to temporarily seize guns from the mentally ill and fund measures like bulletproof glass and metal detectors at schools.
Fox News' Allie Raffa and The Associated Press contributed to this report.