Flashback: President Obama's Use of Prime Time to Address the Nation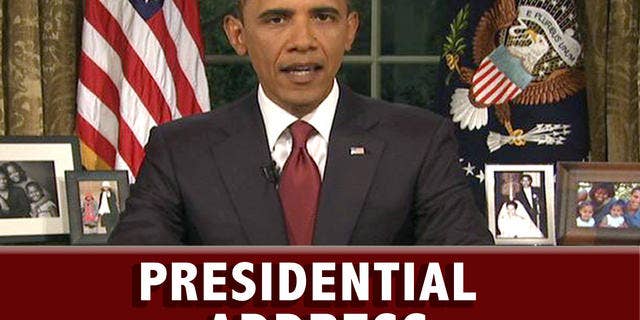 NEWYou can now listen to Fox News articles!
President Obama is slated to address the nation about Afghanistan in prime time Wednesday about Afghanistan, a move that follows the White House's strategy of the president talking to the nation in the key television time slot.
During his first year in office, Obama held five prime time news conferences or addresses on topics ranging from the economy, his first 100 days in office and health care. He also announced to the nation a surge in U.S. troops in Afghanistan from West Point Military Academy that year.
Obama went down to only two prime time addresses last year - one on the Gulf Oil Spill and one on ending combat missions in Iraq.
So far this year, the only prime time address he's given was the announcement that Usama bin Laden was killed.
Wednesday night he's expected to lay out a plan that brings home fewer than 10,000 troops from Afghanistan by the end of the year.
For added context, former President George W. Bush gave four prime time addresses in 2001, three in 2002 and five in 2003. Most of his dealt with the war on terror -- specifically Iraq -- and one was about stem cell research.
Here's a snapshot of the president's prime time addresses, as compiled by the American Presidency Project:
President Obama in prime time
(State of the Union addresses and other addresses to joint sessions of Congress are not included)
-February 9, 2009 (8:01 p.m. ET): Primetime solo White House news conference; Economy and stimulus were the primary topics
-March 24, 2009 (8:01 p.m. ET): Primetime solo White House news conference; the economy was the primary topic
-April 29, 2009 (8:01 p.m. ET): Primetime solo White House news conference; focused on accomplishments in the first 100 days
-July 22, 2009 (8:01 p.m. ET): Primetime solo White House news conference; health care overhaul was the primary topic
-December 1, 2009 (8:01 p.m. ET): Address to the Nation at the United States Military Academy at West Point, New York (Subjects: Terrorism, Iraq, and Afghanistan)
-June 15, 2010 (8:01 p.m. ET): Address to the Nation on the Oil Spill in the Gulf of Mexico
-August 31, 2010 (8 p.m. ET): Address to the Nation on the End of Combat Operations in Iraq
-March 28, 2011 (7:31 p.m.): Address to the Nation on the Situation in Libya (Note: Speech started earlier than what is typically considered primetime, 8pm, but many news outlets still refer to it as a primetime address)
-May 1, 2011 (11:35 p.m ET.; primetime on West Coast): Remarks on the Death of Usama bin Laden