Five things to know about Mexico's midterm elections, seen as referendum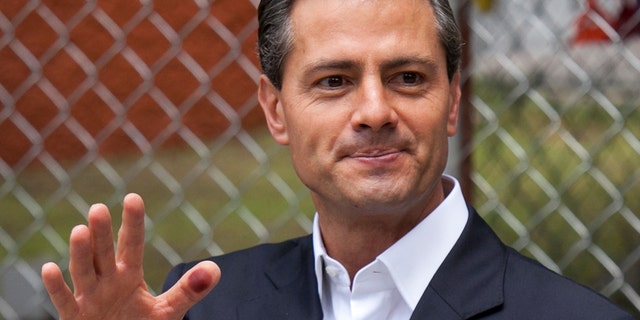 NEWYou can now listen to Fox News articles!
MEXICO CITY (AP) – Here are five things to know about Mexico's midterm elections, seen as a referendum on President Enrique Peña Nieto's government halfway through his six-year mandate.
RULING PARTY TAKES CONGRESS
Peña Nieto's Institutional Revolutionary Party, or PRI, took the largest percentage of the vote. Together with two allied parties, the PRI coalition is expected to control a majority with as many as 263 seats in the 500-person Congress.
THE "BRONCO" TAKES NORTHERN STATE
Jaime Rodriguez, an independent candidate better known as "El Bronco," is a tough-talking cowboy type who ousted the PRI to become governor of the key northern state of Nuevo Leon, which border Texas. His win is a first for Mexico, made possible by a reform last year allowing people not affiliated with parties to run. Rodriguez's maverick persona resonated with voters fed up with the establishment, and he says his first priority will be fighting corruption.
LEFTIST OPPOSITION PARTY TAKES A BATH
The opposition Democratic Revolution Party won less than 11 percent of ballots and stands to lose up to a dozen seats, after two-time presidential candidate Andres Manuel Lopez Obrador split with the party and effectively divided the left-wing vote.
FROM THE SOCCER PITCH TO THE MAYOR'S OFFICE
Preliminary results have Cuauhtemoc Blanco, the recently retired national soccer hero, winning election as mayor of the city of Cuernavaca, outside the Mexican capital. It's the first foray into politics for Blanco, 42, and his lack of experience has raised doubts among some. Known for his combative temperament on the field, Blanco didn't disappoint as he claimed victory with a coarse dig at his rivals: "Now I've screwed them," he said.
NEW KID ON THE BLOCK
Just a year after being officially recognized, the Morena party founded by Lopez Obrador took about 8.5 percent of the vote and will have its first-ever representation in Congress.