First Hispanic White House personnel chief, Katherine Archuleta, resigns over data breach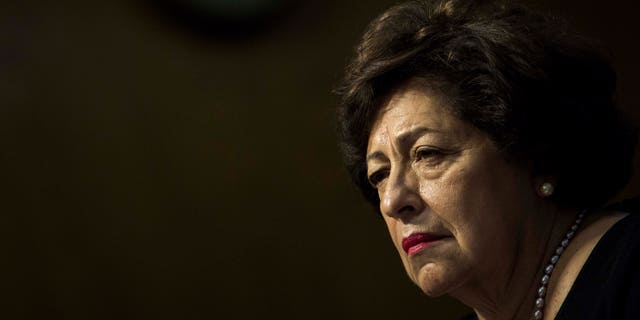 NEWYou can now listen to Fox News articles!
Katherine Archuleta, the first Hispanic to head the United States Office of Personnel Management, and one of the highest-ranking Hispanics in the Obama administration, said she will be resigning effective immediately.
Archuleta came under growing pressure to step down from the job she held for less than two years after it was revealed that hacking at the OPM had involved the theft of personal data of more than 25 million people.
Archuleta said in a statement that it was time for new leadership in order to "move beyond the current challenges and allowing the employees at OPM to continue their important work."
"Leading this agency has been the highlight of my career," Archuleta said. "The OPM family is comprised of some of the most dedicated, capable and hardworking individuals in the Federal Government. Each of them does so much in service of our country – whether it is through protecting our security by conducting background investigations; working to ensure Federal employees and their families have the best possible health coverage available; or working to assist our Federal retirees and their families in the smooth processing of their annuities. I thank them, from the bottom of my heart."
Archuleta personally told President Barack Obama of her intention to quit on Friday morning. She will be temporarily replaced by Beth Cobert, the deputy director of management at the Office of Management and Budget.
Archuleta was the former national political director for President Obama's reelection campaign. One of her priorities when she became OPM director was to launch a Latino outreach effort that essentially targeted three groups – millennials, mid-level professionals, and senior workers who may consider going from the private to public sector.
Archuleta's statement made no direct reference to the data breach, saying only that she believed it was best to allow the agency to "move beyond the current challenges." She praised the agency's employees as "some of the most dedicated, capable and hardworking individuals in the federal government."
"I have complete confidence in their ability to continue fulfill OPM's important mission of recruiting, retaining and honoring a world-class workforce to serve the American people," Archuleta said.
Archuleta's position appeared to become unsustainable given the scope of the data breach and the mounting calls from lawmakers in both parties for her to resign. On Thursday, within hours of the Obama administration releasing new details about the scope of the breach, House Republican leaders demanded new leadership in the agency, and a number of Democrats followed.
California Rep. Adam Schiff, the senior Democrat on the House Intelligence Committee, said Archuleta's resignation "will help to restore confidence in an agency that not only poorly defended sensitive data of millions of Americans but struggled to respond to repeated intrusions."
"This change in leadership is also an acknowledgement that we cannot simply place blame on the hackers, but need to take responsibility for the protection of personal information that is so obvious a target," Schiff said.
Includes reporting by The Associated Press.
Like us on Facebook