First Female Combat Air Force Team Completes Mission in Afghanistan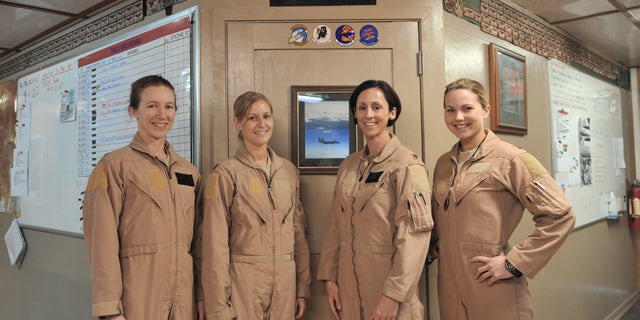 The members of "Strike Eagles of 'Dudette 07'" landed in the history books last month when the crew of four women took to the skies in Afghanistan, marking the first U.S. Air Force combat mission completed by a team of all female airmen.
The two pilots and two weapon officers planned, flew and maintained the March 30 mission to provide air support for coalition and Afghan forces in Kunar Valley, near the Pakistan border.The crew was instructed to provide support for troops in the area that were under enemy fire.
Two F-15E jets were used in the mission by Maj. Tracy Schmidt, Capt. Kimberly Volk, Maj. Christine Mau and Capt. Jennifer Morton. The mission was inspired by Women's History Month, and Mau was quoted by the Air Force as saying, "This wasn't a possibility when I started flying 11-years ago."
In a YouTube clip titled "Flight of the Dudettes," Staff Sgt. Larry Moore reports on the impact of the mission in a "career predominately dominated by men," and added that the mission was not just for celebration, but for serious work.
Air Force spokesman Todd Spitler told FoxNews.com that it wasn't until September 1976 that the Air Force first accepted two groups of 10 women pilots into training. It was the first time since World War II that women could train to become to become pilots of U.S. military aircraft.
However, it took until 1993 for then 2nd Lt. Jeannie Flynn to become the Air Force's first female F-15E pilot. That was 18 years ago, but Capt. Morton, a weapons officer, said in the clip released by the Air Force that it's still sometimes exciting for ground troops to hear a woman's voice.
"We knew we were going to support the guys on the ground by probably at the very least making some noise, and most likely that we were going to have to drop some bombs," Capt. Morton said.
"All four of us being females, that was definitely nice for the ground guys to hear that they had, you know, women protecting them of course. Not that we're any different from the guys, but it's just a guy thing that they like to hear that sometimes," she added.
The story featured on the Air Force website has garnered cheers from original Lady Birds pilots -- the first women pilots to fly during World War II.
One post said: "As an 81-year-old lady bird from the '40s and '50s when with a commercial license and I could not get a job, I think this is so wonderful to read about, despite all the negative comments. I have read here women have come a long way since I flew my first solo and obtained a commercial license in 1951. My best wishes to all the girls!"
Another post featured a memory from a man identified as John Womack, with experience on the flight line.
"I remember in the 1960s when women first began to come on the flight line. There were a few assistant crew chiefs who were women. They had VERY heavy tool boxes to lift and carry. Within a week or two we began to notice a new sound we had not heard before. The women had put skate wheels under their tool boxes and put them behind them. Everybody laughed and laughed. But within a few months EVERYBODY had mounted their tool boxes on wheels and pulled them around the flight line. Women had arrived."
Click here to watch the video interview