Fired FBI official Andrew McCabe soliciting online donations for legal defense fund
Andrew McCabe – the top FBI official by fired by Attorney General Jeff Sessions hours before his planned retirement – is now soliciting donations online for his legal defense fund.
"The support for Andrew #McCabe has been overwhelming, humbling & deeply appreciated," Melissa Schwartz, a spokesperson for McCabe, tweeted Thursday. "Unfortunately, the need for a legal defense fund is a growing reality."
Schwartz linked to a GoFundMe account sponsored by "Friends of Andrew McCabe" that displays a photo of McCabe and his family. It says it has a goal of $150,000 but that was later changed to $250,000 after the goal was nearly reached by Thursday evening.
The site showed hundreds of people donating between $5 and $1,000 each, eventually reaching the new goal by the Thursday night. As of early Friday, the account had raised over $375,000 from more than 8,500 people.
Sessions fired McCabe earlier this month after the DOJ's inspector general determined McCabe was not truthful during his review of the Clinton email investigation and the FBI's Office of Professional Responsibility recommended his firing.
But McCabe has defended his actions, and the GoFundMe description says McCabe's FBI career was "long, distinguished, and unblemished."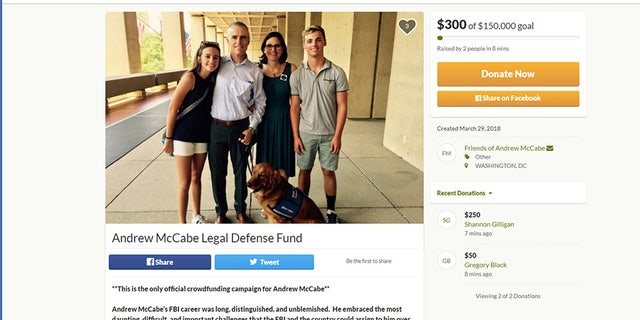 "His reward for that has been a termination that was completely unjustified, amidst repeated ad hominem attacks by the President of the United States," it reads.
MCCABE OFFERED JOBS BY DEM LAWMAKERS SO HE CAN GET FULL PENSION
It says a legal defense fund is needed because he will likely have to respond to congressional inquiries, as well as the Department of Justice's Inspector General Investigation and "any potential lawsuits he might consider."
McCabe's legal team is being led by former Department of Justice Inspector General Michael R. Bromwich.
McCabe was fired just days before he would have been eligible for a lifetime pension, meaning those benefits could now be in jeopardy. But the GoFundMe page said he is not using the money to replace those benefits.
"He will continue to fight for the pension and benefits he deserves, rather than accept any crowdfunding for that purpose," it says.
Fox News' Garrett Tenney contributed to this report.