Fingerprint scanners in Venezuelan supermarkets will harvest more fraud, critics say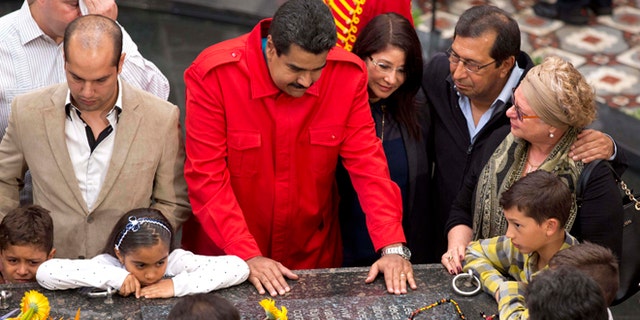 NEWYou can now listen to Fox News articles!
Now Venezuelans can be certain that scarcity has come to stay.
Last weekend, President Nicolás Maduro announced that his government will install fingerprint scanners in stores to reduce food hoarding and panic buying. "We will install 20,000 fingerprint-reading machines'" Maduro said, "to guarantee people their food. We met with the top seven private food chains, and they all agreed to join voluntarily the secure food supply system."
Since 2014, the country has been suffering from severe shortages and long lines of consumers to buy the most basic products. The scanners will be used to limit the quantity of basic goods that every customer is allowed to buy every week.
Economist Luis Oliveros, professor at the Metropolitan University in Caracas, doesn't think that this kind of measure will make things better.
"The government is just redistributing the shortages in order to reach everyone. With the deployment of this system, we are being told that we will be under rationing for a long time," he told Fox News Latino. "They recognize that there's a severe problem with the distribution of products, but they haven't gotten the right answer. Do you think that now we will find diapers or milk? We won't, because the roots of the scarcity are elsewhere."
Roberto León Parilli, president of the National Alliance of Users and Consumers (ANAUCO), says that the fingerprint scanners are the government's way of adapting the economic system to the scarcity not an attempt to end it.
"It's true that there's a real problem and that the government has a point when they talk about resellers and smugglers. In fact, thanks to the shortages there's a new job in Venezuela, a 'seller of vacants'"—someone who sells his or her spot on a market line.
León added, "The Constitution states that consumers have the right to choose quality goods and services without limit, and they must have a permanent and timely access to the food. You can't enact a norm restricting food shopping."
Oliveros argues that the main sources of the supply problem are Chavista economic policies. "The government has harmed local production. For more than a decade, they established incentives to make imports cheaper than national manufacturing. They have increased the cost of the industry through labor laws and increased inflation while giving dollars to importers at a subsidized rate."
He says that the other source of shortages is the sharp decline in private imports. "In 2014, [private imports] fell 25 percent, and it's gonna get worse this year—around 35 percent—due to the plunge in oil prices."
Last weekend Maduro referred to the installation of the fingerprint scanners as a first phase of a nationwide system, the initiative actually got underway last summer, when authorities began to install the machines in state-run supermarkets.
Not all the public food stores got the scanners, but even those that didn't used a rationing system based on a person's identity card number.
Currently, the government has set controls on the sale of 23 basic products including milk, toilet paper, coffee, cooking oil, chicken, beef, shampoo, rice, sugar, detergent and women's sanitary products, among others.
In the private sector, a few supermarkets in the western state of Zulia have been using the machines, thanks to an agreement they have with the government.
Miguel Páez, a consumer who lives in Maracaibo, Zulia's capital city, explained that the scanning machine hasn't served to reduce the long lines of shoppers, although it works better in supermarkets that have established special cash registers for consumers who are willing to buy at least 500 bolivars ($79 at the official exchange rate) in unregulated goods.
"Smugglers and resellers don't want to buy these products, so the lines to buy these goods are shorter. Thanks to the rationing system, those who hardly were able to find any basic products can now buy some things. Nevertheless, even with the scanners, there are goods that you can never get in Maracaibo like milk or cooking oil," he told FNL.
However, Maduro seems to have blind faith on this new kind of rationing. "The biometric system will work like the fingerprint scanners of Venezuela's electoral system: a blessing against fraud," he said in August of last year. "This system will be perfect. I'm sure."
Francisco Castro—director of Sumate, an NGO devoted to the field of electoral transparency—isn't comforted by that comparison.
"The system will have to validate the identity of thousands of consumers and will have to compare the transactions to hundreds of thousands more in order to verify that they haven't bought the products elsewhere," Castro pointed out. "All this in Venezuela, the country which has the worst Internet connection in Latin America. It will fail."
Castro says that the only biometric database in the country big enough to include all the consumers is that of the National Electoral Council, which has been reluctant to share it with even the political parties that have been asking to audit it. So it hardly seems likely that the Council will happily share it with supermarkets.
Also, the fingerprint system won't come cheap. According to Sumate's estimates, each machine costs around $150, so the first 20,000 would run to $3 million.
And the price tag only goes up from there. Add in the cost of the servers, other hardware and software needed to make it work, and you start talking about a serious amount of money.
"Besides there's the problem of the security level," Castro told FNL. "If you have a very high level of security, many consumers may find themselves unable to buy their goods for purely technical reasons, and if you have a low level of security you can't identify the fraudulent transactions."